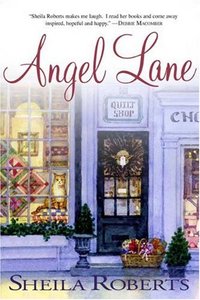 Purchase
St. Martin's Griffin
October 2009
On Sale: September 29, 2009
Featuring: Jamie; Sarah; Emma
352 pages
ISBN: 0312384823
EAN: 9780312384821
Paperback
Add to Wish List

Keep the heart in Heart Lake.
That's exactly what three small-town shop owners hope to do when they launch their crazy-ambitious "Have a Heart" campaign—asking neighbors to commit one random act of kindness every day. Emma, Sarah, and Jamie love their lakeside community, but the little town is growing too big too fast, and a doing a good deed never hurt anyone. Or so they thought...
When Emma slashes prices at her quilt shop, practically giving away blankets to anyone who looks vaguely cold, she almost stitches her way into bankruptcy. Sarah's free cooking class boils down to a hotbed of crime when some punk kid swipes her favorite heirloom. And at Jamie's chocolate shop, things take a bittersweet turn when a local policeman starts giving her grief, stirring up feelings she's tried to forget—and slowly melts away her defenses...
With irresistible humor, warmth, affection—and recipes!—author Sheila Roberts serves up a generous, open-hearted story about the friendships we make, the chances we take, and the lives we touch every day.
Comments
24 comments posted.
Re: Angel Lane

Sheila I REALLY enjoyed your blog this am. I'm still sitting here chuckling over your efforts to create Ganache in the kitchen I swear you were peeking when I make the effort except I'm not creative enough to salvage it, I would have run it out to the garbage.
(Susan Lathen 12:33pm October 1, 2009)
Sheila, I can't wait to read your book !!
Very funny blog... I can completely relate...*sigh*. You can't get only triumphs in the kitchen, right ?
(Joeelle Jappissont 3:32am October 1, 2009)
Your book sounds delicious as well as the recipe for fudge. I do not care to bake any longer, I've given that honor to my daughter. I do however love to create other things by throwing different ingredients together.
(Theresa Buckholtz 12:03pm October 1, 2009)
Sounds like fun. I never throw anything out. Even if it doesn't look right, it can still taste good. You are going to eat it, not look at it.
Look forward to reading your book. It sounds like an enjoyable read.
(Patricia Barraclough 2:36pm October 1, 2009)
I just love getting recipes in books!! Even recipes with coconut in them! Seriously, I have found some absolutely fantastic recipes that way,so this is a must-have book for me, one way or another!!

Later,

Lynn
(Lynn Rettig 3:58pm October 1, 2009)
Your book sounds so good! And I loved reading about your baking experience. I had to laugh! I'm glad someone (besides me) has kitchen problems.
(Rosemary Krejsa 5:13pm October 1, 2009)
I really hate cooking now, but baking I enjoy, though I try not to indulge since I would eat my efforts completely. Fun blog!
(Diane Sadler 7:23pm October 1, 2009)
I cannot wait to read this book also.
(Pat Lieberman 10:06pm October 1, 2009)
Loved your blog! With your great sense of humor the book should be a fun read & a big hit!!
(Jill Merriott 4:41am October 2, 2009)
Love your blog, and love your books (especially Love in Bloom).

When I was a newly wed umpteen years ago my best friend was a wonderful RN, but a scatterbrain everywhere else. She made an apple pie for our bridge group, dropped in when it came out of the oven, then got everything back into the pan and called it apple cobbler. Recycle is the word, right?
(Betty Cox 2:34pm October 2, 2009)
**she dropped it** (not dropped in....
(Betty Cox 2:35pm October 2, 2009)
Would love to be entered in the drawing!!Thanks!!!
(Lela Fox 3:58pm October 10, 2009)
The book sounds great, I will be looking for this one at the store. I have already heard good things
(Kim Atchue-Cusella 8:57pm October 10, 2009)
I can't wait to read this book!
(Shelly Cronin 9:46pm October 31, 2009)
A New Year for dreaming and hoping that chocolate has it's own food group. I thnk it's easier to live one day at a time and to adjust your horizons in line with what you're putting in place each day. Here's to your future endeavors, may they be tasty and soul-satisfying.
(Alyson Widen 1:42pm December 30, 2009)
Happy New Year Sheila, I love your resolutions. I just finished reading Angel Lane and loved it. Thanks for your great books.
(Robin McKay 2:46pm December 30, 2009)
I've only kept one resolution my whole life, so my New Year's Resolution is to not make a New Year's Resolution. Yours are great!
(Kelli Jo Calvert 3:06pm December 30, 2009)
I want to wish everyone a Happy New Year! I plan to follow your excellent example and make no unattainable resolutions. However, I did make one which I know that I can keep. It is 'read more books'.
(Rosemary Krejsa 3:52pm December 30, 2009)
I don't make New Year's resolutions. I never keep them, so why set myself up for failure.
(Mary Preston 5:39pm December 30, 2009)
I decided a few years back that making resolutions and keeping them was depressing me even more so I stopped and now feel no guilt about them.
Happy New Year!
(Diane Sadler 6:24pm December 30, 2009)
I started making the same resolution every year and have no trouble keeping it. I resolve to not ride a camel or eat a real elephant's ear.
(Karin Tillotson 8:42pm December 30, 2009)
I don't make resolutions as a rule, but started going to a gym with my husband, am resolving to keep going with him!
(Brenda Rupp 8:50pm December 30, 2009)
I haven't bothered with resolutions for a number of years now. Daily resolutions don't seem to work, so why would yearly ones.

Someone recently said that "don't do..." ones are smarter and easier to handle. I can't see the logic of that. lol
(Sigrun Schulz 9:16pm December 30, 2009)
Thanks for the funny slant on new year's resolutions!! I'll sure think about your article before making any resolutions this year.
[email protected]
(Penny Tuttle 9:19pm December 30, 2009)
Registered users may leave comments.
Log in or register now!