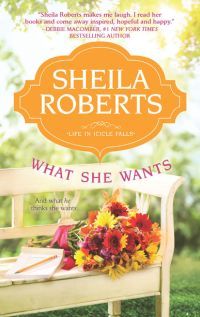 Purchase
Can a group of clueless men figure out what women want by using romance novels as their textbooks?
Life in Icicle Falls #3
Harlequin Mira
April 2013
On Sale: March 26, 2013
Featuring: Jonathan Templar; Lissa Castle
391 pages
ISBN: 0778314324
EAN: 9780778314325
Kindle: B00ALTVJ50
Paperback / e-Book (reprint)
Add to Wish List

Romance Contemporary | Women's Fiction Contemporary
What do women want?
Jonathan Templar and his poker buddies can't figure it out. Take Jonathan, for instance. He's been in love with Lissa Castle since they were kids but, geek that he is, she's never seen him as her Mr. Perfect. He has one last shot–their high school reunion. Kyle Long is equally discouraged. The pretty receptionist at his office keeps passing him over for other guys who may be taller but are definitely not superior. And Adam Edwards might be the most successful of Jonathan's friends, but he isn't having any success on the home front. His wife's kicked him out.
When Jonathan stumbles on a romance novel at the Icicle Falls library sale, he knows he's found the love expert he's been seeking–Vanessa Valentine, top–selling romance author. At first his buddies laugh at him for reading romance novels, but soon they, too, realize that these stories are the world's best textbooks on love. Poker night becomes book club night...and when all is read and done, they're going to be the kind of men women want!
Life In Icicle Falls
Comments
7 comments posted.
Re: What She Wants

Men are often clueless after 38 years of marriage I still have to remind my hubby what my favorite color and flower is. But it has been fun training him.
(Annetta Sweetko 8:40am April 7, 2013)
I've been married 31 years and we still don't know what each other is
thinking. All part of the mystery. You just have to come right out and ask
or tell them what you want. Saves alot of time and grief.
(Susan Falkler 10:49am April 7, 2013)
Knowing how simple-minded men are, this book should be a real hoot to read!! I love the premise that you used for your story - poker - another man's love!! This should make your book all the more an interesting read!! I've watched and catered to the men at many a poker game, so I'll be able to relate to your book, to a degree. My Husband is part bad boy, so I am at the end of my chair, chomping at the bit, to get my hands on your book!! The cover is tastefully done, and very colorful as well!! Congratulations on a book that I'm sure will do very well as soon as Women find out what it's about!!
(Peggy Roberson 11:12am April 7, 2013)
What do men have to do to get our attention? Cook! That's what my boyfriend did and women kept telling me to hang on to that one! Yes, we married, and we split the cooking.
(Clare O'Beara 11:44am April 7, 2013)
I don't think there's a woman alive that can get in a mans
brain. Well, physically probably because I am sure there is
enough room up there to fit anyone. Men are pretty
brainless,lol.
(Vicki Hancock 11:41pm April 7, 2013)
I think men don't realize the depth of a woman, a lot of their thoughts and feelings are at the surface. I have had a lot of male friends and the same old same old comes up - they are visual creatures and find intellectual stimulation a waste (the opposite is true for women)- I also think that they feel basic emotions, for example if they are angry they are angry, women find that they can go step by step in their emotion, I am hurt then I am angry - Men also think that love is love, not necessarily the variations in between - I love my friend, I love my sibling, I love my lover, but if the emotion is love they only feel that (my go to - I love you more than a brother but less than a lover).
(Carla Carlson 12:21pm April 8, 2013)
I am sorry Carla that you have only encountered that sort of men. Perhaps the current education system has something to do with it? James Joyce and William Butler Yeats should be the only examples you need of men who lived for intellectual stimulation as well as emotion.
(Clare O'Beara 9:32am April 9, 2013)
Registered users may leave comments.
Log in or register now!