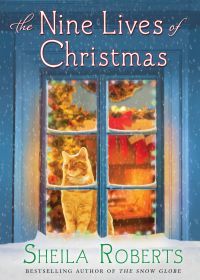 Purchase
Two people are about to discover that when it comes to finding love, sometimes Christmas magic isn?t enough?sometimes it takes a pesky orange cat named Ambrose.
St. Martin's Press
November 2011
On Sale: October 25, 2011
208 pages
ISBN: 0312594496
EAN: 9780312594497
Hardcover
Add to Wish List

Holiday | Women's Fiction Contemporary
When a guy is in trouble, he starts making deals with his Creator...and Ambrose the cat is no exception. In danger of losing his ninth and final life, Ambrose makes a desperate plea to the universe. He'll do anything—anything!—if he can just survive and enjoy a nice long, final life.His prayer is answered when a stranger comes along and saves him—and now it looks like he has to hold up his end of the bargain. The stranger turns out to be a firefighter named Zach, who's in need of some serious romantic help. If Ambrose can just bring Zach together with Merilee,the nice lady who works at Pet Palace, it's bound to earn him a healthy ninth life. Unfortunately for Ambrose, his mission is a lot harder than he ever thought. Merriliee is way too shy to make the first move on a ladies man like Zach, and Zach thinks he's all wrong for a nice girl like Merrilee. Now it's going to take all of Ambrose's feline wiles—and maybe even a good old fashioned Christmas miracle—to make them both realize that what they're looking for is right in front of their eyes.
Comments
14 comments posted.
Re: The Nine Lives Of Christmas

Sounds like a nice Christmas read and I do love books with a Christmas theme.
(Gladys Paradowski 5:17pm December 19, 2011)
I also love Christmas themed stories - this is definitely a good one!
(Felicia Ciaudelli 9:16pm December 19, 2011)
One of the cutest Christmas stories I've read this season! Sheila Roberts knows how to spin a sweet Christmas story, and this one is sure to become a classic!
(Sharon Galligar Chance 12:18pm December 23, 2011)
I have so many books downloaded on my Kindle that I don't even know what I will be reading but am going to pick out a Christmasy feel good book to read today.
(Vicki Hancock 10:42am December 24, 2011)
I don't know if this holiday will allow me to put
my feet up. I'm still cooking, got up at 6 this
morning to start the traditions that have been in
our family for years and to begin to cook for
tomorrow. Then it is serving and cleaning up. I
don't know how I put 5 lbs on during the
holidays when I am doing more running around
than at the gym on the treadmill. May your
holiday be relaxed and filled with those you love.
(Carla Carlson 10:57am December 24, 2011)
I have a little reading to do to for my knitting group, then I can look at my TBR list, and get into some REAL reading!! It looks like I have to add your book to my list as well. I'm so glad you took the time to drop in today and add a little fun to the mix. I loved your blog, and I'm sure I'll love your book. The cover is so sweet, and so well done!! Have a very Merry Christmas, and s wonderful New Year!! When I have my hot chocolate, I'll think of you, and lift my mug in toast to you!!
(Peggy Roberson 11:01am December 24, 2011)
Our family get together is next weekend, so I am enjoying all the Christmas movies on TV and reading all the articles and blogs. My panic will set in in a few days. MERRY CHRISTMAS to all:)
(Barbara Studer 1:40pm December 24, 2011)
I have a lot of reading to do. So many people know I love to read, so the books keep coming in. I know I will be getting more on Christmas. That is always so exciting to see what new reads others have given me. I want to wish Everyone a Very Merry Christmas.
(Cheryl English 2:29pm December 24, 2011)
I know that I will have lots of books to read on Christmas day
as the husband bought me at least 5 off my wish list :D
(Ilona Fenton 2:57pm December 24, 2011)
"Little Black Dress" by Susan McBride will be my next read. Looking forward to finding the time as I joined a gym this month.
(Joanne Hicks 9:03pm December 24, 2011)
I have a few Christmas books I'm looking forward to reading, like The Christmas Shoppe. :)
(MaryAnne Banks 10:42pm December 24, 2011)
Well, Christmas day is coming to a close. It has been a nice day and I am grateful for the kind deeds of friends and family and looking forward to a nice New Year. I wish you the same.
(Gladys Paradowski 8:27pm December 25, 2011)
I'm catching up on my TBR (To Be Read) stack and eyeing some of my favorite decorating books and magazines.
(Alyson Widen 1:52pm December 29, 2011)
I love to read detective story.

Regards
buy targeted website traffic
(Lakisha Norton 11:44am January 4, 2012)
Registered users may leave comments.
Log in or register now!