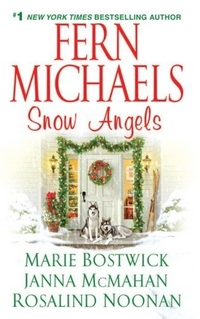 Purchase
Zebra
November 2009
On Sale: October 27, 2009
384 pages
ISBN: 1420103644
EAN: 9781420103649
Paperback
Add to Wish List

They bring joy, wonder—and all the happiness of the season. Let these delightful stories of love and miracles light up your holidays with cheer…
"Snow Angels," by Fern Michaels
The only way irresistibly handsome Olympic skier Max Jorgenson wants to spend Christmas is…alone. But when social worker Grace Landry stumbles into his log cabin during a snowstorm, an unexpected magic rekindles his heart, his hopes, and the sweetest of Christmas dreams…
"The Presents of Angels" by Marie Bostwick
Ex-Rockette Kendra Loomis doesn't regret giving up New York's bright lights to be a Vermont minister's wife. But their small town's Christmas countdown is becoming a major stress-fest—and the only way she can save the day is to prove that giving is the most precious gift of all…
"Decorations" by Janna McMahan
All Michelle Duncan wanted for Christmas was a new life. And by helping her ailing mother she found one—as manager of a charming holiday craft store. She never expected that the fringe benefits would be muscular sculptor Baxter Brow—and one last chance to make all her wishes come true…
"Miracle on Main Street" by Rosalind Noonan
New York City policeman Joe Cody and his wife Sheila can't afford much of a holiday for their two kids. He's sure not expecting much yuletide joy while working on Christmas Day—until a desperate wish and several unexplainable events open his eyes to a wonderland of blessings and love…
Comments
17 comments posted.
Re: Snow Angels

Marie , can't wait to read your new story Snow angels and the new Vanishing Act. I love your books.
(Mary Branham 6:02pm October 20, 2009)
Looks like some nice stories.
(Pat Lieberman 8:48pm October 20, 2009)
At the moment my to-be-read pile is empty, I am waiting for Captive of Sins by Anna Campbell which I am sure will be awesome. I loved Christina Dodd's Vision books. Sadly, my husband has decided he likes to read (after years without reading) so MY book budget has been halfed! Hopefully for Christmas I will be getting some books!
(Sharla Long 1:26pm November 30, 2009)
I read the three books in the Steig Larsson trilogy The Girl With The Dragon Tattoo and Caridad's Sins of the Flesh. I am eagerly waiting for the next book in both series :>)
(Karin Tillotson 1:31pm November 30, 2009)
The Virgin River series is not nearly as daunting as coming into say the In Death series by Robb, and while I like both if someone only wanted one I would go with The Virgin River books every time!

I don't reread and therefore don't have a favorite book to pull and read this holiday season, but I have already read read holiday books from Macomber, Wiggs, and Van Liere. I have several more in my pile by a variety of authors. It shal lbe intersteing to see whether or not I get to them this year.

Got to think on the favorites of the year! My first impulse is to say not much, but then I think back on what I read and know that there were some standouts. Do they have to be copyrighted in 2009?

Happy Holidays to all!
(Sandi Shilhanek 2:33pm November 30, 2009)
I finished and enjoyed the Nauti series by Lora Leigh. Started and enjoying SBC fighter series by Lori Foster. Best book for 2009 and new-to-me author Judith James' Broken Wing.
(Armenia Fox 3:31pm November 30, 2009)
My favorite has always been Julie Garwood but she doesn't put out enough books per year, then Linda Howard and as luck has it she did this year; Lora Leigh is always a pleasure and I'm waiting for her next one.
(Diane Sadler 4:30pm November 30, 2009)
I have just finished reading "Greedy Bones" by Carolyn Haines. I really enjoy the Sarah Delaney Booth mysteries. Now to get in the holiday mood I am going to read 'The Christmas Cookie Killer' by Livia J. Washburn.
(Rosemary Krejsa 6:40pm November 30, 2009)
I have just started the Carrie
Vaughn "Kitty" series. Oh, and
if you want to start a
fabulous series, don't let the
size of Robb's "In Death"
series scare you. This was a
fabulous series and I wish I
had another 35 books to look
forward to reading in this
series.
(Lisa Richards 7:47pm November 30, 2009)
I've been on a Susan Elizabeth Phillips streak. I've finished the Chicago Stars/Bonner brothers series and am now reading Fancy Pants, one of her earliest books. So far, I haven't really got into it yet.
(Sigrun Schulz 9:46pm November 30, 2009)
I just finished Stephanie Tyler's Hard to Hold, and am reading Sandra Brown's Rainwater.
My favorites this year have been the Lisa Kleypas series with Sugar Daddy, Blue Eyed Devil, and Smooth Talking Stranger. Also loved Christy Reece's trilogy starting with Rescue Me. That is a not-to-be missed series, and she has a new trilogy coming out in a couple of months, so there is definitely something to look forward to for 2010!
(Kara Conrad 10:07pm November 30, 2009)
The holidays don't really have a bearing on my reading habits. I read according to mood and as I've gotten older, I mostly skip holiday drama:)

I rarely reread but have keepers just the same:)

I have so many favorite authors across the romance genres that it's difficult to pick just five (and they have not necessarily all been published in 2009 but read this year). Anyway, doing a quick check of my notes, here's what I've come up with:

Robyn Carr's Virgin River/Grace Valley series

Kate Douglas: Wolf Tales series

Julia Quinn: Bridgerton series

Cindy Gerard: Feel The Heat

Roxanne St. Clair: Hunt Her Down

And I just have add:

Jade Lee: The Concubine

I could easily add 10 or more that were tops according to my taste, which is easy with a habit of a book a day. I buy new, used, and in thrift shops and have accumulated a TBR mountain of about 300 books (I don't ever want to be caught without something to read;). I've also been lucky enough to win some in contest.

In addition to all my favorite authors, I try new-to-me authors all the time and find even more to add to my growing list.

I am a romance junkie....

P.S. I agree with Lisa...the J. D. Robb series is well worth getting into. Which of us doesn't want a Roarke for our very own?
(Nancy Bristow 10:36pm November 30, 2009)
For Christmas reading, I've read Debbie Macomber's "The Perfect Christmas" which I'm excited about getting her to autograph tomorrow night. I've read the last of "The Legend of the Four Soldiers" books by Elizabeth Hoyt and tonight I finished "Talk of the Town" by Sherrill Bodine.

What to read next????
(Jill Hayden 10:37pm November 30, 2009)
I just finished reading Captive of Sin by Anna Campbell, An Echo In The Bone by Diana Gabaldon and am just getting ready to start To Desire A Devil by Elizabeth Hoyt.....and there were a few older book I've read this last month as well.

I don't reread for Christmas, except reading the traditional Christmas stories to the grandkids.

I have to many books on my TBR pile to list....but because I just started a new business/job, I'm afraid I won't have the time to read as many books per week as I am used to/or want to....which is a real bummer!!!

Happy Holidays to Everyone and let us all pray for a better economic new year!!!
(Mitzi Hinkey 11:59pm November 30, 2009)
Having recently read my first Kathy Reich book, I know I will be searching for more. Fun & murder & a little science.
(Mary Preston 3:28am December 1, 2009)
Lakeshore Christmas, Susan Wiggs; The Perfect Christmas, Debbie Macomber; Bride by Christmas, Heather Graham, Jo Beverley & Candance Camp are 3 books I have on hand. The 5 top are Final Justice, Fern Michaels; Bed of Roses, Nora Roberts; Second Sight, Amanda Quick; Play Dirty, Sandra Brown: & The Angel, Carla Neggers (there were more than 5). Have over 25 lined up to read by different authors. I am an avid so to win a book is a blessing to me..LOL..Thanks
(Brenda Hill 6:13pm December 3, 2009)
My top 5 books for '09 are:Cutting for Stone by Verghese; Human Stain by Roth; the COndition by Haigh; Plot Against America (audio) by Roth and Blame by Huneven....what a great reading year this has been!
(Linda Sheehan 4:52pm December 6, 2009)
Registered users may leave comments.
Log in or register now!