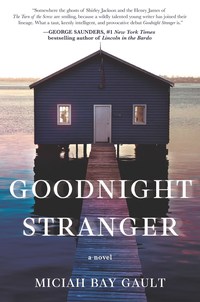 Park Row
August 2019
On Sale: July 30, 2019
304 pages
ISBN: 0778308707
EAN: 9780778308706
Kindle: B07JQ1RLD8
Hardcover / e-Book
Add to Wish List

A compulsive debut of literary suspense, Goodnight Stranger follows one young woman caught between her desire for the future and the tragedy of her past, and the love she has for her brother and the stranger who drives them apart.
Lydia and Lucas Moore are in their late twenties when the stranger enters their small world on Wolf Island. Lydia is the responsible sister, taking care of the pathologically shy Lucas ever since their mom passed a decade before. They live together in the large family house by the sea and are both comforted and confined by their insular lives, heavily shadowed by events from their childhood and the loss of their baby brother, Colin, who was their triplet.
When Lydia sees the stranger step off the ferry, she feels an immediate connection with him. Later, when Lucas meets him, Lucas is convinced this man is the reincarnation of Colin. How else could he be so familiar with their mannerisms, their habits, the topography of the island? Even his name, Cole, is eerily like Colin's. Lydia is suspicious, yet she can't deny his magnetism, his energy and warmth. Who is this Cole Anthony, and what is he after? To find out, Lydia must uncover sinister truths about her family and finally face her anxiety about leaving the island and her fear of losing her closeness with her brother. Goodnight Stranger is a spellbinding read that explores both the beautiful and transcendent ways it means to be family.
Start Reading GOODNIGHT STRANGER Now

Our Past Week of Fresh Picks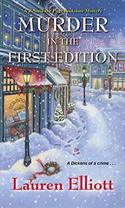 MURDER IN THE FIRST EDITION
by Lauren Elliott
Featured as Fresh Pick on October 22, 2019
Addie Greyborne is preparing for the holidays at her bookstore in seaside New England--but a winter storm is coming, in more ways than one Read More »

Did someone commit murder over a Charles Dickens novel?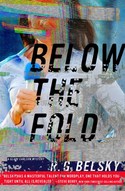 BELOW THE FOLD
by R.G. Belsky
Featured as Fresh Pick on October 21, 2019
When the murder of a "nobody" triggers an avalanche. Every human life is supposed to be important. Everyone should matter. But that's not the Read More »

New York politics gets in the way of solving a murder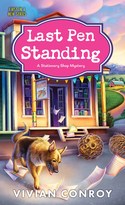 LAST PEN STANDING
by Vivian Conroy
Featured as Fresh Pick on October 20, 2019
Will this paper trail run cold? As the new co-owner of Tundish Montana's stationery shop WANTED, Delta Douglas knows how to organize a Read More »

Can Delta and the Paper Posse catch a killer?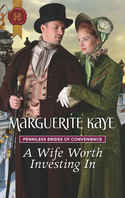 A WIFE WORTH INVESTING IN
by Marguerite Kaye
Featured as Fresh Pick on October 19, 2019
A convenient proposal…Makes a scandalous match!Knocking on Owen Harrington's door, impoverished and desperate Miss Phoebe Brannagh wonders if London&rsquo Read More »

Open a London restaurant? Scandalous!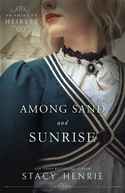 AMONG SAND AND SUNRISE
by Stacy Henrie
Featured as Fresh Pick on October 18, 2019
--1909-- After three failed seasons, American heiress Syble Rinecroft is more than ready to move forward in a life of independence and adventure. And what Read More »

Love will find you if you remain true to yourself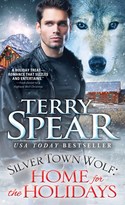 SILVER TOWN WOLF: HOME FOR THE HOLIDAYS
by Terry Spear
Featured as Fresh Pick on October 17, 2019
Come home to Silver Town for the holidays with an exciting new shapeshifter romance from USA Today bestseller Terry Spear! It's Christmastime in wolf Read More »

Full of cozy holiday charm and werewolf romance rawr

A sweet paranormal holiday read, with just a hint of danger!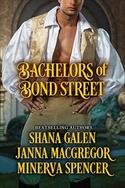 BACHELORS OF BOND STREET
by Shana Galen, Janna MacGregor, Minerva Spencer
Featured as Fresh Pick on October 16, 2019
Love by the Letters by Janna MacGregor Miss Portia Bellingham, a wealthy merchant's daughter, wants her sister's eighteenth birthday Read More »

Who needs dukes when you have fabulous businessmen!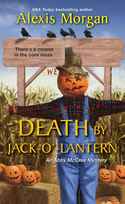 DEATH BY JACK-O'-LANTERN
by Alexis Morgan
Featured as Fresh Pick on October 15, 2019
Overcommitted committee member Abby McCree gets in a patch of trouble trying to solve the murder of a pumpkin farmer …The small town Read More »

Nobody liked the pumpkin farmer... but who hated him enough to kill him?