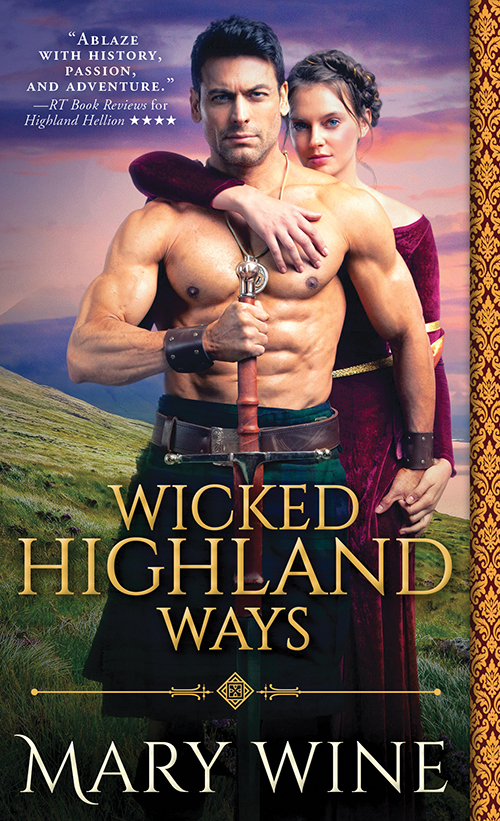 Purchase
Wicked Highland Ways
Mary Wine
Highland Weddings #6
Sourcebooks Casablanca
June 2019
On Sale: May 28, 2019
Featuring: Brenda Grant; Bothan Gunn
ISBN: 1492655570
EAN: 9781492655572
Kindle: B07JLZW7WX
Mass Market Paperback / e-Book
Add to Wish List

Brenda Grant has no desire to marry. Ever since her first, horrible marriage she's made herself into a hellion of a woman to keep men from wanting her. But the Campbells, her previous husband's family, are determined to find her a new husband.
Highland Chief Bothan Gunn is smitten by the woman who won't be tamed. It takes all Brenda's willpower to resist the brawny Highlander who takes her to safety. But as they spend time together—and grow ever closer—Brenda finally finds the freedom she's been longing for all along.
Comments
16 comments posted.
my favorite season is also spring, when all the trees and bushes in Texas turn green for a short period. Then we go straight to BROWN!
(Sara Reyes 12:04pm June 1)
Spring is painful for me. Allergies are awful. I prefer Fall
with its colors and food.
(Candy Voisine 2:12pm June 1)
While I love how pretty spring is, fall is actually my favorite season.
(Jana B 2:26pm June 1)
spring is great
(Ann Unger 10:53pm June 1)
I love Spring. The birds singing and the beauty of flowers
blooming as well as the fact that Winter is over.Looking
forward to reading Bothan and Brenda's story.
Carol Luciano
Lucky4750 at aol dot com
(Carol Luciano 9:16am June 2)
I love Spring because all the flowers are in bloom.
(Jaime Minter 9:20am June 2)
Spring is my favorite time ,,love the flowers and all the
trees with buds ,and the weather
(Vickie Couturier 12:32pm June 2)
I love spring too - the days start getting longer and the
flowers and leaves start popping out. A great relief after
the dark & cold winter.
(Diane Sallans 2:37pm June 2)
Each season has it's own beauty, but my favorite is spring. I especially like the new leaves on the trees, flowers blooming, birds singing and even the air feels fresher. This makes me want to go outdoors and simply enjoy life.
(Anna Speed 3:35pm June 2)
I actually enjoy all of the seasons. But must say that by the time spring has
sprung it is a relief, winter sometimes has difficulties letting go.
(G. Bisbjerg 10:18pm June 3)
I like fall because of the leaves turning amazing colors and
the cooler air
(Melanie Rosen 2:01am June 4)
My favorite is Autumn, but Spring is a very close second.
(Nancy Reynolds 11:17am June 4)
The morning dew sparkling on the green grass. Crocus,
daffodils, hyacinths, and tulips rising out of the warm
earth after a long slumber. The trees covered with
chartreuse buds or fragrant flowers. Featherless chicks
poking their hungry beaks out of the nest. Copper-colored
fawns frolicking around their mothers' legs... These are
just a few of my favorites things about spring.
(Kt C 12:30pm June 4)
Planting your garden, knowing how lovely everything is going
to be!
(Vanessa Primer 1:07pm June 5)
my favorite season is Autumn, but Spring is fun with all of
the flowers.
(Denise Holcomb 4:45pm June 5)
I love Spring too! But in the Sierra's it goes way too fast!
(Kathy Roope 10:52am June 6)
Registered users may leave comments.
Log in or register now!