Mary Wine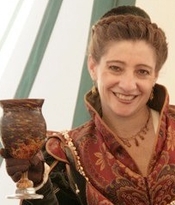 Blogging at Fresh Fiction
Mary Wine | Why is Spring fun?
May 29, 2019
I love a lot of seasons but Spring is just plain fun for me to watch come in. Winter has its beauty, especially there at Read More...
Mary Wine | My Favorite Scene from Highland Flame
September 22, 2017
My favorite scene…hummm….I think in HIGHLAND FLAME, I really enjoyed the moments right Read More...
Mary Wine | Historical Accuracy
February 24, 2016
My favorite scene from HIGHLAND SPITFIRE is this one, at the wedding feast. One of Read More...
Mary Wine | Exclusive Excerpt from A SWORD FOR HIS LADY
July 8, 2015
About A SWORD FOR HIS LADY He'd defend her keep Read More...
Mary Wine | THE HIGHLANDER'S BRIDE TROUBLE
August 8, 2014
I have recently discovered this invention called a Fit-Bit. Now there is more than one type on the market but I was drawn in Read More...
Mary Wine | How to Handle a Highlander
November 8, 2013
Good Morning! Thanks for having me over today. I love to write historical romance and some of you may know that I enjoy dressing in Read More...
Mary Wine | What was the most fun about writing HIGHLAND HEAT?
March 21, 2011
Without a doubt it was the taming of Quinton Cameron. Oops…sorry, had to duck and run there because that big, highland earl didn't Read More...
Mary Wine | Name Your Poison...AKA...Favorite Drink
October 15, 2010
Hello again! Thanks for having me back! I had such fun blogging last time about collections, I've been pacing around my office trying to Read More...
Mary Wine | The Things We Collect...
July 12, 2010
Isn't it amazing how many different sorts of collections there are out there? I know that I'm constantly amazed when I catch a Read More...
Pseudonym: Dawn Ryder.

Mary Wine has written over thirty novels that take her readers from the pages of history to the far reaches of space. When she's not abusing a laptop, she spends time with her sewing machines…all of them! Making historical garments is her second passion. From corsets and knickers to court dresses of Elizabeth I, the most expensive clothes she owns are hundreds of years out of date. She's also an active student of martial arts, having earned the rank of second degree black belt. Mary lives in California with her husband and two sons.
Log In to see more information about Mary Wine
Log in or register now!
Series
The Sutherlands | Courtly Love | Highland Weddings
Books:
Wicked Highland Ways, June 2019
Highland Weddings #6
Mass Market Paperback / e-Book
Between a Highlander and a Hard Place, November 2018
Highland Weddings #5
Mass Market Paperback / e-Book
Highland Flame, September 2017
Highland Weddings
Mass Market Paperback / e-Book
Highland Hellion, June 2017
Highland Weddings #3
Mass Market Paperback / e-Book
Highland Vixen, February 2017
Highland Weddings #2
Paperback / e-Book
Highland Spitfire, February 2016
Highland Weddings #1
Paperback / e-Book
A Sword for His Lady, July 2015
Courtly Love #1
Paperback / e-Book
Dream Shard, August 2014
e-Book
The Highlander's Bride Trouble, August 2014
The Sutherlands #4
Paperback / e-Book
How To Handle A Highlander, November 2013
The Sutherlands #3
Paperback / e-Book
A Captain and a Corset, June 2013
Steam Guardians #2
Paperback / e-Book
Dream Shadow, January 2013
e-Book
The Trouble With Highlanders, October 2012
The Sutherlands #2
Paperback / e-Book
A Lady Can Never Be Too Curious, August 2012
Paperback / e-Book
The Highlander's Prize, April 2012
The Sutherlands #1
Paperback / e-Book
My Fair Highlander, August 2011
Trade Size
Highland Heat, March 2011
Mass Market Paperback / e-Book
Improper Seduction, January 2011
Paperback
Highland Hellcat, October 2010
Highlander #2
Mass Market Paperback
To Conquer a Highlander, July 2010
Mass Market Paperback
In Bed With A Stranger, June 2009
Trade Size
Ellora's Cavemen: Tales from the Temple III, December 2005
Paperback
Ellora's Cavemen: Tales from the Temple III, October 2004
Paperback