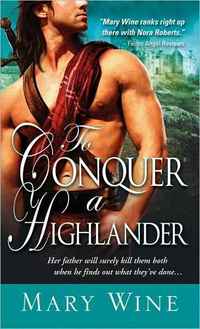 Purchase
To Conquer a Highlander
Mary Wine
Sourcebooks Casablanca
July 2010
On Sale: July 6, 2010
Featuring: Torin McLeren; Shannon McBoyd
384 pages
ISBN: 1402237375
EAN: 9781402237379
Mass Market Paperback
Add to Wish List

A fierce Highland laird ready to kill for king and country...
When Torin McLeren discovers his neighbor's plot against his king, he takes their daughter as his prisoner, thereby stopping her father's plot from going forward. But that leaves him with a woman under his roof whom he can't ignore, and not just because she's his enemy's daughter...
A woman who's as much trouble as she is temptation...
Shannon McBoyd decides to use her captor to experience passion for the first time, and then to destroy him. But her plan goes awry because once she has lured Torin into her bed, she no longer wants to hurt the one man who seems to value and understand her...
Even if her father will kill him-and her-when he discovers what they've done...
Comments
44 comments posted.
I can honestly say I am my father's daughter. He was a voracious reader and I've moved right up there myself. I am in the process of moving and needless to say, have been going through boxes and totes of books (didn't know I had THAT many).

I have my favorites...those are the ones I will reread over and over.
(Kathy Walsh 1:23am July 12, 2010)
I have a real thing for butterflies. Don't have much in a collection yet, but I have candle holders, prisms, welcome signs, etc that are all butterfly related. Even my car has butterflies on the windows.
(Joanne Reynolds 6:23am July 12, 2010)
I collect books, fabric,and yarn.
(Lisa Garrett 7:04am July 12, 2010)
I like to collect jewelry. Especially older, unusual pieces. If they have a hidden compartment or move in some way, its even better.
Congratulations on your new book! I'm really looking forward to reading it.
(April Harvey 7:55am July 12, 2010)
Tiny little cottages are what I collect as well as all the books of course!
(Barbara Hanson 8:30am July 12, 2010)
I collect kaleidoscopes, James Avery jewelry, and (much to my hubby's chagrin) books.
(G S Moch 9:02am July 12, 2010)
I love to read and have almost run out of room for my fave books. I do collect angel figurines and teapots. I have tried my hand quilting, but it is not my thing. I learned for my mom who makes wondrously, beautiful quilts.
(Deb H. 9:22am July 12, 2010)
The two things I have the most of are books and photographs both of which need to be better organized.
(Maureen Emmons 9:23am July 12, 2010)
love the cover! hope the book is as awesome
(Debbi Shaw 10:48am July 12, 2010)
I collect books, jewelry,movies, and pocketbooks.
(Cheryl Lynne 10:53am July 12, 2010)
I collect scrapbook paper. As soon as I go into a craft store I browse the scrapbook paper. I love scrapbooking and figure I will have a use for it eventually. Some papers are too pretty to pass up ;)
(Julie Trimm 11:05am July 12, 2010)
Books, books, books! Aside
from that I love Angels and
Dragons, what a combo eh? But
what I can't keep my little
fingers away from... beads!
Yes, I have countless numbers
of beads, all colors, all
shapes, all sizes. I love
beads, I buy them with all the
intentions of making jewelry
and once in a while I do.
There is just something really
great about buying a new
outfit and knowing you can
rummage through your beads and
come up with the perfect set
to make the necklace, the
earrings, a few bracelets and
an ankle bracelet and they
match perfectly. Yep, beads
for me, I just wish I made as
much jewelry as I intended in
the first place :) And, just
don't get me started on
scrapbooking paper and
stickers that sometime in this
life I really will use.
Promise :)
Looking forward to this new
book of yours it sounds great!
Thanks!!
(Pamela Alder 11:09am July 12, 2010)
I have a collection of autographed books but what I started collecting in my teens are dolls that have my birthmonth on them. I still have them though I haven't been proactive in looking for more
(Marelou A 12:16pm July 12, 2010)
I collect books. I had to put a couple of boxes of books in storage, because I ran out of room in my bedroom...my three bookcases are stuffed!
(Patsy Hagen 12:53pm July 12, 2010)
I collected hand bells from diffent states.
(Sherry Russell 1:45pm July 12, 2010)
Beside my books, I collect horse statues... I have wood, stone, metal, glass, etc... love them!
(Colleen Conklin 1:50pm July 12, 2010)
i'm a collector of handmade miniature
teddy bears (i'm a miniature bear artist
as well), i also collect books,
scrapbooking supplies (mostly paper),
milk glass, tiny animal figurines made
in japan, wexford glass, depression
glass, and antique looking storage
solutions... there's more but i should
stop... LOL!
(Tina Werner 1:59pm July 12, 2010)
I collect books, fabric, pigs and thimbles. I started with the thimbles when I ran out of room for my pigs. I have pigs everywhere and thimbles don't take up as much room.
(Gail Hurt 2:01pm July 12, 2010)
Books, especially juvenile horse books and vintage Nancy Drew.
(Shannon Scott 2:36pm July 12, 2010)
lol BOOKS. Like you haven't heard that before. I get alot of people who ask me what am i going to do with all the books i have. I get more and more every week. As a matter of fact i bought about 60 last Thursday when my library had a book sale. Soft covers were only 10 cents a piece. I couldn't very well pass that deal up. I bought some that i swear were never even cracked open yet. Several that i've been looking for. I don't really collect anything else at this point because i can't afford to or have the place for anything else so books it is.

Lisa Boggs
(Lisa Boggs 3:13pm July 12, 2010)
I collect books and Xmas things.
(Deb Pelletier 3:54pm July 12, 2010)
Congrats on the new release, Mary. I collect key chains, postcards and stamps.
(Jane Cheung 4:27pm July 12, 2010)
I collect books, tote bags and ceramic cats.
(Marlene Breakfield 4:37pm July 12, 2010)
Congrats on your new release!

Thanks to my father who goes from hobby to hobby every couple of years, I ended up collecting a multitude of things. I started (or rather, my father started me) with stamps when I was in first grade. I've got some kids meal toys of movies and characters that I like. I have a "collection" of interesting things that I've found at the beach. One of my past hobbies was sewing so I have bolts of fabric and a sewing machine somewhere in storage. Woodworking was another hobby so I have planks of exotic woods as well. Basically, I collect whatever catches my attention at the time. I figured that I'll always pick up that hobby again at some point. I also keep tropical fish and succulents.
(S Tieh 4:58pm July 12, 2010)
My favorite things to collect are earrings and tumbled stones.
(Tamara Shurling 7:59pm July 12, 2010)
I love reading even though neither of my parents were evr interested and could not understand my appreciation of authors. I also did a lot of sewing for a square dance group about 20 years ago, loved that too.
(Diane Sadler 8:28pm July 12, 2010)
I collect flower frogs and books
(Jodi Kegebein 8:31pm July 12, 2010)
Besides all my books (both paperback and hardcover), I collect baseball mascots in any form (bobble heads, stuffed animals, statues, etc.)
(Rosemary Krejsa 8:41pm July 12, 2010)
I am a collector of books, am on a quest to find the perfect pen and the perfect pair of panties. I know, I have issues....
(Brandi Evans 8:43pm July 12, 2010)
I am a book collector and am rarely seen without one in my bag.
(Alyson Widen 8:54pm July 12, 2010)
My enjoyment is quilting by hand. I have been quilting since public school. Quilting has always been relaxing hobby for me. It also allows me to think clearly and it has help me solve problems at home and at works. Whenever life gets to hectic for me, quilting has a way of calming me down.
(Kai Wong 9:30pm July 12, 2010)
I love reading and quilting (longarm)my kids and gardening
(Vickie Hightower 10:40pm July 12, 2010)
i love reading
(Sagrario Vigil 11:33pm July 12, 2010)
My room is so full of books there on every wall some where between 1000 and 2000 books.It's crazy.Then there are the spoons for all the places that i have been. and the nic nacs that are on all the spot on the book case that is not tooken by books.The list can go on and on.
(Stacey Smith 3:53am July 13, 2010)
My husband even brought me a large bookcase to put my books - I think he got fed up of finding them everywhere, I knew where they were!
(Barbara Hanson 8:33am July 13, 2010)
I collect anything with eagles on it, including books. Thanks.
(DeeAnn Szymanski 10:53am July 13, 2010)
Oh, my! I collect books, of course; dolphins, turtle, frogs, Cherished Teddies, shot glasses from places I've been or that hold some sort of meaning, jewelry and beads for making my own jewelry, and bookmarks - bought, I made, or from an author!
(Kelli Jo Calvert 4:39pm July 13, 2010)
Apart from books I cull more than I collect.
(Mary Preston 7:01pm July 13, 2010)
I collect books and bookmarks among
other things. I have way too many
books. I have collected old books
since finding my first one (an 1865
book on being a housewife and
mother) when I was in High School. I
have a mini-library in my house, well
not so mini. I have over 40 bookcases
and 30 to 40 boxes of books. I of
course have my keeper books. The
"regular" books I read and then send
them on their way. The problem is, I
am finding books faster than I can
read them.
I also sew and am staying as far away
from fabric stores as I can. Not
enough time to sew. Most of what I
have sewn in the past few years have
been costumes or regalia for pow-
wows. I am hoping that our house will
be finished soon (an 18 year
remodeling project) so I can get into
my sewing room to finish some old
projects and start some new ones. A
highland outfit for me is next. My
husband finally got his tartan kilt, etc.
I have the scarf, so I need a skirt,
blouse, etc to go with it. Civil War
outfits are next.

I love the sound of TO CONQUER A
HIGHLANDER. My kind of story. It
will probably find its way onto my
keeper bookcases with all the other
Highlanders.
(Patricia Barraclough 10:01pm July 13, 2010)
I collect books, and old antique crackle glass pieces have a huge collection of it!
Love pins too!
(Brenda Rupp 10:32pm July 13, 2010)
I'm a collector of books.
(Sue Ahn 11:47pm July 13, 2010)
Dryer lint comes in a colour other than dingy grey?!? Not mine!!

Let's see. I collect cookbooks, especially those pertaining to chocolate; "regular" books, that is, books one just sits and reads, but since I do that with cookbooks, I don't bother making any distinction between them; food/travel writers - MFK Fisher, Jan Morris, James Beard, and others; maps - I love to travel, and tend to rent a car when I'm in Europe, so a map or two (or three, four, five ....) are necessities! I also like jewelry, just about anything cat-oriented (since my lease doesn't allow pets, I have to go with the substitutes!), baking equipment (which DOES get used!), interesting cookware, Majolica/Faience/similar types of pottery, kitchen gadgets.

Later,

Lynn
(Lynn Rettig 2:35am July 14, 2010)
My main love is oriental figurines. I also knit and crochet, so I have my yarn stash. There is also my love of reading, so I have my special books. I also love lead crystal, and have small pieces scattered through the house. I love when the sun hits the pieces and sends a burst of color through the room.
(Peggy Roberson 9:46am July 15, 2010)
I collect books, books and more books, maps, postcards, travel booklets, stamps, art cards, oh and I'm sure I've forgotten at least 2 more.
(Sigrun Schulz 1:47am July 19, 2010)
Registered users may leave comments.
Log in or register now!