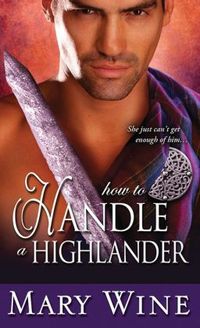 Purchase
How To Handle A Highlander
Mary Wine
She just can't get enough of him...
The Sutherlands #3
Sourcebooks Casablanca
November 2013
On Sale: November 5, 2013
Featuring: Gahan Sutherland; Moira Frazer
320 pages
ISBN: 1402264771
EAN: 9781402264771
Kindle: B00DZPNBCG
Paperback / e-Book
Add to Wish List

In a Land of Warriors Playing a Deadly Game...
Moira Fraser has been given an ultimatum—marry the elderly Laird Achaius Morris, or risk another deadly clan war. She vows to do the right thing, as long as she can steer clear of the devilish charms of one stubborn Highlander...
How Do You Avoid Becoming a Pawn?
Gahn Sutherland knows there's a dangerous plot behind Moira Fraser's wedding, and will stop at nothing to foil it. But where a hot-headed, fiery Highland lass is involved, trust and honor clash with forbidden attraction, threatening to blow the Highland's sky-high
The Sutherlands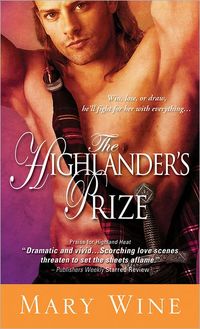 The Highlander's Prize
#1.0
Amazon.com | BN.com | | |
Comments
44 comments posted.
Re: How To Handle A Highlander

I have been waiting for this book ... now that it is here I will need to pull the previous books out to reread
(Shelby S 12:05pm November 8, 2013)
This is the first time I have seen your work but I am definitely interested. I
will be checking out what I need to do to "catch up" after reading the
comment from Shelby.
(Patti Paonessa 12:51pm November 8, 2013)
Looks like a great read! The book cover is very intriguing :)!!
(Jean Merriott 2:27am November 8, 2013)
I love historical romances and this one I am really looking forward to reading. Thanks so much!!
(Bonnie Capuano 7:00am November 8, 2013)
Your book isn't what I expected it to be, and for that I'm glad. I thought it would be boring, to tell you the truth, and it sounds like it's going to be quite the love story!! I'm looking forward to reading your book this Fall, and getting acquainted with your style. I'm also glad that you took the time to explain the dressing style from that era a little bit more. I love the dress from that era, and you cleared up a little bit of the mystique. Thank you for taking the time to explain it, and thank you for writing what I'm sure is going to be a great read!!
(Peggy Roberson 7:57am November 8, 2013)
Wow that's put the cat among the pigeons. A corset that fits and is
comfortable.
(Chris Coulson 8:01am November 8, 2013)
i am a historical story lover this really sounds good i need
to catch up on the other books and would love to read this
(Denise Smith 9:35am November 8, 2013)
Love the cover. Sounds really good.
(Sue Brandes 9:43am November 8, 2013)
I love your personal story behind these old fashioned clothes! Looks like a great read
(Margaret Branca 9:57am November 8, 2013)
This sounds like a great book. And I enjoyed your story about making your own "period" clothes. WOW - very impressive to me as I am not very good at anything which involves sewing. Thanks for this chance to win. Best of luck with this book and all that you do.
(Nancy Reynolds 10:10am November 8, 2013)
Sounds like you are a very good sewer. I can make the kids Halloween costumes but nothing super fancy. Half the time I'd have to ask my hubby if he could understand the instructions. He has no idea how to sew, but he's an engineer and can figure things out easily!
(Sue Galuska 10:33am November 8, 2013)
I love historic fiction and Highlander stories are always great!
(Vennie Martinisi 11:25am November 8, 2013)
I cannot wait to get my hands on this book! I love Mary
Wine's books.
(Karin Anderson 11:31am November 8, 2013)
Love Highlanders... actually just finished a book with one yesterday... your book sounds great!
(Colleen Conklin 1:14pm November 8, 2013)
I fell in love with Highlander the series thanks to my husband. Even my
oldest daughter loves that series. Adrian Paul May have something to do
with it! I usually use him as the hero when reading a highlander book:)
(Michelle Schafer 2:37pm November 8, 2013)
Fabulous! I can never have too many Highlander books!
(Diane Sallans 4:18pm November 8, 2013)
Your book sounds wonderful, and I love the cover! Thanks for the chance
to win!!!
(Linda Brennan 4:34pm November 8, 2013)
An excellent tale, like a properly fit corset, is carefully crafted. It follows that an author, who has mastered the creation of Elizabethan and/or Victorian clothing, undoubtedly crafts a fine story as well! The devil is in the detail, isn't it!

Now a Highland novel is most appealing to one with Scots ancestry.....and that would be ME, a woman who has needled many a fine stitch and a Librarian who has selected many a good read.

Thank you for this opportunity to share your work!
(Carla Schuller 6:33pm November 8, 2013)
Wow, Congrats on your new book: HOW TO HANDLE A HIGHLANDER.
I love the book cover too! I love to watch Highlander on TV
shows all the time and I know that I would love your new
book too. I would love to win and read your new book this
Fall. Thank You very much. Cecilia CECE
(Cecilia Dunbar Hernandez 8:00pm November 8, 2013)
I think it's great that you sew you own costumes, and I'm impressed that you can make a corset! The book sounds great, and I look forward to reading it.
(Janie McGaugh 9:47pm November 8, 2013)
It surprised me to read that corsets were not overly
tightened. That has always been the image in my mind. Love
learning something new.
(G. Bisbjerg 10:04pm November 8, 2013)
Oh my goodness, those eyes on that cover.
I am fascinated, so you wear them just because you feel like you were born in the wrong time? Or they are more comfortable now that you have the pattern right? I cant imagine making them from scratch. That's pretty cool!
(Lisa Hutson 12:15pm November 9, 2013)
I can't wait to read this book...it sounds wonderful!
(Bonnie Capuano 9:39am November 9, 2013)
I do enjoy seeing the beautiful costumes that people make.
(Maureen Emmons 11:07am November 9, 2013)
Sounds interesting. Love costumes.
(Pam Howell 11:59am November 9, 2013)
As soon as I see something Scottish or Irish in the title, I
get excited and hope the plaids of the clans interweave
through the story.
(Alyson Widen 12:13pm November 9, 2013)
Hi, Mary! Thanks for sharing about the corsets and historical dress. It was very interesting. How to Handle A Highlander sounds like a must read. Thanks for the giveaway!
(Cathy Phillips 2:05pm November 9, 2013)
You are so right about fibers and breath-ability. You have more patience than me to
work that hard at getting the fit right - better skills :). I can't wait to dive
into your books as I'm sure you are just as perfectionistic about the stories too.
Scots are my favorite theme to read. Thanks for the window into their costumes,
from one seamstress to another ;-)
(Lenna Hendershott 2:19pm November 9, 2013)
And here I thought your talents were limited to writing those fabulous books ;-) I'm in awe that you can sew, let alone something that seems as intricate as costumes! The discussion about corsets was very enlightening as well. I can't wait to read your latest book. I do have one question though...Do you ever plan to write a sequel to Prisoner of Desire? That was my absolute favorite book.
(Karen Mason 2:43pm November 9, 2013)
I'm curious... Do you wear your historical garments solely for book shows
and signings, or do you also wear them as an every day thing around the
house?
I've enjoyed your previous books, so I look forward to reading this one!
(Debbie Burdeen 2:52pm November 9, 2013)
It's good to know that corsets are not as painfully as they looked in the movies. After all, none of us wear one unless it is for a costume party or Halloween.
(Kai Wong 5:09pm November 9, 2013)
I love highlander... :) Love the cover.
(May Pau 9:21pm November 9, 2013)
I love Highlanders. Men in kilts. Yum.
(Marcy Shuler 9:28pm November 9, 2013)
I have never considered making my own undergarments. BUT...I would LOVE a bra that fit me properly! That being said, I love wool. In the winter there is just nothing better. I wear wool sweaters, socks, and even my shoes are wool felt! When I was younger, I had authentic Revolutionary War outfits, one for dress and one for everyday. And yes, you had to have the proper undergarments. Now I take them to school and put my kids in them every year.
(Marcia Berbeza 1:58am November 10, 2013)
You are a terrific author, but I must say, I have even more respect for you now! I would love to be able to make patterns for my own clothes...and then, naturally, to be able to sew them. I think I would choose to make a wench's costume if I could.
(Vennie Martinisi 9:57am November 10, 2013)
I love to create my own clothing style, but I never considered making undergarments. Do they even make these kind of patterns? lol
(Lin Berda 11:47am November 10, 2013)
Corset? I didn't realize anyone wore corsets now days, but at the same time, I can see where one would make a dress fit better.
(Anna Speed 3:15pm November 10, 2013)
Love your books Mary and cant wait to get my hands on a copy
of HOW TO HANDLE A HIGHLANDER. Highlanders are my absolute
favorites to read .I really enjoyed your post and hope you
have a great day
(Wanda Flanagan 4:27pm November 10, 2013)
Would love to win your book. Cover looks great. Thanks for a chance to win.
(Linda Hall 5:12pm November 10, 2013)
Thanks for the chance to win this book. It sounds like a great read.
(Carol Woodruff 6:22pm November 10, 2013)
HOW TO HANDLE A HIGHLANDER - love the title. A must read for
me.
(Mary Preston 8:35pm November 10, 2013)
I have not read any of your book. If I win one that would be nice
(Judy Ferguson 9:06pm November 10, 2013)
I totally agree about the things you don't see make the outfit fit sooo much better. Undergarments and seam widths are particularly important.
(Laura Gullickson 10:03pm November 10, 2013)
Hi Mary!

I love all your books no matter the genre but I must admit I love your books set in the Highlands because they take me back to the time my ancestors lived there.

My mother designed and made wedding gowns when I was a teenager but while sewing has never been something I've wanted to do I must admit that when my boys were 2 and 4 year old toddlers I was forced to make there most of their cloths because our small village didn't have a store that sold them and we only had one car at the time.

Because of that I discovered that I could also make clothes for myself. How wonderful freeing it could be that you could make something that you looked good in and actually fit correctly! Since I'm undertall with the skills I developed I was actually able to also make clothes for myself that were age appropriate and I finally didn't have to try to find clothes in the "teens" department to wear on my 28 year old body!
(Jeanne Miro 10:25pm November 10, 2013)
Registered users may leave comments.
Log in or register now!