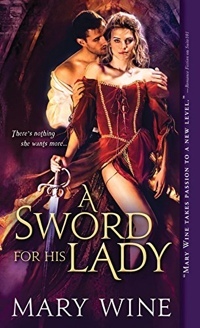 Purchase
A Sword for His Lady
Mary Wine
Courtly Love #1
Sourcebooks Casablanca
July 2015
On Sale: July 1, 2015
Featuring: Ramon; Isabel
352 pages
ISBN: 1492602477
EAN: 9781492602477
Kindle: B00TFZ0BYQ
Paperback / e-Book
Add to Wish List

He'd defend her keep... After proving himself on the field of battle, Ramon de Segrave is appointed to the Council of Barons by Richard the Lionheart. But instead of taking his most formidable warrior on his latest Crusade, the king assigns Ramon an even more dangerous task-woo and win the Lady of Thistle Keep.
If only she'd yield her heart Isabel of Camoys is a capable widow with no intention of surrendering her valuable estate. She's fought long and hard for her independence, and if the price is loneliness, then so be it. She will not yield...even if she does find the powerful knight's heated embrace impossible to ignore.
But when her land is threatened, Isabel reluctantly agrees to allow Ramon and his army to defend the keep-knowing that the price may very well be her heart.
Courtly Love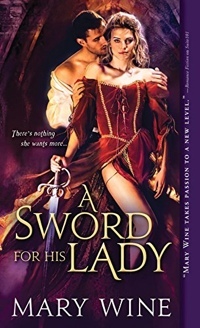 A Sword for His Lady
#1.0
Amazon.com | BN.com | | |
Comments
22 comments posted.
Let her be the one to get her way.
(Leona Olson 9:17am July 8, 2015)
I have a hunch that he's going to win this one. He seems to
be quite clever, even though she's quite good with her
retorts. I enjoyed reading the excerpt, and know that I'm
going to enjoy the rest of the book very much. It's already
been put on my TBR list. The cover is stunning!!
Congratulations on what I'm sure is going to be a big hit to
round out anyone's Summer reading!!
(Peggy Roberson 10:32am July 8, 2015)
Isabel seems like she will win! I love their banter, and
this is such a great cover!
(Samantha R 11:03am July 8, 2015)
I hope Isabel wins the battle of wills:) I know Ramon will try but I hope
Isabel decides on her own by her heart rather than by what Ramon wants.
Love it when the female plays hard to get:)
(Penny Marks 7:21pm July 8, 2015)
Isabel of course should win. However, she can't make it
too easy or it's no fun. I like a bit of sass in my female
heroes.
(Alyson Widen 8:05pm July 8, 2015)
I hope she wins this sounds very good, I can't wait to read it, love the cover.
Penney
(Penney Wilfort 8:16pm July 8, 2015)
Oh, I should think Ramon de Segrave shall win! However Isabel will enjoy the loss, I am sure!
(Amy Morgan 8:51pm July 8, 2015)
It's going to be VERY close - I think that Ramon will win, though! :-)
(Felicia Ciaudelli 8:17am July 9, 2015)
This is a tough one. I think it will be Ramon :-)
(Carrie Tillman 2:04pm July 9, 2015)
I think it will be Ramon de sagrave
(Beverly Ross 4:16pm July 9, 2015)
I hope Isabel wins. Ramon deserves to be taken down a notch or
two. :) He's so cocky, but we love that don't we?!
(Sharon Shearouse 10:58am July 10, 2015)
I think both will win in the end and be happy forever. Both want each other , but trying to convince the other that they don't . I hope to read this book soon . Thanks for this giveaway.
(Joan Thrasher 11:50am July 10, 2015)
Isabel!! I love a strong independent heroine that doesn't
make it easy.
(Vanessa Hinman 8:42am July 11, 2015)
I hope Isabel is the winner :) but it sounds very interesting! Thanks.
(Dianne McVetty 11:13am July 11, 2015)
Isabel should win. I love these books.
(Mary Hay 11:20am July 11, 2015)
Isabel of course
(Christine Schultz 3:14pm July 11, 2015)
I think she will.
(Nancy Luebke 3:38pm July 11, 2015)
Isabel will win!
(Denise Austin 4:30pm July 11, 2015)
I think they'll both win.
(Karen Mikusak 7:52pm July 11, 2015)
I think Ramon will win, and then they'll both win!
(Janie McGaugh 8:51pm July 11, 2015)
Oh, I do love a great battle of wills. I've been involved in
one for 37 years. Sometimes I win, sometimes he wins. But
we're always very aware of each other. So, in the long run, we
both win. It is never boring at home.
(Marcia Berbeza 9:43pm July 11, 2015)
They'll both win some but not all.
(Laura Gullickson 11:47pm July 11, 2015)
Registered users may leave comments.
Log in or register now!