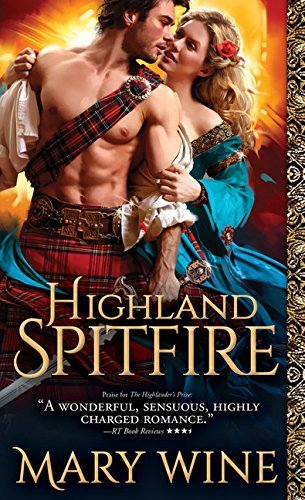 Purchase
Highland Weddings #1
Sourcebooks Casablanca
February 2016
On Sale: February 2, 2016
Featuring: Ailis Robertson; Bhaic MacPherson
ISBN: 1492602566
EAN: 9781492602569
Kindle: B0169AK3LA
Paperback / e-Book
Add to Wish List

New from Mary Wine, the queen of sizzling, page-turning Scottish Historical romance
Passion flares between enemies
Two hotheaded Highlanders, the offspring of feuding lairds, are tricked by the King's Regent into a desperate choice: marry or die. Bhaic MacPherson is more disposed to lead his clan into battle than stay married to the daughter of his enemy. But perhaps the intensity of his feelings has more to do with desire than hostility.
And the Highlands ignite
Ailis Robertson wanted a husband, not a savage-but when her family was faced with a deadly ultimatum, she had no choice. The union of a MacPherson and a Robertson could end three generations of hostilities between the two families, but can bitter rivals truly become lovers?
Highland Weddings
Comments
25 comments posted.
When the protagonist triumphs over his adversary and all is
well.
(Sharon Berger 11:27am February 24, 2016)
Hmmm, not sure... but I love when a story pulls me in... feel like I am there with the words of the author.
(Colleen Conklin 12:09pm February 24, 2016)
I have not read many books that have taken place in Scotland. Although, I
really enjoyed the movie Braveheart which was set in Scotland.
(Lily Shah 12:13pm February 24, 2016)
I cannot say. You pose an interesting question but I don't
think I have really read with the awareness of whether
something is or is not "of it's time." Though if something
is recognizably out of place whether in item or general
norms it is jarring.
(G. Bisbjerg 12:39pm February 24, 2016)
The one that many would know is when Jamie punishes Claire in
Outlander. I'm not sure about it being a favorite scene,
though!
(Janie McGaugh 2:09pm February 24, 2016)
I love the scene in The Bride by Julie Garwood where Jamie's surprise was ruined and she's upset and telling about all the wars she's responsible for starting to the king of Scotland without realizing he was the king. I don't know if it's considered of it's time but it's one of my favorite scenes.
(Kathleen Bledsoe 6:28pm February 24, 2016)
I enjoy them all. How strong and loving the men and women are.
(Gwenn Ostman 7:48pm February 24, 2016)
The Devil Wears Plaid by Teresa Medeiros seems true to it's
time. I would go for the scene where they were "camping"
out after Jamie kidnaps Emmaline.
(Sharlene Wegner 9:18pm February 24, 2016)
I can't think of a favorite one off the top of my head, but
it does bother me when there is no - or very little -
attempt to keep a book and characters in "it's time".
(Glenda Martillotti 11:54pm February 24, 2016)
In Keira Montclair's Torrian, the importance of clan and automatic loyalty to their own regardless of personal doubts and loyalty to the laird above all, even when it is against their own best interest.
(Sharon Mitchell 4:24am February 26, 2016)
I love it all!!!! Anything to do with Scotland and Highlanders are my favorite!!!
(Bonnie Capuano 11:35am February 26, 2016)
There is an ambush scene in Claimed by Tarah Scott that
is one of my favorites as the small party of men try to
protect the heroine and two other ladies. The hero shows
his battle prowess which he's famous for but the ladies
aren't scared and wish they were able to draw a sword or
break out a bow and arrow so they can lend the men a hand
to kill a few of the bastards. :)
(Tina Hairston 3:32pm February 26, 2016)
I love any Highland story that pulls me in and I feel I'm in the story. It just takes me away into another world!!
(Bonnie Capuano 10:00am February 27, 2016)
I love the Highland stories and always love it when the two that have hated each others families for years ,then they are pushed together and suddenly realize that the hate has turned to a mad passionate love for each other . That makes for a very good romantic story that I can get into .I'd love to read this book and thank you for this chance to win .
(Joan Thrasher 1:27pm February 27, 2016)
I do not know Scottish history so I would not know the
difference in a book.
(Melissa Basnight 3:51pm February 27, 2016)
I love historicals to begin with - but am really getting into "Highlanders" - thank you for sharing this part of history with us! :-)
(Felicia Ciaudelli 2:26pm February 28, 2016)
I love historicals. I guess my favorite is that the character has to be believable, that I can picture him and feel like I'm in a different time. One of my favorites is Robert MacDarren in Iris Johansen's Magnificent Rogue.
(Cynthia Powers 5:09pm February 28, 2016)
Not one I can think of. I read a lot of historical fiction but can't even think of
one I've read taking place in Scotland
(Vicki Hancock 6:06pm February 28, 2016)
Enjoyed the excerpt....I enjoy the period with the castles and the rugged landscapes. I like feeling like I have gone back in time when reading these.
(Julie Parrish 6:07pm February 28, 2016)
I really enjoyed the excerpt. I don't have a particular favorite. I love when I feel like I am pulled into the story and everything is in the correct time period.
(Cathy Phillips 6:37pm February 28, 2016)
When the story tells the history and about the people of that country , to the point where I want to visit that country.
(Deb Pelletier 9:29pm February 28, 2016)
I love it when the woman performs a feat normally associated
with males and he is just flabbergasted.
(Diane Sallans 10:23pm February 28, 2016)
I agree with Diane - when a woman baffles a male, it's just, THE BEST! I also like
it when a book of it's time paints the Scotland scenery :)
(Nicole Potter 11:14pm February 28, 2016)
I love reading Scotland books.
(Timberlee Ramsey 12:11pm March 4, 2016)
I have read some books that take place in Scotland...Love the historical romance books and the characters and hardships..and of course the love..
(Karen Dieffenbaugher 10:20pm March 18, 2016)
Registered users may leave comments.
Log in or register now!