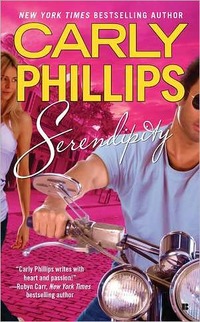 Purchase
New York Times bestselling author Carly Phillips presents the first in a delightful new series about a quaint upstate New York town where love, fate and fortune are intertwined ...
Serendipity #1
Berkley
September 2011
On Sale: September 6, 2011
Featuring: Faith Harrington; Ethan Baron
304 pages
ISBN: 0425243834
EAN: 9780425243831
Kindle: B0052RCWCU
Paperback / e-Book
$7.99
Add to Wish List

Faith Harrington was the classic girl of privilege--until her father was convicted of running a Ponzi scheme and then her marriage crashed and burned.
Now Faith is back in her hometown, hoping for a fresh start. But her father's betrayal has rocked Serendipity - and not everyone is ready to welcome her with open arms. Then she runs into her teenage crush -- the dark, brooding Ethan Barron. Ethan, no stranger to scandal himself, never imagined he'd own the mansion on the hill, much less ever again come face to face with Faith--the princess he once kissed senseless. The chance meeting reignites the electric charge between them.
Still, when Ethan hires her to redecorate what was once her childhood home, Faith is sure that getting involved with the town's notorious bad boy will only lead to trouble. But her heart has other ideas. And so do the townspeople of Serendipity ...
Comments
42 comments posted.
Re: Serendipity

Love your books! They are fun, sexy reads. Can't wait to read this one either!
(Molly Wilsbacher 12:12pm September 1, 2011)
I love them all, alpha, beta or gamma I just can't get enough!!!
(Barbara Hanson 6:20am September 1, 2011)
Love the books. I prefer a cute but nice hero.
(Pam Howell 7:42am September 1, 2011)
You books are amazing. I really enjoy reading them.
(Rebecca Hagan 8:45am September 1, 2011)
I love strong, somewhat silent type, who are loyal to their family and friends. When they love they love completley. They are a little scary, but tender. And they have to be funny. They don't need to always be cracking jokes, not that I would mind. But sometimes they ones that are more serious. and come out with somthing funny are all the more endering to me.
(Lorraine Rodriguez 9:53am September 1, 2011)
Gamma...all of the above would be just fine with me!!!
(Dawn Staniszeski 9:55am September 1, 2011)
Sorry got cut off.... I find that the gamma is best. A little bit of the best of both. OK, now I am finished! :-)
(Lorraine Rodriguez 9:55am September 1, 2011)
I think I like the gamma the best but I still have a thing for the alphas. Thanks for the post and great giveaway.
Gotta love a series with brothers in it.
(Patti Paonessa 12:33pm September 1, 2011)
I had not heard of the Gamma hero. Have enjoyed Alpha heroes very much but sometimes felt they were just too much. I imagine that a blend of Alpha and Beta would be wonderful to read.
(G. Bisbjerg 12:55pm September 1, 2011)
I am always excited to see what kind of personality a hero of a book has... as for a fav, the one I am reading and enjoying at the moment... each time I pick up a book and see the interactions between the characters, that is my fav hero at the time!
(Colleen Conklin 1:26pm September 1, 2011)
I really like the strong silent type with a wicked sense of humor!
(MaryEllen Hanneman 2:01pm September 1, 2011)
In books, alpha. In real life, beta. A real life alpha would drive me insane!
(May Pau 2:36pm September 1, 2011)
I would love to read and win this!
(Summer Grinstead 2:58pm September 1, 2011)
I like the dark tortured hero. The guy who always seems to get the bad end of things until his lady love shows up and changes his luck for the better. Even then he was trouble letting his heart shine through that rough and tough exterior, almost like he cannot shake falling back into the bad boy mode. But when it finally happens, everything he went through to get to his just rewards was definitely worth it.
(April Harvey 3:30pm September 1, 2011)
I think all three, try each on and see which would mold better with my
personality. I love the strength of the alpha and know that I need a
strong personality to help keep me in check or keep me going, I also love
southern gentleman - that romancing angle seducing works, with
integrity and laid back mentality helps soothe me, the combo.. depends
on the traits but sounds too good too be true.
(Carla Carlson 3:31pm September 1, 2011)
A mix of all three are what attracts me the most. Those bad boys are fun but fleeting, and Mr nice is sometimes to soft and gets walked all over. Yep, the Gamma is the winner. Honestly Carly, your books are super no matter how you portray the characters. They just add their own flavor.
(Rosemary Simm 4:03pm September 1, 2011)
I like all types of heros depends on the mood I am in. I guess you could say I love them all. Your books sounds fabulous and I would love to read it.
(Gail Hurt 4:10pm September 1, 2011)
got to love sweets and you have got to love romance and fiction. Having a imagination is a bonus.
(Anthonia Sharp 4:16pm September 1, 2011)
bad boys are fun to read about
(Ann Unger 4:20pm September 1, 2011)
I love the dark haired, blued eyed, bad boy....or any of the others...Thank you!!!...lprater@modweldco.com
(Leisa Prater 4:40pm September 1, 2011)
Beta -- the nice, kind guy. The trading cards sound interesting; never heard of them for books.
(Michelle Fidler 4:55pm September 1, 2011)
Wow ~ romance novel trading cards! What's next?
(Susan Coster 5:08pm September 1, 2011)
i like them all depending on my mood, but I do lean more
towards a Gamma.
(Jessica Pando 5:12pm September 1, 2011)
A good, strong, honest man does it for me.
Blessings,
Marjorie
(Marjorie Carmony 5:15pm September 1, 2011)
I have a nerd at home so I like the Betas! But sometimes you need a good Alpha in your life. OR maybe a Gamma, a little of both!
(Sherie Lagarde 5:36pm September 1, 2011)
I am a Beta hero lover!!!
(Shirley Younger 5:43pm September 1, 2011)
I love the Gamma kind of a guy!!!
(Joanne Bozik 5:43pm September 1, 2011)
I really love reading your books. Please keep them coming.
(Linda Hall 7:18pm September 1, 2011)
I guess Gamma would be the one for me, too. I'm not too keen on some of the Alpha male characteristics nor on some of the beta. Somewhere in between would be nice. One thing: I'd be more for his mind than his muscles.
(Sigrun Schulz 7:29pm September 1, 2011)
Definately like the Alpha, but he has to let the lady be
Alpha as well. Take charge and be dominate. Not take over.
(Cindy Zobac 7:51pm September 1, 2011)
love bad boys and alpha's!! cant wait to read!!!
(Jennifer Beck 8:32pm September 1, 2011)
Love reading your books, can't wait to read this one!
(Mary Lynch 8:38pm September 1, 2011)
I like the kind of hero that is strong when he needs to be, can take control when the situation warrants, but knows how to be tender and knows what a woman wants. He should be the type that is content to snuggle in bed or on the couch, or go for a nice walk on the beach or in the woods. Just your average all-around guy who has that tender side to him and loves to laugh, and loves life as well. I'll be curious to see more about the characters in your latest book. I love the cover!!
(Peggy Roberson 9:08pm September 1, 2011)
i think i have to say a gamma,followed by the beta. i do like an alpha in the right book but i don't like a heroine that let's someone walk all over her and some of the alpha's have that tendency.
(Tammy Ramey 10:06pm September 1, 2011)
This is the kind of hero I enjoy reading about. I'll bet there's a lot of exciting times between the hero and heroine.
(Anna Speed 10:14pm September 1, 2011)
I like the strong silent type but one who is a really nice guy and loves his family and would do anything for them.

Good luck with the new book.
(Mary Branham 10:36pm September 1, 2011)
I love all types of men. Variety is the spice of life!
Good luck and happy writing!
(Tracie Travis 10:45pm September 1, 2011)
I love all kinds of heroes...it just depends on my mood at the time.
(Ann Garland 4:18am September 2, 2011)
I'd probably pick the mixture because a hero isn't always one way or another but a blend of unexpected pleasure or disappointment. I do like the Alpha male though.
(Alyson Widen 4:38pm September 6, 2011)
I'd choose the Gamma because having a mixture of both is nice! An all-around take- charge nice guy that cares about your feelings. Variety is nice--happy-go-lucky along with take-charge guy with lots of romance! Love reading about all types and your new book sounds good and I love the cover!
(Linda Luinstra 5:16pm September 6, 2011)
Wow so many replies! You guys rock :) I think the best thing about romance for readers and writers is the variety, the chance to change it up with each book!
(Carly Phillips 7:00pm September 6, 2011)
I really enjoy her books.
(Marie Manolio 11:47am November 30, 2011)
Registered users may leave comments.
Log in or register now!