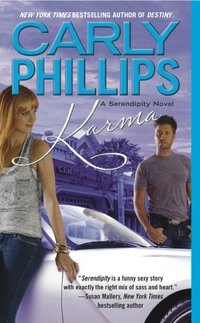 Purchase
Serendipity #3
Berkley
May 2012
On Sale: May 1, 2012
Featuring: Liza McKnight; Dare Barron
304 pages
ISBN: 0425247902
EAN: 9780425247907
Kindle: B0072O00KW
Paperback / e-Book
Add to Wish List

Police Officer Dare Barron has had a crush on Liza McKnight ever since he was a teenager. But despite his lifelong attraction, the closest he's ever come to interacting with her is watching Liza regularly bail out her brother at the station. Dare's dark past with Liza's brother, Brian, has always kept him from pursuing her. But suddenly Liza finds herself in need of protection and Dare appoints himself as the man for the job. And while the sizzling attraction between Dare and Liza draws them together, the past that Dare and Brian share threatens to keep the two apart forever.
Serendipity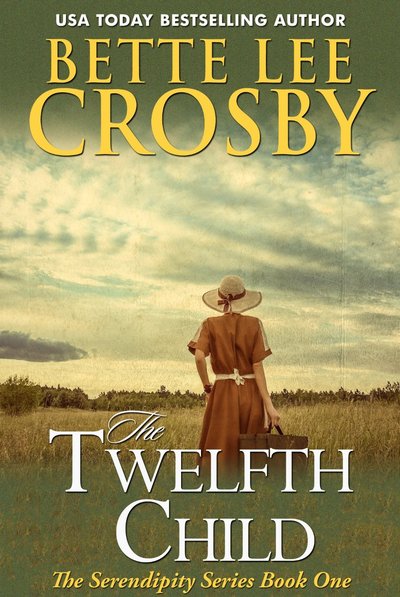 The Twelfth Child
#0.0
Amazon.com | BN.com | | |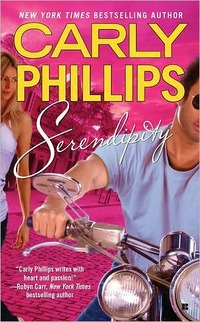 Serendipity
#1.0
Amazon.com | BN.com | | |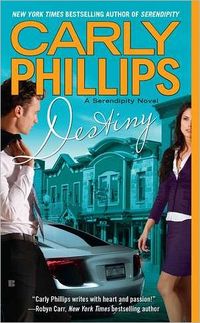 Destiny
#2.0
Amazon.com | BN.com | | |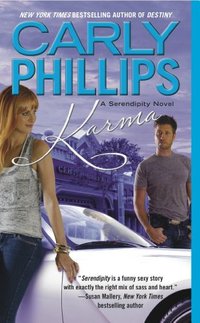 Karma
#3.0
Amazon.com | BN.com | | |
Comments
51 comments posted.
Re: Karma

I like a light contemporary romance. I love a fun relationship that has a nice realistic approach.
Love your books!
(Stephanie Briggs 12:21pm May 8, 2012)
KARMA Serendipity sounds the most intesting to me, The long longing for Liza and her not even being aware of it.There eventually getting togething so romantic,
(Kathleen Bianchi 3:17am May 8, 2012)
I like both lighter and darker contemporary stories, it just depends on my mood.
(Maureen Emmons 6:12am May 8, 2012)
I like a mix, and you have certainly achieved that in Karma!
Blessings,
Marjorie
(Marjorie Carmony 6:29am May 8, 2012)
This sounds like a book I would love to read. Thanks for the chance.
(Bonnie Capuano 7:16am May 8, 2012)
I can't wait to read your book it sounds fantastic and thank you for the contest!
(Jane Thompson 8:02am May 8, 2012)
It depends on the mood. Sometimes I want a lighthearted read that will have me smiling the whole way. Other times I want something heavily angsty that has my heart in my throat praying for a hea. The one thing I always want is perfect banter between the 2 main characters. Whether it's funny, witty banter or meaningful banter I have to feel the connection between then and enjoy their interactions.
(Sharon D 8:38am May 8, 2012)
I've always loved your writing.. So I do like the light touch!
(Cate Sparks 9:19am May 8, 2012)
I like an assortment of moods. After reading a dark one, a
light one is welcome but I enjoy both kinds. Thanks for the
contest.
(Mary Hay 9:48am May 8, 2012)
Wow - i just watched Courageous this weekend - the main story was dark/serious -- but it had some extremely fun & silly moments!!! I like the same with my books - depends on mood - but a good mixture will always shine
(Pamela Faye Howell 9:55am May 8, 2012)
I don't care for dark, but like books with humor or a secret.
(Helen Livermore 9:56am May 8, 2012)
I don't want too much drama. Definitely light hearted fun.
(MaryAnne Banks 10:26am May 8, 2012)
You're books are light and airy, a treat after a busy day!!
(Stephanie Strausberger 10:28am May 8, 2012)
I don't care for dark ones too much. I like humor and fun.
(Wilma Frana 10:39am May 8, 2012)
hey sounds like a really great story
(Debbi Shaw 11:20am May 8, 2012)
I like a light & fun story but sometimes I also like a touch of darkness as well but there has to be some fun in the story as well.
(Chelsea Knestrick 11:28am May 8, 2012)
Love your books; they're always a great read. I'd love to win any one of your books. Thanks for the chance.
(Nancy Reynolds 11:30am May 8, 2012)
love to win
(Denise Smith 11:47am May 8, 2012)
My favorite contemporary romances have a mystery involved in them. It doesn't have to be a murder mystery. It can be something like an aged out (over 18) foster or adopted kid wanting to know who or where his/her birth parents are...or just wanting to know more about them. Or the history of a piece of jewelry that was found in mom's old jewelry box. Or a love letter mom kept for many years or a picture of a man not the protagonist's dad found in mom's momentos. Or maybe it looks like the boyfriend or girlfriend has a scary past that the person didn't share. I just like a little myster, which means I do like some darkness in my stories. I also like some humor. It helps to have comic relief.
(Sandy Fielder 11:57am May 8, 2012)
It depends upon my mood as to which type I prefer.
(Anna Speed 12:09pm May 8, 2012)
I like contemporary mysteries that are generally light but sometimes a darker read is good too.
(Pam Howell 12:28pm May 8, 2012)
Hi Carly!

I love contemporary romances and I like both in them.
Congratulations on your new book!
Penney
(Penney Wilfort 12:41pm May 8, 2012)
It all depends on the writer! This sounds good because I like a caring hero.
(Lisa Elwood 2:14pm May 8, 2012)
I think it depends on my mood. When I am sad, I prefer funny stories and when I am happy, I like some dark stories...
(May Pau 2:16pm May 8, 2012)
I like both, depending on my mood...
(Mary Allen 2:24pm May 8, 2012)
Thank you for your post and giveaway, Carly. Like an eye-catching painting, a work of fiction typically requires both light and dark elements.

To me, what matters most is not how light or dark the overall story is. It's which particular elements the author puts into the story, and how much emphasis she gives them.

I can't think of any themes I wouldn't read about if they're just secondary themes. But as for the central theme, the one the whole story revolves around, there are some I love. And some I love to hate. If the latter turns up in a piece of fiction, I simply won't read it, no matter what else it might have going for it.

Good luck with the release of "Karma"!
(Mary Anne Landers 2:27pm May 8, 2012)
Depends on my mood, I enjoy both... sometimes light, sometimes dark when I really want to feel the emotions jump off the pages...
(Colleen Conklin 2:36pm May 8, 2012)
I really don't like a very dark story. I just like to read about good people doing the best they can when bad things happen. I like to see times of happiness and love in a crazy world.
(Kathleen Yohanna 3:28pm May 8, 2012)
I like a mixture of both. Thanks for the chance to win!
(Natasha Donohoo 3:37pm May 8, 2012)
I like light reading. Life is sometimes dark enough. Reading helps me to escape - that said, I don't mind some heaviness, as long as there's a HEA. Love your books and am looking forward to reading this series.
(Rosie Carroll 3:41pm May 8, 2012)
I like a combination,humor, sarcasm,romance and little mystery. It's all good.
(MaryEllen Hanneman 3:49pm May 8, 2012)
I love humor - really enjoy all your books. Just read Serendipity last week. It was great.
(Donna Parker 4:17pm May 8, 2012)
I like humor sprinkled throughout the story but I mainly want drama. I haven't read many contemporary stories with lots of humor yet.
(Stacie Deramo 5:03pm May 8, 2012)
I like the light contemporary.
(Jane Squires 6:02pm May 8, 2012)
I want a light romance, and I love one that has humor.
(Clydia DeFreese 6:30pm May 8, 2012)
After just finishing FSOG I need something very light. I'm a book whore, I enjoy reading all type of books and don't have a preference. Anything and everything.
Good luck and happy writing!
(Tracie Travis 7:24pm May 8, 2012)
I like both in contemporary romances. Just got Serendipity to read. Karma sounds good. I love a little humor. Looking forward to the whole series! Can't wait to read KARMA!
(Linda Luinstra 7:34pm May 8, 2012)
I don't have a preference - depends on my mood.
(Mary C 7:46pm May 8, 2012)
I love a light romance that has lots of humor and love involved.
(Ann Thaxton 7:50pm May 8, 2012)
I like the light contemporary.
(Susan Atkins 8:51pm May 8, 2012)
I can't say that there's anything in particular that I look for in contemporary romance. In real life, I'm not aware of any love that runs smoothly, so there is always going to be a bit of a dark side. I just prefer not to read them too dark - otherwise they become a bit too depressing. Out of the darkness always comes the light, and it always makes your heart feel much lighter as well. When they're written on the lighter side, they're usually done with a bit of tongue-in-cheek as well, which are good to keep the spirit up while you are taken to that "special place" in mind, heart, and spirit. I suppose it all depends what frame of mind I'm in at the time. I'm pretty easy to please, and read a lot of books when I have the available time. I love the plot you have chosen for your book, and can't wait to read it, and find out how it unfolds!
(Peggy Roberson 9:21pm May 8, 2012)
a mix is great! Karma is next on my list to read -- can't wait
for it!
(Sandy Haber 9:29pm May 8, 2012)
I like light rom-coms with quick, witty dialogue. There's enough heavy stuff in the newspaper. I prefer to escape with "fluff."
(Catherine Lee 10:01pm May 8, 2012)
I usually look for light, just too much dark and strange in the world and a light romance will pick me up.
(Cindy Murphy 10:06pm May 8, 2012)
I adore your books and I enjoy many kinds of books but I'm
always coming back to contemp roman
(Leanne Gagnon 10:49pm May 8, 2012)
Thanks for the great post! I've always read such awesome
reviews for this trilogy and I would love a chance to read
them :)

I'd have to say that for my contemporary romance, I'm not
picky. I love rom-coms and I like more suspenseful romance.
And just to be contrary and not pick between, the two, I
even like a mix too! I'll read practically anything :)
(Erin Fender 11:41pm May 8, 2012)
I like a mixture of both dark and light romance. Thanks for the contest!
(Kristin Bingham 11:43pm May 8, 2012)
Since life is a mixture of light and dark, I think it natural that contemporary reflect that. I love how you keep things from getting too dark overall. I just picked up Karma and can hardly wait to read it!
(Julie Touchstone 12:07pm May 9, 2012)
I'm an eclectic reader. The story just has to be a grabber. This sounds great!
(Cate Masters 5:27pm May 9, 2012)
I look for a bit of levity because laughing makes troubles samller and humor is fun.
(Alyson Widen 6:54pm May 9, 2012)
a mix with interesting characters - people I'd like to meet outside a book!
(Beth Fuller 12:09pm May 10, 2012)
Registered users may leave comments.
Log in or register now!