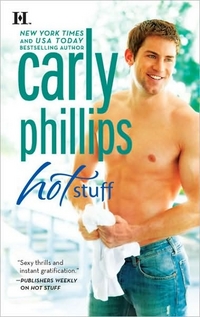 Purchase
The Hot Zone #1
HQN Books
January 2010
On Sale: December 29, 2009
Featuring: Annabelle Jordan; Brandon Vaughn
384 pages
ISBN: 037377432X
EAN: 9780373774326
Mass Market Paperback (reprint)
Add to Wish List

Annabelle Jordan and her two sisters were little orphans in frilly dresses and ruffled panties when they went to live with their sports-lawyer uncle in his testosterone-fueled world of locker rooms, bookies and gambling.
Now the girls are all grown up, and publicists in their uncle's firm, The Hot Zone. Yet Annabelle is all woman, despite her upbringing. And she's naturally drawn to real men—like her latest client, ex-football legend and businessman Brandon Vaughn.
Comments
6 comments posted.
Re: Hot Stuff

Hey Mz Carly!

I, too, have a wonderful husband who shops on Christmas Eve, forgets Valentine's unless my girls remind him, and before he retired was always traveling on our anniversary! I usually bought myself a box of Godiva (to punish both of us, I think) or something else I wanted on other occasions.

After 50+ years he is still my hero, and each day I love him more. He had an accident 3-1/2 years ago, and is now a quadraplegic, so he has a good excuse for no gifts but he is better at remembering the dates!

Happy Hearts day to everyone!

Love your books so much, We do a lot of reading around here, so hope to catch up on the new Hot series!
(Betty Cox 12:41pm February 14, 2010)
My husband and I are terrible
about remembering special
dates so have agreed over the
years to just be spontaneous a couple times a year and do
something special. Who cares
if we celebrate Valentine's
Day in August?
(Lisa Richards 3:23pm February 14, 2010)
Happy Valentine everyone at FreshFiction and all fellow readers!
(Diane Sadler 4:58pm February 14, 2010)
I don't put much faith in Valentines. I agree it is all the other times that love shines through that I appreciate.
(Mary Preston 5:13pm February 14, 2010)
My husband and I decide in advance if we are going to do much for Valentine's day. Some years, there is soemthing special we want to do, some years, like this year, I'm sick and our life is too busy after moving his Mom into a new home here near us, so we agreed to do nothing this year. I did though go online and use my paypal account to buy him a manual for his corvette that he wanted and told him it was his Valentines Day Present and if he could get the paperwork done that needs to be done that has been hanging over our heads, I would be very happy, and he said he would do that. Not very romantic but it was what each of us thought would be special to make the other one happy for the day, even though I'm down with a respiratory infection! LOL We have had years where we were aware of a special place we wanted to go to a dance we wanted to attend and we made those special plans. I think actually it is always best to be spontaneous and surprise your spouse with something special when they don't expect it a few times a year is a great thing!
(Brenda Rupp 7:54pm February 14, 2010)
I think I'm a romantic, but that doesn't make Valentine's Day any more important for me than any other day. I'd rather show my love to my loved ones as a surprise to them on a day when I feel especially like doing so or when it's special or important to the relationship in some way. Valentine's Day seems to me like a command performance, if you will; it's become too regimented, just like Christmas. Or get something for my loved ones on a day when I see something special for an individual.
(Sigrun Schulz 2:14am February 15, 2010)
Registered users may leave comments.
Log in or register now!