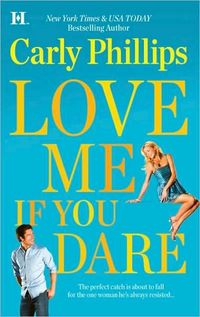 Purchase
The perfect catch is about to fall for the one woman he's always resisted...
Most Eligible Bachelors #2
HQN
September 2010
On Sale: August 31, 2010
Featuring: Sara Rios; Rafe Mancuso
368 pages
ISBN: 0373774702
EAN: 9780373774708
Mass Market Paperback
Add to Wish List

When hostage negotiator Rafe Mancuso takes a bullet to save Sara Rios, his former partner, his actions make him a bona fide hero—and New York City's newest most eligible bachelor. Then Rafe admits that Sara is much more than just another woman he's rescued. Suddenly, a firestorm of gossip turns him into exactly what he doesn't want to be: the Bachelor Blog's newest hot topic. His only solution is to leave town and get himself out of the spotlight…and sexy, jaded Sara out of his mind.
NYPD officer Sara Rios has Rafe to thank for saving her life, and Rafe to blame for the media chaos surrounding her. She wants to throw herself back into duty at full throttle, but until her injuries heal, she's on leave and in search of her rescuer. From the moment she finds Rafe and meets his large, boisterous family, she's hooked. But mutual attraction doesn't always mean happily-ever-after, and these two have a long way to go to find their fairy-tale ending….
Comments
74 comments posted.
I really enjoyed Love Me If You Dare, and thought it was a good mix of humor, romance, and suspense.

When I close the book I was ready to delve into another book by Ms. Phillips.
(Sandi Shilhanek 8:29am September 17, 2010)
This sequel to Kiss Me If You Can, features Cooper's neighbor, Sara Rios and her former NYPD partner, Rafe Mancuso. After an attempted robbery goes wrong, Rafe leaves NY to avoid the Bachelor Blog, and Sara follows to avoid a mob threat. She trusts Rafe with her life but will she trust him with her heart? In this story, several couples in Rafe's family are trying to sort out their relationships. The plot and subplots were engaging, I enjoyed getting to meet Rafe's colorful family. Sara and Rafe are a couple you will root for.
(Maria Munoz 5:13pm October 12, 2010)
To me, Valentine's Day is as big as Christmas!! I get butterflies in my stomach, 28 years later, every time I see or think about my Husband. He may not be the most romantic person anymore, but I know he still loves me anyway, and that's all that matters. I have a lot of love for all the special people in my life, and this gives me the opportunity for me to let them know just how much, without me sounding "over the top." It's just a fun day for me that's a little out of the ordinary, and I'm bursting with love from the time I wake up, until I go to bed. Have a wonderful Valentine's day, Carly, and fellow bloggers, and I wish you much luck with your new book. I'm sure I'm going to love it!! Have a Love-ly day!!
(Peggy Roberson 1:08am February 14, 2011)
I received a Valentine's Chocolate rose from the office manager today (Female). She put one in each tray. It was such a sweet gesture.
(Mary Preston 1:24am February 14, 2011)
I love reading your books,keep them coming. Also thank you for giving me a chance to win it. Happy Valentines Day !
(Linda Hall 1:26am February 14, 2011)
Saturday I wasn't in the mood for Valentine's Day and wished it was over. I was with my dog for the day and it was nice out so we went to the dog park then Belly Scrubs for a bath followed by the vet for her annual shots. All three places I was interrupted by a call from a florist I used last year to send my nieces flowers. The first time I was miffed, second time angry, but the third time, after telling them the first two times to never call me again, I kind of lost it. I told them that the kids were under 10 and would get a package in the mail in just a few hours so leave me alone and if they call again I'd make sure they regretted it. Really, three calls in one day is almost stalking. Then I heard from the girls who loved their Justin Bieber hoodies, heart shaped sun glasses, candy, and a stuffed animal. Suddenly I remembered the fun of the holiday. Tomorrow, my kid gets her Hello Kitty surprise and I'll have forgotten about the money mongers who wouldn't leave me alone. Then I'll go see the parents to drop off something sugar free for them and share the love of the day. As for the night, who knows?
(Christina Harrison 1:35am February 14, 2011)
To me, Valentine's Day bring's a sense of joy. It brings a smile to your face, because "love is in the air." It makes me remember all the loved ones in my life, and how special they are to me. Have a great Valentine's Day,Carly.
(Jan Capstick 1:42am February 14, 2011)
Valentines was fun when I was young its even better now with excited grandkids!
(MaryEllen Hanneman 1:45am February 14, 2011)
When I was in junior high, there would be flower sales at school for Valentine's Day. Then on the day itself the flowers would be delivered to various classrooms. I remember getting a few carnations that day, whick was very nice. I never learned who sent them to me. It made me feel good.
(Ann Garland 2:19am February 14, 2011)
Happy Valentine's Day. I do think it's possible to enjoy the day with family and friends if you don't have someone special at the moment.
(Jane Cheung 2:19am February 14, 2011)
Happy Valentine's Day! I wasn't much of a fan of this day before my husband converted me. My argument had been, Why save celebrating love to just one day and feel obligated to show love on that day no matter how we feel? He showed me that it was just a major excuse to take time to show love and made sure that I felt loved, too.
(G. Bisbjerg 3:40am February 14, 2011)
Happy Valentine's Day to all! My favorite part is reading all the cards in the stores. Love all the smush!
(Pamela Stewart 5:45am February 14, 2011)
My favorite part of Valentine's Day is remembering that it's
not just about romantic love. For me, it's letting all of my
loved ones know that I love them, especially my daughters.
(Margay Roberge 6:21am February 14, 2011)
Thank you for the insight into how you make Valentine's Day special. I am not huge on the day, but you have made me understand that it doesn't necessarily have to be about candy & roses & diamonds, it really can just be about loving another person for what they mean to you.
(Joanne Reynolds 6:26am February 14, 2011)
Happy Valentine's Day to you Carly and everyone reading!! Loved your idea for the holiday it's a wonderful way to think of it.
(Theresa Norris 6:26am February 14, 2011)
Valentine's Day gives us the opportunity to show our love in so many different ways.
Blessings,
Marjorie
(Marjorie Carmony 6:33am February 14, 2011)
Not a big valentine's day fan. But I will take any excuse to eat more chocolate.
(Pam Howell 6:34am February 14, 2011)
Valentine's Day is everyday for me. Six months after I brought a new puppy
into our home I woke up with walking difficulties. My husband took over all
responsibilities for our new dog and for three years walked him faithfully
while taking me from one medical appointment to another (at least two every
week) as well as holding down a part-time job, being semi-retired. They
never found out exactly what was causing my problems but my husband was
determined to keep the dog I love while getting me back my mobility. I can't
go out in icy or slippery conditions so he still does that but at least I can walk
and play with him most of the time. This is only one of the zillion reasons he
(my husband not my dog) is my forever valentine.
(Sandra Spilecki 6:58am February 14, 2011)
I love your books, Carly, and they always make me smile. I am crossing my fingers in hopes of winning a copy. Have a great Valentine's Day!
(Connie Fischer 8:33am February 14, 2011)
Last night I made paper chains with hearts on them with my son to hang up. Today we will make valentines cards, and he will help me make coconut truffles. We always have fun celebrating valentines day.
[email protected]
(Debbie Penny 8:37am February 14, 2011)
I LOVE your thoughts about Valentine's Day. A day to say I love you to all of the people in your life. Spread the love near and far. All this positive energy passed along makes for a beautiful world. Thank you for sharing and keep writing your fabulous books.
(Barbara Ryan 8:42am February 14, 2011)
We celebrated Valentines Day by letting oiur six-year-old son sleep with us last night. Very cuddly, maybe not stereotypically romantic. :D
(Mary Ann Dimand 8:47am February 14, 2011)
I love Valentines Day. My husband and I were married 25 years ago today!! Happy Valentines Day to everyone!
(Dawn Staniszeski 9:45am February 14, 2011)
Your thoughts are so correct it is a day yo tell those in your life you Love them and for me to aalso let them know how proud I am to be in there lives ALSO HOW PROUD I AM OF THE PEOPLE THAY HAVE GROWN INTO (kids)I have always been that Mom who told them each and every day that I love them and am proud of them but today we need to it with some flar.
(Vickie Hightower 9:51am February 14, 2011)
Hi Carly!
My husband made me a delicious stuffed shrimp dinner last night, in celebration of Valentine's Day. It was wonderful, but made me think of a friend whose divorce was recently finalized. So after dinner I popped her an e-mail asking her to be my Valentine. She really appreciated it, and said another friend sent her flowers.
(Wendy S. Marcus 10:11am February 14, 2011)
I love Valentine's Day...it's a reminder of how important my
husband is to me...and also a reminder of all the people in my
life that I love!
(Leanna Morris 10:33am February 14, 2011)
I really appreciate your blog today. I'm not big on Valentine's Day. I
consider it a "Hallmark" holiday. My husband, kids and I express our love
every day, so why need a special day? Your idea of the pictures though,
triggered feelings of love for others in my life and wanting to share and
express my love to them. I'm going to follow your idea and do the same
or similar things for some very important people in my life. Thank you!
(Cari White 10:45am February 14, 2011)
I'm not really celebrating the holiday this here, going thru a divirce but did make dinner yesterday for my 2 kids and my son's girlfriend, my soon ex even ate dinner with us but didn't comment the food,even though my kids raved about it. Who cares, my son was kinda pissed but it didn't bother me. I love romance and I love giving gifts to others and I like getting them also but they have to mean something. Have a wonderful day!
(Carole Fiore-abshire 10:58am February 14, 2011)
Valentine's Day is a fun day filled with flowers and candy to say I Love You to those special in our lives!! I am one though that says I Love You everyday to those I love, not just on one day of the year. I also do not say Bye, I say See You Later, or Night.
(Alta Roberts 11:09am February 14, 2011)
I am celebrating valentine's day with a good romance novel!
(June Manning 11:10am February 14, 2011)
Not much of a Valentine person. Enjoyed reading your blog.
(Sheila True 11:15am February 14, 2011)
I love VDay, and I give my children little gifts too.
(Debra Simning-Chapman 11:18am February 14, 2011)
It is a day to cherish with your love.
(Sharon Berger 11:40am February 14, 2011)
I don't think that Love should be given one day. So I feel that Valentines day is something where people are out to just make money. Even tho I wouldn't mind getting a rose/flower, it should be out of the blue and not because of a certain day. I'm in a relationship with my 2 cats and 2 dogs. :)
(Jessica B 12:05pm February 14, 2011)
I like your idea that Valentine's Day can include pets---after all they do give the most unconditional love.
(Sue Farrell 12:10pm February 14, 2011)
Carly -
Sometimes unromantic gifts can actually show how much you are loved. Our first Valentine's Day my husband gave me chocolate covered cheeries (his mother's favorite) which I hate. For the 40 years since he has made it a point to get me something more awful than the last so this year I am expecting a broom or something similar. Every year we laugh so hard our sides hurt that he COULD actually outdo himself.

I think it can be so much more romantic when the flowers you receive are not for some "special" date on the calendar. It means so much when he gets me flowers or a new plant on an "unimportant" date just to show he cares.
(Jeanne Miro 12:10pm February 14, 2011)
Hubby was never much of a gift person. He shows his love through
gestures. He has converted me to the belief that every day is special.
(Mona Garg 12:22pm February 14, 2011)
i like your books too
(Debbi Shaw 1:06pm February 14, 2011)
Happy Valentine's Day everyone.

My hubby of 33 years says Valentine's Day is everyday!!!!

But I still usually get him some of his favourite choccie to show that I love him also on this special day.

Valerie
in Germnay
(Valerie Bongards 2:29pm February 14, 2011)
I'll be celebrating Valentines Day with my family, a book and a cake!
(Cheryl McEwen 2:45pm February 14, 2011)
Valentine's day is about the all of your loved ones. I
celebrate Valentine's Day with my family. I get my girls a
heart shaped pizza and a box of chocolates. My husband
celebrate this as a family holliday.
(Tanja Haack 3:34pm February 14, 2011)
I always buy my adult children a gift and ask them to be my Valentine :)
(Kobi Hensley 3:53pm February 14, 2011)
My Husband of 46 years called & took me out to lunch. Just before getting of the car, I said thank you, & He said Happy Halloween. We both laughed & enjoyed the moment.

Happy Valentine's Day, everyone
(Pat Wilson 4:44pm February 14, 2011)
Valentines day is just a reminder of how much i love my hubby. He's a truck driver and i haven't seen him in over a week so i made sure to email him to say Happy Valentine's day and that i loved him first thing this morning. Simple and to the point. I like that.

Lisa B
(Lisa Boggs 4:53pm February 14, 2011)
HAPPY VALENTINE'S DAY! Now this a cute Idea! Have a great day!
(Sue Reynolds 4:57pm February 14, 2011)
I think Valentine's Day like so many other holidays should be celebrated all year long. We do not need one special day to tell someone we love them because we love them everyday with our words and actions. So I love you all and I hope your Valentine's Day is as special today as it was yesterday and even more so tomorrow.
(Kelly Lester 5:10pm February 14, 2011)
This year's gift is kind of funny. My washing machine broke down and he got me a new one - I picked out one model and he upgraded it LOL Not very romantic, but sweet. After 21 years of marriage, the little gestures still mean so much. I also got a very sweet card. I'm making him a lasagna dinner. We gave the kids chocolate candy (I did the shopping). As you posted on your previous blogs, I used to buy my own gift, but usually I just do that for Christmas and my birthday. Hubby isn't the most romantic, but we did get engaged on Valentine's day. He's a keeper, even if it doesn't occur to him to get me sparkly jewelry :)
(Rosie Carroll 5:18pm February 14, 2011)
Vantine's Day is not only the day for lovers in our family but my mothers birthday and father-in-laws birthday. So we celebrate many things on this day.
(Lorraine Hill 5:24pm February 14, 2011)
I love Valentine's Day!
(Areta Nadozirny 5:27pm February 14, 2011)
Carly, nothing would be better than your mug from which to drink my coffee as I read one of your books! What a match! I'm crossing my fingers to be a winner.
(Connie Fischer 5:30pm February 14, 2011)
I've been dieting since New Year's and I must say Brach's Conversation Hearts have been a lifesaver! Satisfies my craving for sweets and NO fat! What will I do when I run out?!?! (I've lost 18 lbs.!)
Carly, I love your books - keep 'em coming!
(Nancy Scott 5:30pm February 14, 2011)
I love Valentine's day because 1)it's my half birthday 2)my little guys love Valentine's day so much (ever seen three ten and unders begging to do valentine's?) and I love love!
I would love your mug...
(Katie Andrade 6:01pm February 14, 2011)
I hugged two of my cats who love to be hugged. One of them's a big guy -- at least 15 pounds. He thinks he's a dog and goes overboard. He puts his paws on my shoulders and then onto my back. He's too big to climb on my back! He really loves attention.
(Michelle Fidler 6:32pm February 14, 2011)
What a great Valentine's Day post! I really like the way you view the holiday, Carly. I like the idea of today being a day to simply share love, in any form.
I also have twin brothers who's birthday is today, so it's always a sort of double celebration! =)

Happy Valentine's Day!
(Amanda P 6:45pm February 14, 2011)
I don't do Valentine's Day in a big way. Just candy for the grandkids and a Starbucks card for one daughter and Subway for the other...their favorites!
(Diana Donahoo 6:49pm February 14, 2011)
Valentine's Day to me is not about flowers, or candy or cards....it's about being with the people you love doing the things you love to do! Tonight I made homemade pizza in the shape of a heart for the family! That's fun!
(Sue Galuska 7:04pm February 14, 2011)
My mother made sure our Valentine's Day were special. Every year during college she would send us a heart shaped box filled with fudge, divinity, pecan patties and other chocolate goodies that she made. She then packaged them and wrote a note to the carrier on the box telling them that this was a "Special Package" & would they please take special care with it. I always enjoyed getting those packages from my mom. I wish she was still with us. It's a special memory of my Mom that I hold dear.
(Maude Allen 7:16pm February 14, 2011)
Valentine's Day and the days leading up to it make me grateful for the loves of my family and friends. I pass on hugs and good wishes and this year sent email Valentine's from katespade.com which were real cute.
(Alyson Widen 8:14pm February 14, 2011)
Happy Valentines Day, Everyone!
(Lisa Hutson 8:19pm February 14, 2011)
After over 40 yrs. of marriage, my husband still gives me tingly feelings everytime he touches me. Being married to my hubby is like Valentine's Day everyday for me. He gave me roses today.
(Ina Ruth Thies 8:26pm February 14, 2011)
I would have loved to celebrate Valentine's Day with my honey in our new apartment we moved into this weekend, but I had to work. So instead we will spend Sunday just hanging out together.
(Betty King 8:28pm February 14, 2011)
Happy Valentine's day everyone!
(Diane Sadler 8:45pm February 14, 2011)
I like to take the opportunity of Valentine's Day just to send a note out to my friends and loved ones... It gives me a warm, fuzzy feeling to see the words "Happy Valentine's Day!" from someone in my life I value!
(Robin Daily 8:48pm February 14, 2011)
Hope everyone has/had a pleasant Valentine's Day. It is always quiet in our house. Thank you for the giveaway.
[email protected]
(Lisa Kendall 8:57pm February 14, 2011)
Any holiday that promotes chocolate is ok with me, especially now that dark chocolate is good for us!
(Diane Sallans 10:05pm February 14, 2011)
I had a nice day with my hubby. He brought me home a rose, I have my sinuses go crazy if there are a bunch of them here at once. I was in a car accident, broke a bone in my neck and had surgery, and am in a brace. Can't do anything without my Tom, he won't let me and I'm not supposed to. 4 more weeks of this crap. You would think that I would love it right? NOT. But he is a great husband and he makes it as easy for me as is possible for anyone. I love him more each day, this was my 8th surgery since we have been married. Don't ask. Sigh...
(Brenda Rupp 10:06pm February 14, 2011)
Holy cow! So many comments. Happy Valentine's Day!
(Jennifer Beyer 10:19pm February 14, 2011)
I lost my Mom on Valentines Day 3 years ago so am not a big fan of Valentines Day anymore. Divorced and not in a relationship so it still isn't one of my favorites. But really enjoy reading so thanks for the contest.
(Teresa Ward 10:43pm February 14, 2011)
Happy Valentines Day!
(Ginger Hinson 11:36pm February 14, 2011)
enjoy your books:) a mug would be a perfect combo. Vday was quiet here <3
(Barbara Studer 11:45pm February 14, 2011)
My husband made me breakfast this morning, including 2 heart-shaped pancakes! I sent e-cards to friends and family to let them know that I was thinking about them.

I make a point of sending alot of e-cards for holidays and for no reason at all - I just want them to know I care and think about them often. With all of life's stressors, an e-card can really make someone's day a whole lot better.
(Karen Cherubino 12:20pm February 15, 2011)
Happy Valentine's day... it still is here on the west coast for another hour and a half! DH made me one of my favorite dishes for dinner..how sweet! But I still got to to do the dishes!! Ahh true love!
(Lois Stock 1:34am February 15, 2011)
We had a great Valentine's this year. The "baby" was home for
the weekend from college, we had a great family meal together,
and attended a baby shower for friend's first "two"
grandbabies. Both her daughter-in-laws are due April Fools Day!
Could not have been better!
(Lisa Richards 6:42pm February 15, 2011)
Thanks for all the wonderful entries! Hope you all had a great Valentine's Day :) Congrats to Nancy Scott, Butler, AL for winning! Gift has been shipped from Cafe Press!
(Carly Phillips 8:15am February 16, 2011)
Registered users may leave comments.
Log in or register now!