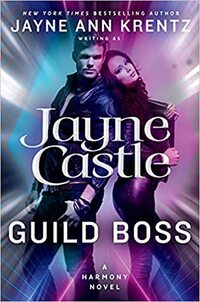 Harmony
Berkley
November 2021
On Sale: November 16, 2021
352 pages
ISBN: 0593336992
EAN: 9780593336991
Kindle: B08WR6BP64
Hardcover / e-Book
Add to Wish List

Welcome to Illusion Town on the colony world of Harmony - like Las Vegas on Earth, but way more weird.

Living in this new, alien world doesn't stop the settlers from trying to re-create what they've left behind. Case in point - weddings are still the highlight of any social calendar. But it's the after-party that turns disastrous for Lucy Bell. Kidnapped and drugged as she leaves the party, she manages to escape - only to find herself lost in the mysterious, alien underground maze of glowing green tunnels beneath Illusion Town. She's been surviving on determination and cold pizza, scavenged for her by a special dust bunny, when help finally shows up.

Gabriel Jones is the Guild Hunter sent to rescue her, but escaping the underground ruins isn't the end of her troubles - it's only the beginning. With no rational reason for her abduction, and her sole witness gone on another assignment for the Guild, whispers start circulating that Lucy made it all up. Soon her life unravels until she has nothing left but her pride. The last thing she expects is for Gabriel Jones to come back to town for her.

The Lucy that Gabriel finds is not the same woman he rescued, the one who looked at him as if he were her hero. This Lucy is sharp, angry, and more than a little cynical - instead of awe, she treats him with extreme caution. But a killer is still hunting her, and there aren't a lot of options when it comes to heroes. Despite her wariness, Gabriel is also the one person who believes Lucy - after all, he was there. He's determined to help clear her reputation, no matter what it takes. And as the new Guild Boss, his word is law, even in the lawlessness of Illusion Town.
Start Reading GUILD BOSS Now

Illusion Town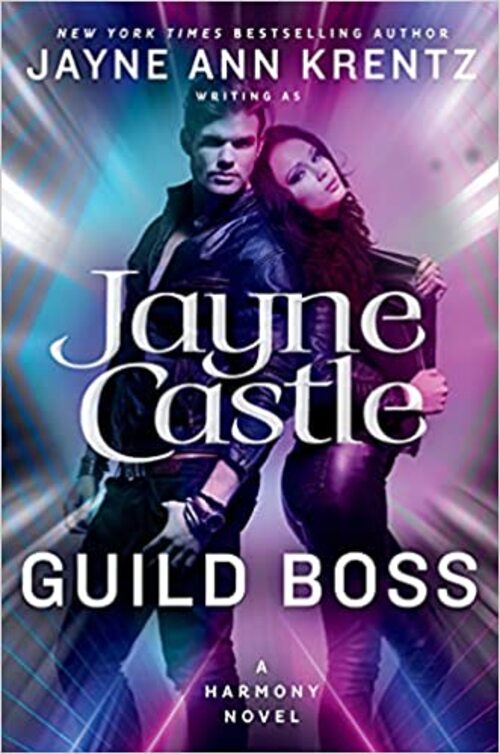 Guild Boss
#2.0
Amazon.com | BN.com | Apple Books | Kobo | Google Play

Our Past Week of Fresh Picks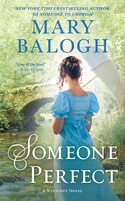 SOMEONE PERFECT
by Mary Balogh
Featured as Fresh Pick on December 8, 2021
Sometimes, just one person can pull a whole family apart. And sometimes, it just takes one person to pull it back together. For fans Read More »
Delightful mystery and romance wrapped up in a Regency bow
This hero is a delightful mix of Mr. Darcy and Mr. Rochester!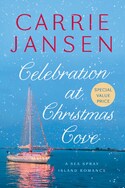 CELEBRATION AT CHRISTMAS COVE
by Carrie Jansen
Featured as Fresh Pick on December 7, 2021
In this humorous and heartwarming romance, sparks fly between a woman who can't wait to leave a wintry New England island, and a widower Read More »
Sweet, humorous and heartwarming.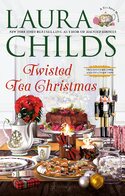 TWISTED TEA CHRISTMAS
by Laura Childs
Featured as Fresh Pick on December 6, 2021
An attack on the host of a fancy tea party sends Theodosia Browning looking for answers in the latest entry in the New York Times Read More »
TWISTED TEA MURDER definitely doesn't disappoint!
The Latest Tea Shop Mystery is Pure Holiday Fun!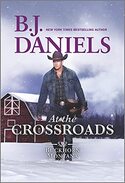 AT THE CROSSROADS
by B.J. Daniels
Featured as Fresh Pick on December 5, 2021
They're running for their lives, desperate for a second chance…Once, Alexis Brand and Culhane Travis were partners, both on and off the Read More »
A page-turning crime novel...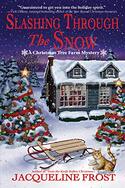 SLASHING THROUGH THE SNOW
by Jacqueline Frost
Featured as Fresh Pick on December 4, 2021
Maine innkeeper Holly White returns to sleuth another seasonal slaying in the third Christmas Tree Farm mystery from bestselling author Jacqueline Frost.Reindeer Games Christmas Read More »
Who killed the grinchy critic?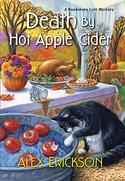 DEATH BY HOT APPLE CIDER
by Alex Erickson
Featured as Fresh Pick on December 3, 2021
Krissy Hancock's bookstore-café in Pine Hills, Ohio, is teaming up with the local library for a seasonal celebration, but someone is Read More »
An Enjoyable Holiday-Themed Cozy Mystery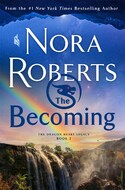 THE BECOMING
by Nora Roberts
Featured as Fresh Pick on December 2, 2021
A new epic of love and war among gods and humans, from the #1 New York Times bestselling author of The Awakening.The world of Read More »
As her magick grows, Breen prepares to meet the god who wants to steal her powers...
The heroine becomes who she is meant to be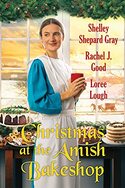 CHRISTMAS AT THE AMISH BAKESHOP
by Loree Lough, Shelley Shepard Gray, Rachel J. Good
Featured as Fresh Pick on December 1, 2021
As the most joyful holiday draws near, three couples discover the recipe for love includes faith, hope, and the sweetest blessings . . . A CHRISTMAS CAKE Read More »
Three wonderful stories to welcome the holiday season