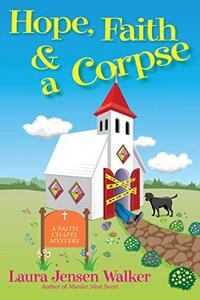 Crooked Lane Books
January 2021
On Sale: January 12, 2021
ISBN: 1643855042
EAN: 9781643855042
Kindle: B0871KRPKG
Hardcover / e-Book
Add to Wish List

In the tradition of M. C. Beaton, Hope Taylor, pastor of a small-town California church, tries to find out who sent a church elder to Heaven.

Hope Taylor arrives in Apple Springs to start her new life as the first female pastor of Faith Chapel Episcopal Church. The northern California town's quaint cottages, bungalows, and shops promise a fresh start for the 42-year-old widow and Bogie, her scruffy black Labrador. But where is Father Christopher? The kindly old rector who hired Pastor Hope was supposed to meet her upon her arrival, but he's nowhere to be seen. Hope's faith springs eternal, so she explores the little white church hoping to find Father Christopher. But when she enters the columbarium, she instead finds church elder Stanley King--his skull crushed by a fallen burial urn.

Hope had made Stanley's acquaintance before, and had struggled to take a charitable view of his character. Stanley was as wicked as he was wealthy, as petty as he was pious. His soul may have been holy, but his behavior was wholly rotten. The last time Hope had seen him, he had shouted drunkenly that she would preach at Faith Chapel over his dead body.

Many of the townsfolk witnessed the altercation, so Hope finds herself as the prime suspect in Stanley's murder. With Bogie's four-footed assistance, Hope is determined to find the real killer and clear her name...even if it will require a bit of divine intervention.
Excerpt
I hadn't lived in a small town since I was a kid in Wisconsin, but even that was an urban metropolis next to this sleepy little place: Apple Springs, California. After the noise, congestion, and traffic of the Bay Area where I had lived and worked for the past two decades, this tranquil town an hour east of Sacramento was a welcome respite. My new beginning. A beginning I was at last ready for—and looking forward to—after the pain and loss of the past couple of years.
I stopped in front of the 160-year-old wooden building to catch my breath and dug out my compact. Yes! The goose egg had receded. I twitched my brown bangs around, covering it, but by tomorrow I'd look like Sylvester Stallone in one of the Rocky movies. Not quite the professional, dignified impression I'd hoped to make.
I glanced at my watch. Eight thirty. Right on time. Pushing open the side door of Faith Chapel Episcopal Church, I stepped inside and removed my light jacket and scarf to reveal my clerical collar. "Hello?" An empty reception area with worn green carpet, an ancient plaid love seat, and an Army surplus desk holding teetering stacks of paper and a vase of tired silk flowers greeted me. Beyond the vacant desk stood a closed door with the faded word Rector in the center.
"Father Christopher?" Hesitantly, I knocked on the door. No answer. I checked my phone. No messages or missed calls.
I knocked again. Harder. "Christopher?" I called out. "It's Hope." Nada. I turned the doorknob and poked my head in. Another silent and empty office. Except this one was chaos— papers everywhere. Desk. Chair. Filing cabinet. Even the floor. It looked as if a tornado had swirled through, leaving a swath of office-supply destruction in its wake. As I entered, however, I noticed pathways among the myriad piles and realized it was organized chaos. Somewhat. Christopher Weaver, my new boss, had warned me he was a "bit of a pack rat" and had become "somewhat disorganized" since losing his secretary a few months ago.
He hoped I could help bring order to the office, and my inner neatnik itched to jump in and start tidying up right then—the by-product of a clean-freak mother. She had instilled within me the mantra "A place for everything and everything in its place" at an early age, and it had stuck. Unlike most of her other maxims, such as "Never wear white after Labor Day," "Let your husband wear the pants in the family," and "Always, always be a lady."
This lady wondered where her boss might be. I thought of texting him, but then remembered he was old-school and didn't text. He had a cell, but mainly for emergencies, and had confessed, embarrassed, that he often forgot to turn it on. We had agreed to meet at the church at eight thirty so he could give me a complete tour of the buildings and grounds, including the small chapel and columbarium (wall crypt) behind the main church.
Doh. Think. I rapped my knuckles on my forehead, then winced as the goose egg reminded me of its presence. My boss was probably waiting for me at the chapel annex around back.
Pretty pink camellias bloomed on either side of the shade- dappled stone walkway, nestled between clumps of colorful primroses and budding azaleas, which would be glorious in another week or two. Thankfully, I didn't see any garden gnomes. Spring is my favorite time of year, and I looked forward to seeing the parish garden in full bloom. Humming "In the Garden," I pushed open the wooden chapel door.
"Father Christopher?"
Silence. I entered the shadowy small chapel and sniffed. The place reeked of alcohol. Has someone spilled communion wine? I took another step and almost tripped over something. A man, passed out on the floor. So that's the source of the smell. Drunk in this holy place. I knelt down to shake him awake, but my knees landed on something hard, which rolled beneath me and almost threw me off-balance.
I steadied myself and picked up the hard object—a heavy burial urn.
My eyes adjusted to the dim light filtering in through the stained-glass windows. That's when I saw the blood and the tweed cap. My stomach clenched, and I murmured a prayer as I leaned forward to check for a pulse.
A scream rent the air.
Start Reading HOPE, FAITH, AND A CORPSE Now

Our Past Week of Fresh Picks
HUNTER
by Donna Michaels
Featured as Fresh Pick on February 23, 2021
Leaving the military had always been in Hunter Donovan future—either by casket or choice--turns out, it was choice. Early on, he made Read More »
She gives him back his heart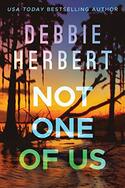 NOT ONE OF US
by Debbie Herbert
Featured as Fresh Pick on February 22, 2021
From the bestselling author of Cold Waters comes a brooding thriller about a woman who must decide if safeguarding her family is worth burying a Read More »
The past breaks open with a bang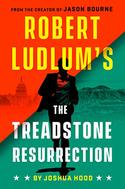 ROBERT LUDLUM'S THE TREADSTONE RESURRECTION
by Joshua Hood
Featured as Fresh Pick on February 21, 2021
Treadstone made Jason Bourne an unstoppable force, but he's not the only one.Operation Treadstone has nearly ruined Adam Hayes. The top-secret CIA Read More »
Exciting action packed thriller from the first page to the last.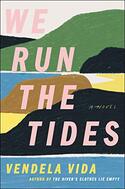 WE RUN THE TIDES
by Vendela Vida
Featured as Fresh Pick on February 20, 2021
An achingly beautiful story of female friendship, betrayal, and a mysterious disappearance set in the changing landscape of San Francisco Teenage Eulabee and her Read More »
Mesmerizing coming of age novel set in 1980s San Francisco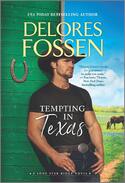 TEMPTING IN TEXAS
by Delores Fossen
Featured as Fresh Pick on February 19, 2021
He told himself he could never be what she needs. But maybe he's found the only role that really matters…As a Read More »
He wants to find peace and finds so much more.
ANCIENT ENFORCER
by Katie Reus
Featured as Fresh Pick on February 18, 2021
An ancient dragon warrior determined to protect what's his…Former general Mikael lost everything thousands of years ago. His clan, his family Read More »
A new world brings this ancient a new love!
TO HAVE AND TO HOAX
by Martha Waters
Featured as Fresh Pick on February 17, 2021
Five years ago, Lady Violet Grey and Lord James Audley met, fell in love, and got married. Four years ago, they had a fight to Read More »
A battle of wits and wills in this historical romance debut...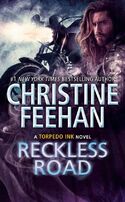 RECKLESS ROAD
by Christine Feehan
Featured as Fresh Pick on February 16, 2021
Refuel your passion with a new installment of the Torpedo Ink series by #1 New York Times bestselling author Christine Feehan.While Gedeon "Player Read More »
Can he win her back?