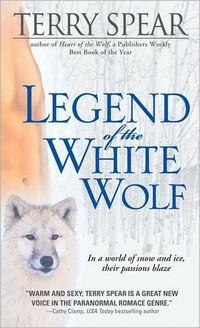 Purchase
Heart of the Wolf #4
Sourcebooks Casablanca
February 2010
On Sale: February 1, 2010
Featuring: Cameron MacPherson; Faith O'Mallery
384 pages
ISBN: 1402219059
EAN: 9781402219054
Kindle: B004DCB34S
Mass Market Paperback / e-Book
Add to Wish List

Romance Suspense, Romance Paranormal, Fantasy Urban
"A lively read that keeps readers on their feet, and an excellent addition to the serious wolf-lover's library. When it comes to authenticity, this novel truly embodies the Heart of the Wolf." Book Fetish
"Chilling suspense and sizzling romance meet in this page-turner. The dark, sexy alpha hero will capture you—body, mind and soul." Nicole North, author of Devil in a Kilt
"A solidly crafted werewolf story, this tale centers on pack problems in a refreshingly straightforward way." Romantic Times
"Bella and Devlyn's devotion to each other is endearing. Their love scenes sizzle the pages...definitely hot! I look forward to reading more about this author's werewolf tales." Paranormal Romance Reviews
"The vulpine couple's chemistry crackles off the page, but the real strength of the book lies in Spear's depiction of pack power dynamics, as well as in the details of human-wolf interaction." Publishers Weekly
Once she reached her room, she slid the key card in. Green light. She twisted the handle and pushed. The door didn't budge. She tried again. Same thing. She hated key cards. Why couldn't they just use regular old brass keys?
She tried a third time and this time she twisted the handle harder and shoved the door more firmly. And was rewarded. Lights were on in the room and the place was already toasty warm as if the welcoming mat had been set out for her. Perfect. She walked into the room and glanced at the two queen-sized beds, the chartreuse covers pulled back from the pillow of one, a chocolate wrapped in gold foil sitting on the center of it. She smiled and pulled off her parka, peeled off her boots, and reached for the phone to call room service when she saw a leather bucket filled with ice. Wow, they sure knew how to coddle their guests.
That's when she heard the bathroom door open. She whipped around and faced a naked man towel drying his hair. Or at least until he saw her.
His mouth gaped. Hers matched his expression, and he quickly wrapped the towel around his waist. "I didn't think room service would come this soon." He glanced down at her sock-covered feet, her boots lying beside them.
"I'm not…I'm…they gave me a key to your room by accident." Faith tried not to look at the man's physique—too much—but ripped abs, arms muscled just enough that could give a woman a good hug, and toned legs that looked like they could run a marathon, were just too appealing.
And his eyes—blue like the ocean, dark, hiding a wealth of secrets, that held her gaze with way too much interest as if she was the specialty of the house and just what he'd ordered on the menu. A light blond stubble covered his square jaw, making him appear a bit roguish and intriguing.
He folded his arms across his broad chest. A light smattering of blond hair trailed down to the towel slung low on his hips. Her gaze dropped lower. He cleared his throat to get her attention, making her skin heat in a flush of awareness, but he wasn't moving out of her path. The one she needed to take to get to the door. Although for now she wished it was her room, and he was part of the amenities.
He inclined his head a little, a hint of a smile on his lips, his eyes sparkling with mischief. "Then I guess I'd better get dressed before—"
A knock rapped on the door.
"Too late." His deeply-amused baritone voice sounded like he was enjoying this a little too much as he turned, took a couple of steps, and opened the door.
Great. Faith hurried to pull on one boot, when the aroma of steak wafted into the room as a man brought in a tray. Faith's stomach growled. The room service guy glanced at her, green eyes smiling. She could just imagine what he was thinking what with the room's occupant wearing a towel, and her pulling her boots on. The toweled guy signed the bill, and the lodge employee grinned, dimples appearing on his ruddy cheeks. "Thanks so much, sir. If you need anything else, just ring." He glanced at Faith, smiled even more as if to say she could visit him next if she had a mind to, then left the room. "Enough for two of us, if you want to split a medium-rare steak, baked potato, and salad," the sandy-haired hunk said.
"Thanks so much for the offer, but I'm returning to the front desk to get the right room key. Have a nice night." She brushed past the mostly naked man, smiled when he smiled, then hurried out of the room.
"The night could have been better," he murmured.©
Terry Spear, 2009