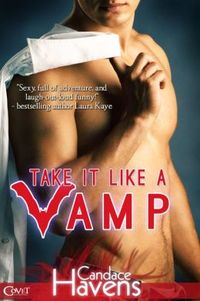 Purchase
Entangled Covet
August 2012
On Sale: July 22, 2012
Featuring: Casey Meyers; Nick Christos
ISBN: 1622669509
EAN: 2940014983297
Kindle: B008NREFQC
e-Book
Add to Wish List

Falling in love with her best friend and neighbor was the easy part for Casey Meyers. Keeping the crush a secret… Well, that's getting harder by the day. Especially when he begs her to pretend to be his fiancé for a benefit ball where all the high society matrons are dying to marry him off as if they lived in freaking Victorian England. Sure, Nick Christos was born in the Middle Ages, but those days seem tame compared to the last eight years spent ruling the Supernatural Council. The only respite in his long days of governing is with his sweet neighbor Casey. Sure, he's forced to take a cold shower after every encounter, but no way will he risk anything more with a human. Not with his blood thirsty ex on the prowl, and out to ruin Nick's life. But when said crazy ex shows up at the ball and flies her freak flag high, Nick has more to worry about than keeping his hands off his neighbor. He'll have to stay closer than ever now if he hopes to keep her alive, but will she want to leave him forever when she learns the truth?
Comments
38 comments posted.
Oh, Oh, Oh!! This book sounds so good! I bet it's filled with all kinds of fun
things. It has just made it to the top of my Wish List! Gotta have it. :-)
(Connie Fischer 4:03pm July 23, 2012)
I have tried and tried to read Anne Rice and give up after a few pages. I am, however, a fan of The Southern Vampire series, upon which True Blood is VERY loosely based. I do enjoy True Blood now that I don't try to compare the two. Eric is a favorite from both. As for the Winchester's, Dean is my pick, only wished they showed them both off a bit more. More shirtless scenes please!
(Anne Muller 11:44am July 25, 2012)
I am getting this book whether as a freebie or a purchase! Han Solo wasn't a vamp but he was kind of the bad boy to start with. He was way hotter than poor Luke. I've re-watched a little and Mark Hammill was cuter than I remembered but you didn't notice with Harrison Ford sneering all over the place.
(Lisa Elwood 11:59am July 25, 2012)
i seen this bok on blog and would love to read and blog on it i love vamp boo and then i ove to read all books
(Desiree Reilly 12:12pm July 25, 2012)
We haven't had a TV in over forty years so any TV vamp is out of reach. I love
bad boys but I prefer Carpathians (vampire hunters) to vamps. I must say that I
do love Bones along with Kat though. Yes, Han Solo was hot but after Indiana
Jones he lost it. I'll take my vamps from books--they don't age and change or
reveal themselves as idiots.
(Sandra Spilecki 12:16pm July 25, 2012)
Damian is my favorite vampire on Vampire Diaries. Dean is my favorite on Supernatural. I had a hard time reading The Vampire Diaries, so I don't have a favorite there. I actually put ther book down after I was about 1/3 the way through. I am now reading the second book in Deborah Harkness' All Souls Trilogy. Matthew Clairmont is my favorite vampire since Barnabas Collins! He is vulnerable and strong. He is very protective of people he loves. He has an interesting back story that makes him very endearing.
(Sandy Fielder 1:24pm July 25, 2012)
BONES WAS BEST SO FAR FOR MR I WANT TO READ THIS ONE
(Debbi Shaw 1:36pm July 25, 2012)
I watch The Vampire Diaries every once in a while for the eye candy but I couldn't tell you their names or anything about the storyline. *sigh*

Good luck and happy writing!
(Tracie Travis 1:37pm July 25, 2012)
I have not actually watched The Vampire Diaries... I have been watching less TV and reading more. Dean from Supernatural is one characters that I truly enjoy watching...
(Colleen Conklin 2:06pm July 25, 2012)
I don't think there hasn't been a vampire book I haven't read
and or liked but my favorite "evil" vampire has to be Spike
from Buffy the Vampire Slayer. He was just wrong from the
beginning lol plus the punk rock look wow.
(Anne Clark 3:29pm July 25, 2012)
I'd like to try this book, please let me win it.
(Mary Hay 3:57pm July 25, 2012)
Hey Anne,
I would never compare myself to Charlaine Harris, but if you like funny vampire
stories, Take It Like A Vamp is exactly that. :) Desiree, thank you. Sandra, I hear
you. :) Sandy, Damian is hot. And I love Supernatural.
(Candy Havens 3:58pm July 25, 2012)
I WOULD LOVE TO WIN THIS CONTEST BECAUSE I LOVE YOU WORK AND I
NEVER WON ANYTHING IN MY LIFE AND I REALLY WOULD LOVE TO WIN
SOMETHING. YOUR MY FAVORITE AUTHOR OF ALL TIME. I LOVE
VAMPIRE NOVELS AND STORIES. THEY ROCK!!!!!
(Shelly Caggiano 4:03pm July 25, 2012)
I LOVE THE VAMPIRE DIARIES. MY FAVORITE VAMPIRE IS DAMIEN,
HE'S COOL AND VERY HANDSOME AND LOVES TO PARTY ROCK ON!!!!!
(Shelly Caggiano 4:07pm July 25, 2012)
Dean is my favorite. I am not into little-boy faces. Give me MAN, like in Nancy Gideon books Max Savoie, who is a very bad MAN-alpha-shifter and very possessive, yummy. Or in Karen Marie Moning books, Jericho Barronsm what a bad bad MAN-beast, double yums. Hot Hot Hot.
(Shonda Abercrombie 4:23pm July 25, 2012)
I have lots of favorite bad boys. I love the Nauti Boys (Lora Leigh) and Black Dagger Brotherhood(J.R. Ward) series. There are lots of hottie bad boys right there. Then I'd throw in some Dark Hunters (Sherrilyn Kenyon). But my newest favorite bad boy is Ben O'Callahan from Hostile Takeover by Joey W. Hill and her Knights of the Boardroom series. I think that is plenty right there. lol I can't wait to read about your bad boy.
(Patti Paonessa 5:01pm July 25, 2012)
I am a huge Vampire Diaries fan. Damon, Stefan, Klaus, Elijah
- they all rock! I also have a soft spot for Edward.
(Tami Tronick 6:09pm July 25, 2012)
I don't watch Supernatural or the Vampire Diaries, did watch True Blood for the first two seasons then gave up on that too! I'm told there are even more vampires and werewolves on that show...
(Diane Sadler 7:35pm July 25, 2012)
I've read the first three Lara Adrian Midnight Breed series -
those are some bad boys!
(Diane Sallans 8:38pm July 25, 2012)
I love Jericho Barrons, Bones, Kenyon's Dark Hunters, Spike & Han Solo, as mentioned above, and Damian does it for me a whole lot more than Stefan. Other favorites bad boys are Frost's other vamp heroes, Cian from Roberts Circle Trilogy, Sparks's vamps & weres, Showalter's Lords of the Underworld and Cole's Immortals after Dark heroes.
(Janie McGaugh 9:18pm July 25, 2012)
I do love bad boys. But, I don't watch any of the shows you listed and I can't stand that movie. I know, as a vampire lover, how can it be? I like bad boys who are only bad on the surface but big marshmallows on the inside. Like Acheron from Sherrilyn Kenyon's Dark Hunter series. Sure, he can crush you like a bug but he would rather just hang out with his wife. Cool!
(Jennifer Beyer 9:21pm July 25, 2012)
Oh Candace, you kill me!! For starters, I've never gotten into any of the vampire series at all!! Hollywood blew everything up so much, that it really turned me off!! I wanted to get into your contest until I saw that it was just nook or kindle version. I don't have an electronic reader, so that leaves me out and disappointed. I guess I have to go out and get my own hard copy. I've always adored Greek mythology, so I know that your book is where I should start as far as reading about vampires. I also adore the cover. It's steamy, yet very classy the way it was done. I love the little piece of artwork running down the side. Anyway, being the type of person who loves to hold a hard copy of a book in my hand, I'll be waiting until August for your book. Congratulations on your new endeavor, and best of luck on future stories. By the way, Nick is one of my favorite names for a guy.
(Peggy Roberson 9:53pm July 25, 2012)
I love all the bad boys in Lora Leigh. Thanks for giving me a chance to win your books.
(Linda Hall 9:58pm July 25, 2012)
Bones, Eric, and all the ones in Lara Adrians Breed.

Congrats on the new release! Looking forward to reading it.
(Donna Simmonds 11:34pm July 25, 2012)
Bad boys, what is it about them that is so appealing?! EVERYTHING! I love Lauren Dane & Laurann Dohner's bad boys. They're definitely drool-worthy. Love them. Thanks for this giveway. Take it Like a Vamp sounds like a great read!

Email: ninaXreader @ gmail dot com
(Nina T. 11:49pm July 25, 2012)
I wanted to thank you guys! :) You made my day today.
(Candy Havens 12:33pm July 26, 2012)
To the commenter with no e-reader, you can download free Kindle software to a PC. Stores and lets you read e-books. I'm sure there is one for smartphones too, bt I don't have one of those.
I'm trying to think of a favourite bad boy - but you're right about the actors wanting the more dark parts. Even women do it. When casting 'Whatever Happened to Baby Jane' the two lead actresses wanted to play the manipulative, degenerate, selfish Jane rather than the saintly Blanche.
I'm going with Kerr Avon from BBCs SF series 'Blake's Seven'. Avon was played by Paul Darrow and he was a computer criminal exiled to a prison colony. He was great.
(Clare O'Beara 6:55am July 26, 2012)
love all bad boys but in fiction only, congrats on your new book.
(Rosalina Rusli 8:55am July 26, 2012)
I love Vamp stories and my comments will show my age I guess because I loved the gothic soap 'Dark Shadows' and will still watch reruns if I run across them. (I can't wait to see the new one with Johnny Depp!) Of course who could not love Jason Patric and Keifer Sutherland in 'Lost Boys'!
Dean is my favorite on 'Supernatural' becuase of his sarcastic wit. I read all 4 books of the 'Twilight' series in one week, which drove my husband crazy! Can't wait to read your book, win or not, I will be getting your book soon! Thanks so much for giving us vamp fans one more wonderful read!
(Teresa Sullivan 10:29am July 26, 2012)
I have to say my favorite vamp is Spike from Buffy the Vampire Slayer - the look, attitude, the tongue in cheek, but also under his non beating heart there was a goodness to those he cared about (Dru and later Buffy).
(Carla Carlson 2:09pm July 26, 2012)
I have to say or admit that from the time I was a tern and saw
the movie "Lost Boys" the vamp movies had me entranced. There
have been many I like through the years. Spike from Buffy and
Angel but he was whinnying or just to whimpy at times. I also
liked Blade. By far my favorites at the moment aren't even camps
but BAD BOYS just the same! Sam and Dean Winchester! In this
house my two daughter and I all argue over who is better. Take
the loving care from Sam and put it with Dean's naturalality to
kick Burt and he would be perfect but you need them that way
for the story line. Cant wait to read your book.
(Brenda Dent 8:10pm August 1, 2012)
Sorry about spelling errors my computer automaticly fixes stuff before t
notice. Like teen, butt, vamps not camps. Hope you're able to still able to
make sense of it all.
(Brenda Dent 8:15pm August 1, 2012)
From what ive read about the book and author I ask my self why havent
I come across her soon. RUNNING OUT FOR THE BOOKS I'VE MISSED
LISTED ABOVE!!!!!!!!
(Brenda Dent 5:31pm August 13, 2012)
You can't go wrong when reading a paranormal story about a vampire.
(Mary Biggerstaff 12:56pm August 21, 2012)
Loved, loved, loved Take it like a Vamp. Candace. Four and a
half days? You are amazing!
(Annie Seaton 4:57pm September 13, 2012)
Book sounds great.Can't wait to read it!
(Jan Rogoway 8:07pm January 30, 2013)
Really looks like a great read.....can't wait to read it!
(Jan Rogoway 8:10pm January 30, 2013)
Really looks like a terrific read. Can't wait to read it!
(Jan Rogoway 8:11pm January 30, 2013)
Registered users may leave comments.
Log in or register now!