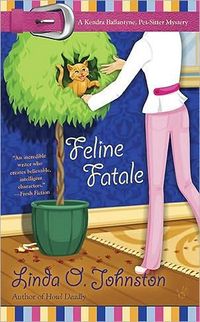 Purchase
Kendra Ballantine, Pet-Sitter
Berkley
July 2010
On Sale: July 6, 2010
Featuring: Kendra Ballantyne
304 pages
ISBN: 0425235548
EAN: 9780425235546
Paperback
Add to Wish List

Mystery Pet Lovers | Mystery Amateur Sleuth | Mystery Woman Sleuth
While visiting her friend Wanda, Kendra Ballantyne sets off a squabble over the building's animal policy. One week later, an anti-pet board member is found dead in Wanda's apartment. Now, Kendra must start sniffing around for the real killer.
Comments
46 comments posted.
Re: Feline Fatale

Animals are such a huge part of our lives. Glad you incorporate that into your novels.
(Joanne Reynolds 6:28am September 16, 2010)
great when animals are in my reads have 8 cats 1 dog 3 turtles and several fish so ya definite a must
(April Strength 9:13am September 16, 2010)
I'd love to win this! Please enter me too if it's open worldwide. Thanks!
(Dovile Petrasiunaite 9:46am September 16, 2010)
I really enjoy reading your books, the mystery is always a tuff one to solve and the animals involved always add intrigueing new information that I didn't know about them!
(Patricia Berger 11:32am September 16, 2010)
I've always had a dog. Mickey lived to be 16, the poodles 14 & 15. Now we have to spoil Yorkies named Spencer & Kirby, there brothers. Right now they're sleeping on the back of the sofa, their normal spot.
(Pat Wilson 11:38am September 16, 2010)
I love animals. Pity my hubby is not a fan.

I certainly like animals in the stories that I read too.

I love fantasy animals like the unicorn, or dragon. Dragon shapeshifers are a fav of mine too.

Valerie
in Germany
(Valerie Bongards 11:53am September 16, 2010)
I love animals. Your books sound great.
(Rebekah Elrod 12:23pm September 16, 2010)
Do you think you may have been a dog in a previous life?
(Janie Emaus 1:00pm September 16, 2010)
I love having pets in my life, so I enjoy seeing them featured in the books I read. Dogs are my favorites, but I like reading about all types.
(G S Moch 1:23pm September 16, 2010)
Have always had pets! The one I have now rules the house!!! LOL. Your book sounds like a fun read. Thanks for the opportunity to win!
(JoAnn White 1:28pm September 16, 2010)
I love animals. Your book sounds great. I'm adding it to my must read list.
(Cheryl Lynne 1:50pm September 16, 2010)
I love reading about animals especially dogs and cats. Right now I'm reading a fantasy about a wolf in shich they talk and it shows the hierarchy with the Alpha at the top.
(Alyson Widen 2:01pm September 16, 2010)
We have always had a wide variety of pets through the years... love reading about animal characters... their personalities are just as interesting as ours!
(Colleen Conklin 2:24pm September 16, 2010)
This sounds like just the right book for me, an animal lover.
Blessings,
Marjorie
(Marjorie Carmony 2:49pm September 16, 2010)
Love the title, made me laugh
(Vikki Parman 3:21pm September 16, 2010)
I,too, am an animal nut---we have 2 beagles so I can hardly wait to see your "Beaglemania" in a local store.
(Sue Farrell 3:35pm September 16, 2010)
I love books with animals as characters! Thank you for the giveaway!
(Lisa Garrett 4:01pm September 16, 2010)
Animals add another dimension, another interest. Always welcome.
(Mary Preston 4:49pm September 16, 2010)
Can't wait to read the book.I love animals,I have three dogs and a cat. Thanks for giving me a chance to win the book.
(Linda Hall 5:01pm September 16, 2010)
I like to read about pets in books. The authors write them as true characters with personalities and all that goes with that. Linda Lael Miller does this well.
(Leni Kaye 5:29pm September 16, 2010)

(Sheila True 5:35pm September 16, 2010)
I enjoyed your post and I enjoy the addition of animals in stories, especially if they end up being an additional character of the book.
(Barbara Elness 5:36pm September 16, 2010)
Living in a home with 4 dogs, 3 snakes, 1 spider,and a hamster, I couldn't help but injoy reading about animals
(Sheila True 5:38pm September 16, 2010)
I'm really thrilled to be getting such pet-enthusiastic comments!

I'm glad so many of you have animals of your own to love, and be loved by.
(Linda O, Johnston 6:19pm September 16, 2010)
I obviously agree that animals are a huge part of our lives, Joanne.

You really have a delightful-sounding household full of pets, April.

Thanks for entering, Dovile.

So glad you enjoy my mysteries, Patricia!
(Linda O, Johnston 6:22pm September 16, 2010)
Glad your dogs have lived to a ripe old age before. Now, please give Spencer & Kirby a hug for me, Pat.

I know not everyone's a pet lover, Valerie, but sorry that includes your husband. I've never written about a dragon shapeshifter--fun idea!

Thanks, Rebekah. I hope you enjoy my books!

Maybe that's why I love dogs so much, Janie. Just hope, if I was one in a past life, that I lived in a loving household.

I love dogs best, too, G S, but the cat in the shelter office where I just volunteered is an absolute dear, too.

I always say that I'm around to follow my dogs' orders, Jo. They have me well trained!
(Linda O, Johnston 6:28pm September 16, 2010)
Thanks, Cheryl. I hope you enjoy FELINE FATALE.

My shapeshifted wolves don't talk, Alyson, but I love the idea. They think like the people they are, though.

It's always amazing to me, Colleen, how different each dog is, even when they're the same breed.

I hope you enjoy it, Marjorie.

Glad you like the title, Vikki. They're fun to come u with.

I've gotten the preliminary artwork for the Beaglemania cover, Sue. I love it!

And thank you for entering, Lisa!

I agree that animals add a special dimension to books, Mary.

Three dogs and a cat also sound like a fun household, Linda. By the way, I'm partial to your name!

I also enjoy writing about animals' personalities, Leni, and how they can work best into my stories.
(Linda O, Johnston 6:35pm September 16, 2010)
Its always fun creating animal characters for my stories, Barbara.

Your household also sounds lika a pet heaven, Sheila!
(Linda O, Johnston 6:41pm September 16, 2010)
What a delightful post today. I have two adorable dogs and love them to bits. thanks.
(Sharon Berger 6:47pm September 16, 2010)
I've had cats since my kds were very young and yes I do love stories with animals in them; this includes shifters; wolves lions, bears.
(Diane Sadler 7:23pm September 16, 2010)
Thanks, Sharon. Give your dogs hugs from me!

I've written in the past about mountain lions, Diane, but never any bears. But as you can tell, I'm open to try other animals!
(Linda O, Johnston 7:26pm September 16, 2010)
I have 1 dog. She is hard enough being the spoiled big thing she is. But I love her anyways. Books sound wonderful.
(Vicki Hancock 7:57pm September 16, 2010)
Spoiling her is a good thing, Vicki! Thanks for yhour comment about my books.
(Linda O, Johnston 8:25pm September 16, 2010)
I'm a big animal lover. Unfortunately, my dog passed away 1 year ago this month. I miss her terribly!! I currrently have a cat, Bailey, who decided to take up residence at my place, since he was a kitten, 2 years ago. Since there's a lot of land where I live, there's usually a few cats that show up when the weather starts to get colder. My Husband and I try to save as many as we can find. We also feed the birds all year round, from Hummingbirds to Woodpeckers, to Goldfinches. It's an enjoyable and interesting thing to do. I wouldn't change a thing. I also can't wait to read your latest book. Animals in books always adds that extra bit of love in a book.
(Peggy Roberson 9:30pm September 16, 2010)
Anyone with a dog ranks high with me.
(Catherine Myers 9:41pm September 16, 2010)
Through out my life, I have so many pets. First it was a cat, then I have the rabbit, guinea pigs, a dog, and then a cat. Now I have four cats. They are my companions and best friends.
(Kai Wong 11:24pm September 16, 2010)
I love animals. I have soooo
many. I'm not giving numbers,
but it does include a rooster!
(Cathie Veres 11:48pm September 16, 2010)
I absolutely love your books Linda! It was the animals in your stories that attracted me.

My mom owned many dogs over the years. They all had such adorable personalities. There was little Sir Ralph, an apricot Shitzu. Daisy, a schnoodle, who so smart. My favorite was little Mickey, who was a miniature dachsund, and all black. Such a darling thing, very intelligent and fiercely loyal. Dogs are such wonderful companions!
I would love to win your new book, Howl Deadly!
(Michele Rioli 11:57pm September 16, 2010)
We didn't have any pets when I was a
kid, except for a cat who adopted us
and stayed there for 15+ years.
My married life has been another
matter. We have had just about
everything. Dogs, cats, rabbits, mice,
rats, gerbils, hamsters, guinea pigs,
snakes, turtles, chickens, ducks have
all made an appearance at one time or
another. We have done animal rescue
and rehab, usually with baby birds,
rabbits and one squirrel. We did
foster care for the local animal shelter,
keeping young puppies until they were
old enough to adopt out. We have also
taken care of older dogs who were
traumatized. We have a 14 year old
lab from our first foster litter and a10
year old terrier from out last foster
litter. All of the dogs we have had
over the years have been rescue dogs.
At present, between my daughter's
house and ours, we have: 9 dog ( i
have 3 plus one showed up on our
porch yesterday and won't leave. he
makes 10) ,20 +- cats (strays keep
having litters in her barn. I have 2.), 2
horses, 7 llamas. 2 sheep, 4 goats, i
pig, a rabbit, ducks, chickens and 2
frogs. At my house in addition to the
cats and dogs, I have a ball python
and 6 peacocks. I have gotten very
good about saying no to any more,
although the little dog that showed up
yesterday is a real sweetheart.

Good luck with all your series. I'll be
looking for them.
(Patricia Barraclough 12:52pm September 17, 2010)
So sorry to hear about your dog, Peggy. It's wonderful how you care for the animals that come around.

How fun to be so surrounded by animals, Wanda!

Dog owners rate high in my estimation, too, Catherine--and so do people with cats and other pets.

Four cats, Kai--how fun!

A rooster? I hope you like to wake up early, Cathie!

Thank you so much, Michele. I love your description of your dogs.

Wow, Patricia. It's no wonder that little dog showed up at your house. Word may have gotten out in the pet community about how wonderfully you care for them.
(Linda O, Johnston 2:14am September 17, 2010)
We have 3 dogs and I want a cat, I also volunteer at a shelter and LOVE it but I have a hard time not taking them all home with me but I can't so I clean up after them then love them and go home.
(Vickie Hightower 9:41am September 17, 2010)
I know what you mean, Vickie. I volunteer at a shelter, too, and would love to adopt them all.
(Linda O, Johnston 10:47am September 17, 2010)
What jcould be better than a mystery and a sweet dog?
Keep writing!
(Patricia (Pat) Pascale 5:56pm September 17, 2010)
I would love to be the winner of your book. I love mysteries and dogs, I have three myself and they are my babies.
(Karen Appleby 8:21pm September 17, 2010)
Books with animals or children
are ones that I can so get into.
(Lisa Richards 12:03pm September 21, 2010)
Thanks so much for the autographed book, I received it on September 23, 2010 and can't wait to read it.

Thanks again
(Karen Appleby 3:30pm September 24, 2010)
Registered users may leave comments.
Log in or register now!