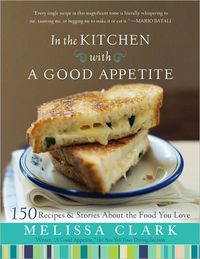 Purchase
In The Kitchen With A Good Appetite
Melissa Clark
Hyperion Books
September 2010
On Sale: September 1, 2010
464 pages
ISBN: 1401323766
EAN: 9781401323769
Paperback
Add to Wish List

In addition, Clark writes with Laurie Colwin– esque warmth and humor about the relationship that we have with our favorite foods, about the satisfaction of cooking a meal where everyone wants seconds, and about the pleasures of eating. From stories of trips to France with her parents, growing up (where she and her sister were required to sit on unwieldy tuna Nicoise sandwiches to make them more manageable), to bribing a fellow customer for the last piece of dessert at the farmers' market, Melissa' s stories will delight any reader who starts thinking about what' s for dinner as soon as breakfast is cleared away. This is a cookbook to read, to savor, and most important, to cook delicious, rewarding meals from.

Media Buzz
Good Morning America - December 22, 2010
Martha Stewart - December 21, 2010
Weekend Edition Sunday - November 21, 2010
Good Morning America - October 1, 2010

Interviews for In The Kitchen With A Good Appetite
Interview with Melissa Clark
In The Kitchen With A Good Appetite
September 6, 2010
Comments
5 comments posted.
Re: In The Kitchen With A Good Appetite

MelissaClark.net
(Amanda Edmond 7:42am September 6, 2010)
SOUNDS DELICIOUS!
(Laurie Gommermann 8:50am September 19, 2010)
I like to cook too...your book sounds like my kind of book!!!
(Lois Imel 11:25pm September 26, 2010)
MelissaClark.net
(Patricia Cochran 12:24pm September 27, 2010)
I really enjoy simply looking at all of your weblogs. Simply wanted to inform you that you
have people like me who appreciate your work. Obviously an excellent post. The information
which you have provided is actually very helpful.
obat herbal diabetes melitus
(Toko Herbal Tradisional Veherba 2:46am January 24, 2017)
Registered users may leave comments.
Log in or register now!