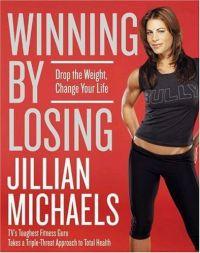 Purchase
Winning by Losing: Drop the Weight, Change Your Life
Jillian Michaels
TV's Toughest Fitness Guru takes a Triple-Threat Approach to Total Health
Collins
September 2005
272 pages
ISBN: 0060845465
Hardcover
$24.95
Add to Wish List

Are you tired of trying one diet program after another only to find them full of gimmicks and empty promises of an easy way out? Are you ready for straight talk on how to get healthy, lose weight, and improve your quality of life once and for all? Look, few things in life are simple and straightforward, and losing weight is no different -- it's not easy, and anyone who says otherwise is trying to pull a fast one. Winning by Losing is a comprehensive, inspirational, and real solution to your weight problems. Taking a triple-threat approach, top television fitness guru Jillian Michaels identifies and illuminates the three keys to health and lasting weight loss so that you can become a winner in mind, body, spirit, and life.
SELF Transformation starts with you -- and this first section focuses on the psychological and emotional aspects of being overweight. Drawing on her own experience with weight problems, Jillian offers invaluable practical advice on how to identify the attitudes and behaviors that may have sabotaged your weight-loss efforts in the past and, most important, how to train your mind and alter your habits so that you are committing all your resources to true change.
SCIENCE To find the diet plan that's best for you, you have to learn the basics of nutrition and how your body works. Part of the reason so many fad diets are ineffective is that they are generically designed and do not meet your different individual needs. With a simple quiz, you can determine what type of metabolism you have, and create a unique diet that works best for you.
SWEAT When it comes to weight loss, diet without exercise will get you nowhere fast -- so here's where the hard work comes in. In part three, Jillian takes you on a whirlwind tour of your major muscle groups and outlines the best ways to train, tone, and strengthen your physique. Included is her innovative and uniquely effective exercise program -- a product of ten years' worth of working closely with physical therapists -- incorporating both cardio and resistance training. The program is designed to help you shed weight safely and fast.
So, are you ready to chuck the excuses and the quick-fix fantasies and get real about what it takes to change your life for the better? If so, this is the book for you. Come on, losing has never felt so good!

Media Buzz
Today - March 24, 2006
The View - March 6, 2006
Today - December 4, 2005
Today - October 29, 2005
Extra - October 11, 2005
Imus in the Morning - October 7, 2005

Comments
No comments posted.

Registered users may leave comments.
Log in or register now!