Kym Roberts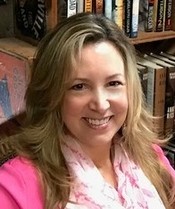 Passion. Mystery. Suspense. Catch the Wave! Because a little PMS can change your world!
Contests
Five Cozy Mysteries Wrapped in Swag from Kym Roberts

Social Media:
INSTAGRAM
PINTEREST
GOODREADS
GOOGLEPLUS
TWITTER
YOUTUBE
FACEBOOK
BLOG

E-mail me when Kym Roberts releases a new book.
Blogging at Fresh Fiction
Love and Murder Are in the Air
February 9, 2015
Iíve always been drawn to cozy mysteries during the month of February. They offer a combination of warm love stories and a taste of Read More...
Kymís love for action an adventure goes all the way back to her childhood when a special spy ring guided her and her young pack of sleuths to the henchmen hiding in their neighborhood. Armed with a badge and the best equipment a few pennies could buy, sheís carried that code of honor through adulthood and learned some juicy tricks along the way. ;) Although she retired her special shield thatís tattooed upon her heart, you might catch her wearing that ring when another secret mission calls her name!
Her humor is often raunchy, her jokes are often bad, but her hunger for a story keep the adventures coming fast. So Catch the Wave of passion, mystery and suspenseówith some stupid author tricks along the way;)
Series
Tickled to Death | Malia Fern | Book Barn | Hard Men of the Rockies
Books:
Perilous Poetry, October 2017
Book Barn Mystery
e-Book
A Reference to Murder, May 2017
Book Barn Mystery #2
e-Book
Fatal Fiction, December 2016
Book Barn #1
e-Book
Mistletoe & Lace, November 2016
The Hard Men of the Rockies Series
e-Book
Red Lace, September 2016
Hard Men of the Rockies #1
Paperback
Flirting With Desire, December 2015
Noble Pass Affaire
e-Book
Flirting with the Devil, September 2015
A Noble Pass Affaire
e-Book
Dead Man's Carve, October 2014
Tickled to Death Mystery #1
Paperback
Dead On Arrival, August 2014
Malia Fern
Paperback
Handled by Officer, July 2014
Paperback

Articles by Kym Roberts
Tis the Season to Get Cozy
December 13, 2017
Thanksgiving Escape
November 20, 2017
Fall Back and Get Cozy
November 7, 2017
Fall into a Cozy
October 9, 2017
A Puniful Name
August 28, 2017
An Instrumental Interview with Alexia Gordon
August 15, 2017
Getting Cozy in the Heat
August 7, 2017
Getting Cozy in the Shade
July 24, 2017
Summer Mysteries
June 26, 2017
Summer Treats
June 12, 2017