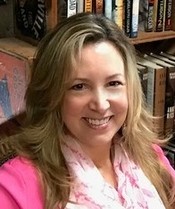 Passion. Mystery. Suspense. Catch the Wave! Because a little PMS can change your world!
Social Media:
INSTAGRAM
PINTEREST
GOODREADS
YOUTUBE
TWITTER
FACEBOOK
BLOG

E-mail me when Kym Roberts releases a new book.
Blogging at Fresh Fiction
Kym Roberts | Cozy Corner: March to Meet New Mysteries
March 4, 2019
Itís almost time for spring, right? Well, donít put up those sweaters and galoshes anytime soon, and keep those shorts stored for now Read More...
Kym Roberts | Cozy Corner: Interview with Lynn Cahoon
January 14, 2019
I met one of my favorite cozy authors this past fall. Lynn Cahoon is as entertaining in person as she is on the Read More...
Kym Roberts | Cozy Corner: The Best Cozies of 2018
January 7, 2019
Itís my favorite time of yearÖI get to choose my favorite cozies released in the past twelve months! †And yet, itís the Read More...
Cozy Corner with Kym Roberts | Murder During the Holidays
December 3, 2018
It sounds terrible, doesnít it? Yet look at our literary history, weíve always embraced the ghouls of Christmas past. Our fairy tales are Read More...
Cozy Corner with Kym Roberts | Mystery Trip (Part 2)
November 26, 2018
Last week, you learned about the first half the authors I met at The Poisoned Read More...
Love and Murder Are in the Air
February 9, 2015
Iíve always been drawn to cozy mysteries during the month of February. They offer a combination of warm love stories and a taste of Read More...
Kym Roberts is a retired detective sergeant who looks for passion, mystery and suspense in every book she reads and writes. She can be found on the web at kymroberts.com, on Facebook @KymRobertsAuthor911 and on Twitter @kymroberts911. You can also listen to her new podcast Romance Book Chat with Kym and Misty on iTunes & Stitcher. Kymís Book Barn Mystery #5, Killer Classics is available now!