Callie Hutton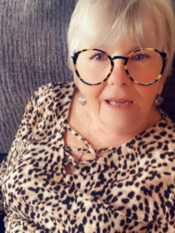 Blogs:
Callie Hutton - Blog
Callie Hutton - Blog
Callie Hutton - Twitter

News
August 21, 2014
Callie Hutton | AN ANGEL IN THE MAIL Flash Sale!
March 15, 2014
Callie Hutton | What Makes A Hero?

E-mail me when Callie Hutton releases a new book.
Blogging at Fresh Fiction
Callie Hutton | What Makes A Hero?
March 15, 2014
Driving to the supermarket the other day, the song "I Need a Hero," from the movie Shrek played on the radio. As I sang along Read More...
Callie Hutton always knew those stories she made up in her head would be written down one day. There was nowhere else for them to go. After years of writing articles and interviews for magazines and company newsletters, she decided to tackle writing a book. That was back in 2010. Now with twelve books under her belt, and seven more contracted, the relief at having somewhere to tell those stories is wonderful.
She lives in Oklahoma with her husband, adult children and three dogs.
Books:
The Lady's Disgrace, September 2014
The Marriage Mart Mayhem series #3
e-Book
The Duke's Quandary, March 2014
e-Book
Choose Your Heart, June 2013
Honky Tonk Hearts
e-Book
The Elusive Wife, May 2013
e-Book
Emma's Journey, February 2013
e-Book
Daniel's Desire, November 2012
e-Book
Miss Merry's Christmas, November 2012
e-Book
A Prescription for Love, October 2012
Oklahoma Lovers #3
e-Book
Tessa's Treasures, August 2012
Tales of the Scrimshaw Doll
e-Book
An Angel in the Mail, June 2012
e-Book
A Wife by Christmas, December 2011
Oklahoma Lovers
e-Book
A Run for Love, November 2011
Oklahoma Lovers
e-Book