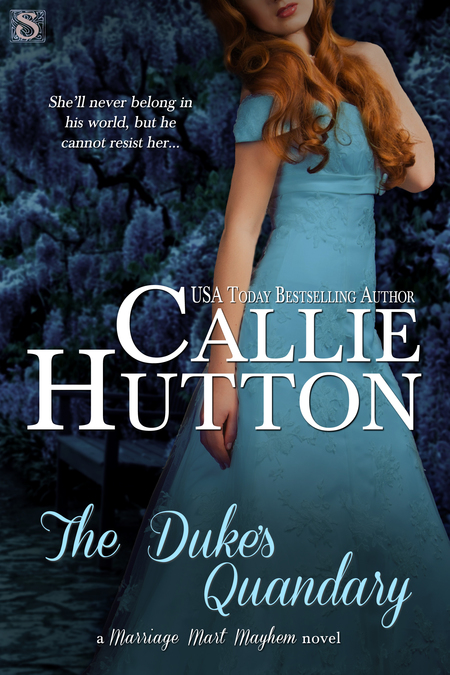 Purchase
Marriage Mart Mayhem #2
Entangled Scandalous
March 2014
On Sale: March 10, 2014
Featuring: Penelope Clayton; Drake, Duke of Manchester
285 pages
ISBN: 1622664647
EAN: 9781622664641
Kindle: B00I6ZJ6GK
e-Book
Add to Wish List

London 1814...
Drake, Duke of Manchester is searching the Marriage Mart for a perfect bride. He wants a woman who is poised, sophisticated, and worthy of the title Duchess. But most of all, he wants a woman who does not want the useless emotion of love.
Socially awkward Miss Penelope Clayton isn't meant for marriage. A serious botanist, she has no desire to wed, so being forced by her guardian to participate in the Season to find a husband is torture. She'll never fit in with the ton, especially if they discover she's been pretending to be a man within the scientific community.
As Drake's family makes over Penelope, turning her from naive bluestocking to enchanting debutante, he is put upon to introduce her to society and eligible bachelors. Despite dance lessons and new gowns, Penelope is the opposite of poised and sophisticated as she stumbles from one mishap to the next. Why then, does he find it so hard to resist her?
Marriage Mart Mayhem
Comments
28 comments posted.
My hero was my DH of 39-1/2 years, who died from lymphoma cancer on August 1st of last year. My husband was my best friend. He protected me from my very abusive father, was always bringing me flowers and plants and candy, always knew just what to say when I was down, in general supported me in everything, and was always there for me. I miss him terribly.
(Cathy Phillips 1:30am March 15, 2014)
Hi Cathy, So sorry for your loss. I can hear the pain in your words. Thank you for coming by today and sharing your story.
(Callie Hutton 9:12am March 15, 2014)
My heroin is my sister...she fought long and hard with her lung cancer but sadly lost to it! She was only 54! I miss her so much. Please don't put me in to win the e-copy I don't have an e-reader. I only read my books! I just wanted everyone to know! Thank you.
(Bonnie Capuano 9:23am March 15, 2014)
So sorry for your loss, too Bonnie. I'm sure you miss your sister very much. Thanks for the visit.
(Callie Hutton 10:06am March 15, 2014)
I don't really have a hero. But I love it when I see the hero in others. Like this couple that were elderly and walked the mall in the mornings. He would hold her purse as they walked and she held on to his arms since she was less steady in her walking. It was the sweetest thing I have ever seen.
(Pam Howell 10:22am March 15, 2014)
Thank you for this! I really wasn't looking forward to
reading it, I've become to fed up with these false views of
heroism in our books which seem to be based entirely on 21st
century time spent at the gym. So I do so appreciate what
you've written here.

One of the things I always seek to explore in my books is
the true heroism of the ordinary chap. Not the super-
heroes, but the fellows who get it wrong but keep trying,
often against all the odds--the chaps who overwork, are
intelligent but maybe not so emotionally smart, who go out
there amongst the horror (I write about the Napoleonic wars
and Austen's England at war) and even though they're in way
over their heads, they're determined to do the right thing.
And they do it. I have such admiration for these
characters--and when I'm writing them, I try always to bear
in mind that wonderful old Arab saying about stories:
"Stories teach us how to live." And thay do. So thank you.
(M.M. Bennetts 10:25am March 15, 2014)
I actually have 2 heroes in my life. The first one is Helen Keller. Ever since I read her Autobiography as a young girl, I've tried to pattern my life after her. The other hero is my Husband. The latest example I can give - We just celebrated our 31st Wedding Anniversary, and money is extremely tight. It also falls the same week as Valentine's Day. He didn't want to disappoint me this year, so he had me make a badly needed appointment to get my hair cut and fixed, then took me to McDonald's for lunch. It's a day that I won't forget for a long time!! The only thing that I'm disappointed about is that you're giving away an e-copy of your book, which I was looking forward to reading. I don't own an e-reader, so your contest does me no good!! I wish you would have made it a choice of e-copy or print.
(Peggy Roberson 10:53am March 15, 2014)
Growing up around the firehouse and police station as a kid... I met a bunch of heroes... everyday people that did good for the people around them.
(Colleen Conklin 1:24pm March 15, 2014)
That is a sweet story, Pam. Nothing like a life-long love. M.M., I know what you meant, that's what precipitated my article. True heroes don't always look like heroes. Peggy, Fresh Fiction actually has the wrong book offered for the drawing. The prize offered is either a print or ebook copy of THE ELUSIVE WIFE, which is the first book in the series. Colleen, yes, everyday heroes are generally in our own backyards. Thanks so much for all of you stopping by and taking the time to comment.
(Callie Hutton 1:58pm March 15, 2014)
My step dad was my hero. He is gone now but I still find strength when I think about him.
(Denise Austin 2:18pm March 15, 2014)
My husband is my hero for all the things he does to help people.
(Janie McGaugh 3:17pm March 15, 2014)
Hi Callie,
What a sweet, romantic gesture by your husband. The closest to a hero that I would have, would be my son, who used to be a Marine. He's such a sweetheart. Now he's a hardworking husband and a good guy.
Thank you,
(Ginger Robertson 3:55pm March 15, 2014)
Hi Denise, dad's are often our very first heroes; L. Lam, I'm sure she's been a great example for you your whole life; Janie, helping others certainly makes for a hero; Ginger, please offer thanks to your son for his service to our country. I appreciate y'all stopping by.
(Callie Hutton 5:53pm March 15, 2014)
Hello Callie,how are you? My Hero would have to be my Grandmother! I
will do my best,to explain in detail,and with as few words as possible. My
Grandmother made many Sacrifices,throughout,her long life of 94 Years.
She was always the Caregiver in the family. My Grandmother May,was
from Belfast,County Down,which is in Northern Ireland. She was the
Youngest of three Sisters,the Shortest and the Smallest,Worked the
Hardest,Lived the Longest,the only one with Hazel Eyes(both of her two
Sisters had Blue Eyes),and She was the Healhiest! My Grandmother came
to Canada,in 1924! She met her Husband in Canada,(he was from
Liverpool,England)and they were Married in 1927! My Grandmother had
three Children,alltogether,but myMother,who came Last,was the only
Survivor. My Mother,was very good to her Mother! Eventually,my Mother
would,Give Birth to Two Children,both Girl's,Thirteen Month's apart! My
Grandmother,would go on to Raise my Sister and I. Since,my Mother went
to Work during the Day,we were left in the Care,of my Grandmother! She
prepared all the Meals,washed the Dishes,Played Nursemaid,took
wonderful Care of Us,during Sickness! Also,my Mother had it
made,because,she was able to have a Life,outside of Work. She would go
to the Theatre,the Opera,the Ballet and/or the Church,knowing that her
Children,were being Well Cared For. My Grandmother's Duties,did not End
There. We would go Home for Lunch and as always,would be given,a
healthy,hot,nutritional Meal. We could always,Expect the Same,after
School. This brief Synopsis,of why my Grandmother is my Hero,does not
do,nowhere Near,the Justice,She Deserves! Finally,I would like to
Share,for a Moment or Two,how and why,I too became the Caregiver! As
time passed by,never leaving home,my Grandmother,began to show
Signs,that she required Extra Care. As Nature,took it's Natural Course,I just
began,doing little things,to Help and Assist,my Grandmother,in whatever
Way,I c
(Elizabeth Calligan 7:46pm March 15, 2014)
I recently had surgery, and I have to say, I admire the nurses and nursing assistants who took care of all of us at our very worst - we patients who were in pain, unable to sleep, cranky, nauseous, unwashed, barely able to move in bed and slowly walk around the floor - but they were endlessly cheerful, always there, responding to our moans and tears and attempts at waking up. My heroines and heroes!
(Beth Fuller 9:24pm March 15, 2014)
My hero is Grandmother. She may be old but she did sacrifice a lot to make sure that my parents survived World War II in China.
(Kai Wong 9:32pm March 15, 2014)
im so sorry to hear about your loss . I lost my mom in dec
2013 it has been hard for our entire family she was my hero
to me. I think about her all the time she was 71 years old
and she would have been 72 on march 10th. she had a haed
life but she always shoed alot of love to us there was 5 of
us i have 3 sisters and 1 brother she put food on the table
and we always had whatever we needed so she is my hero
(Denise Smith 12:10pm March 16, 2014)
my sons are my heroes. Their father was not a good example of a loving father and yet, somehow, they grew up to be wonderful dads. I am so proud of them.
(Barbara Studer 12:28pm March 16, 2014)
My Mother is my hero - strong, independent & a good role
model.
(Mary Preston 4:41am March 16, 2014)
I have many heroes in my life but my brother in law is amazing. My sister has emphysema and is on oxygen all the time. He does everything she needs with out a complaint. He also helped a lot when my mother died and took on responsibilities when we were not available.
(Debra Guyette 8:21am March 16, 2014)
My husband was my hero. I lost him last month. I sure do miss him. Thanks for a chance to win.
(Linda Hall 11:47am March 16, 2014)
My cousin is my hero. She was always a special person and cared for my grandmother for many years until the end of her life, even though it should have been my father and my aunt who made the sacrifice. If she ever felt put out, we never heard a word. Years later when I was grown up and realized what the full extent of her selfishness, I sent a letter thanking her; her reply was that it was her privilege and she never considered caring for my grandmother a burden.
(Angela Daffern 1:57pm March 16, 2014)
My hero is my husband who has been with me for 38 years. Some of the happiest days, births, graduations, weddings, etc. Some of saddest death of parents, daughter, moving and watching children leave for adventures in their own lives. In all of this he still tells me he loves me every day and looks out for my needs. I love him for this and that is why he is my hero.
(Cindy Olp 10:52pm March 16, 2014)
The hero in my life was my grandfather. He always made sure that we could always protect ourselves and always told us that he only wanted the best for us.
(Cynthia St. Germain 11:44pm March 16, 2014)
My hero is my husband. After all we've made it going on 35 years of marriage and he is only man I ever kissed. I am so glad I found a husband who knew what a commitment was through thick or thin. Also we both can cook so has been handy a lot of times.
(Jane Squires 12:10pm March 17, 2014)
My hero is my husband after serving 21 years in the navy 3 tours to Iraq as
a Navy corpsman he saw so much wrong on the front lines yet he came
home kept it together for us and took care of us and looked out for all his
soldiers under his command he was there for each and everyone of them
with such honor and brotherhood.
(Niki Edwards 2:17am March 17, 2014)
My husband is my hero. He is wonderful, loving, caring, protective and always there when I need him.
(Bonnie H 10:45pm March 26, 2014)
my husband is my hero. without him i would still be taking
anti depression medicine but he changed my life and now i
don't need those medicines anymore. he is my cure :)
(Sarah Hansrote 10:53pm March 31, 2014)
Registered users may leave comments.
Log in or register now!