Caris Roane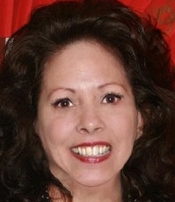 Blogging at Fresh Fiction
Caris Roane | Where Did WINGS OF FIRE Come From?
September 9, 2011
WINGS OF FIRE is the latest book in my Guardians of Ascension series.  It's Read More...
Caris Roane | Euphoria...my favorite new word
June 24, 2011
That's how I feel when I write these days.  It's an amazing experience.  I've never written a series like this before--Guardians Read More...
Caris Roane has loved paranormal elements in romance for decades and some of her earliest novels included vampires as well as characters from Greek mythology. In recent years, she tackled the warrior vampire myth creating a world made up of ascending dimensional earths. Second Earth, a global society caught in a deadly war, is the world of the vampire and for some mystical, magical reason, her vampires appeared with enormous beautiful wings. Flight now forms an integral part of every novel of her Guardians of Ascension series.
Writing for Caris is both a lifestyle and a passion.
She lives in Arizona with her two cats, Gizzy and Sebastien.
Log In to see more information about Caris Roane
Log in or register now!
Series
Books:
Dark and Damaged, June 2015
e-Book
Savage Chains, April 2015
Guardians of Ascension
Paperback
Unchained, December 2014
Men in Chains 3
Mass Market Paperback
Chains of Darkness, July 2014
Men in Chains #2
Paperback
Dark and Dangerous: Six-in-One Hot Paranormal Romances, October 2013
e-Book
Born In Chains, October 2013
Paperback
Blood By Moonlight, November 2012
e-Book
Obsidian Flame, May 2012
Guardians of Ascension #5
Mass Market Paperback
Born of Ashes, January 2012
Guardians of Ascension #4
Mass Market Paperback
Wings of Fire, September 2011
Guardians of Ascension #3
Mass Market Paperback
Brink of Eternity, July 2011
Guardians of Ascension #2.5
e-Book
Burning Skies, May 2011
Guardians of Ascension #2
Mass Market Paperback
Ascension, January 2011
Guardians of Ascension #1
Mass Market Paperback