"A new voice for vampire culture we can love!"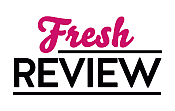 Reviewed by Lizzie Bailey
Posted April 3, 2020

Young Adult Romance | Young Adult Paranormal | Young Adult
CRAVE by Tracy Wolff is the brand-new Young Adult series from Entangled Teen that you've seen all over social media as fans clamor for the opportunity to read what promises to bring back the vampire genre once again.
Grace is moving to the great big WTF nowhere of Alaska after the death of her parents. After a long journey via snowmobile, natch, she arrives at the Castle, also known as Katmere Academy, and in awe of the overly gothy-style chess set, meets Jaxon Vega. She's drawn to him in mysterious ways (of course she is, cause it makes us sigh while holding our hearts the most) and is soon distracted by another hottie named Flint, cause let's get real – the only thing more amazing than one drool-worthy possible boyfriend is a second to mix things up.
As Grace is given warning after warning, she discovers Katmere Academy may have some deep, dark, secrets that she shouldn't discover, but can't help herself from digging to find out.
I am a huge Twilight fan, so I was anxious to get my grubby paws on a copy of this book, and it was worth the wait. I enjoyed the various nods to the story, and the pop culture references to various other stories of the genre too. It's a slow-building story, but once the "identities" of all the characters were revealed, I found myself only wanting more and more.
Hold your drink, hold your book tight, and prepare to gasp at the ending. I've never read such a neatly woven ending.
Will it bring back the vampire genre we all know and love? It's very possible.
Watch out Edward Cullen, there's a new paranormal dreamboat by the name of "Jaxon Vega" giving you a run for your heart throb money, and I'm on totally okay with that – he's dreamy and I'm anxious to see what Ms. Wolff comes up with in the next installment of the series.
Learn more about Crave
SUMMARY
My whole world changed when I stepped inside the academy. Nothing is right about this place or the other students in it. Here I am, a mere mortal among gods…or monsters. I still can't decide which of these warring factions I belong to, if I belong at all. I only know the one thing that unites them is their hatred of me.
Then there's Jaxon Vega. A vampire with deadly secrets who hasn't felt anything for a hundred years. But there's something about him that calls to me, something broken in him that somehow fits with what's broken in me.
Which could spell death for us all.
Because Jaxon walled himself off for a reason. And now someone wants to wake a sleeping monster, and I'm wondering if I was brought here intentionally—as the bait.
---
What do you think about this review?
Comments
No comments posted.

Registered users may leave comments.
Log in or register now!