A sweet Christmas tale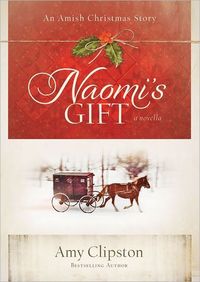 Zondervan
August 2011
On Sale: August 16, 2011
Featuring: Caleb; Naomi King
144 pages
ISBN: 0310327350
EAN: 9780310327356
Hardcover
Add to Wish List

Take a trip to Bird-in-Hand, Pennsylvania, where you'll meet the women of the Kauffman Amish Bakery in Lancaster County. As each woman's story unfolds, you will share in her heartaches, trials, joys, dreams ... and secrets. You'll discover how the simplicity of the Amish lifestyle can clash with the 'English' way of life---and the decisions and consequences that follow. Most importantly, you will be encouraged by the hope and faith of these women, and the importance they place on their families.
Naomi's Gift re-introduces twenty-four-year-old Naomi King, who has been burned twice by love and has all but given up on marriage and children. As Christmas approaches---a time of family, faith, and hope for many others---Naomi is more certain than ever her life will be spent as an old maid, helping with the family's quilting business and taking care of her eight siblings. Then she meets Caleb, a young widower with a 7-year-old daughter, and her world is once again turned upside-down.
Naomi's story of romantic trial and error and youthful insecurities has universal appeal. Author Amy Clipston artfully paints a panorama of simple lives full of complex relationships, and she carefully explores cultural differences and human similarities, with inspirational results.
Excerpt
CHAPTER 1
Caleb sucked in a deep breath as the taxi van bounced down Route 340 toward Bird-in-Hand, Pennsylvania. After nearly a decade, he'd returned to the town of his birth. He clasped his hands together. Why was he nervous? This was supposed to be a happy reunion with his family, and yet, his palms were sweaty with anticipation despite the biting December wind.
"Dat!" Susie said, grabbing the sleeve of his coat and yanking with one hand while pointing toward the indoor farmers market with the other hand. "Dat! Can we stop there? Can we? Please? Please?"
"Why would we stop there?" he asked. "We have a farmers market back home that's much the same."
She blew out an exasperated sigh and glowered with annoyance. "To get a gift for Aenti Sadie, of course. Teacher Linda says that you should always bring a nice dessert to dinner. Please, Dat? I'll pick something out fast like we do at the market at home." She batted her eyelashes and gave her prettiest and cutest smile. "Pretty please, Dat?" She looked like a mirror of her beautiful mother, and his heart turned over in his chest. At the tender age of eight, Caleb Schmucker's
daughter already knew how to wrap him around her little finger.
He gave a sigh of defeat, and Susie clapped her hands while grinning with triumph.
"Driver?" Caleb asked. "Could we please make a quick stop at the farmers market?"
The middle-aged man nodded and merged into the parking lot.
"We have to make this quick," Caleb said as the van steered into a parking space. "Your aenti and onkel are expecting us. They know that our train arrived less than an hour ago and will worry if we don't get to their house soon."
"I'll be quick. I promise." Susie nodded, and the ties to her black winter bonnet bobbed up and down on her black wrap. "We should find a nice pie to bring for Aenti Sadie."
"That sounds gut." Caleb touched her nose and smiled. Oh how he adored his little girl. There was no greater love in his life.
Except for Barbara.
Pushing the thought from his mind, he took Susie's little hand in his and they climbed from the van. He glanced across the parking lot toward the highway, and his eyes fell on the Kauffman & Yoder Amish Furniture Store, owned by an old family friend, Eli Kauffman. Caleb's elder sister, Sadie, had married Robert, the oldest of the Kauffman sons, while the youngest Kauffman son, Timothy, had been Caleb's best school friend. He wondered how his old friend was doing these days. He would have to stop by and visit him before he and Susie returned to Ohio.
"Dat!" Susie yanked Caleb toward the entrance to the farmers market. "Let's go."
Caleb stifled a laugh. The little girl had her mother's impatience too. "I'm coming, mei liewe."
They stepped through the double doors and the holiday smells of freshly baked cookies and breads, spices, and pine assaulted Caleb's senses. The market bustled with customers, English and Amish, rushing to the many booths. Scanning the area, Caleb spotted booths for baked goods, jellies and jams, crafts and gifts, and paintings. A sea of shoppers pushed past Caleb and he dropped his hold of Susie's hand as he approached the baked goods counter.
"What kind of pie did you want to get, Susie?" Caleb asked. "Do you think a pumpkin pie or apple?" When his daughter didn't answer, he turned around and found a group of English customers pushing toward the counter.
"Susie?" he called. "Susie?" He glanced through the crowd, finding only unfamiliar faces. "Susan? Susan?" Caleb's heart raced as he pushed through the knot of holiday shoppers, searching for his only child. "Susan!"
Naomi King straightened a king-size Lone Star patterned quilt and glanced at her best friend Lilly Lapp, who was glancing through the order book. "I can't believe Christmas is next week. Where has the year gone?"
Lilly shook her head. "I don't know. That's a very good question." An English customer approached and began asking Lilly questions about custom ordering a queen-size quilt as a gift.
Turning her back to the counter, Naomi hummed to herself while mentally listing all she had to do before Christmas. She still needed to shop for her parents and her eight siblings. And then there was the baking for the cookie exchange. And she had to?—?
"Excuse me," a little voice asked, interrupting her mental tirade.
Naomi spun to find a little girl leaning over the counter and pointing toward the king-size Lone Star quilt Naomi was draping over a wooden dowel. "May I help you?"
The girl adjusted the black bonnet on her head. "Did you make that?"
Naomi nodded. "Ya, I did."
"It's schee." The girl studied the quilt, her eyebrows knitting together in concentration. "My mamm made a quilt like this once, only she used blues and creams instead of maroons."
Naomi smiled. "I bet that was schee."
"Can I touch it?"
"Of course." Naomi held the quilt out, and the girl ran her hand over it.
The girl studied the quilt, her eyes trained on the intricate star pattern. "My mamm promised she would teach me how to quilt someday."
"I bet she will. I think I was about your age when my mamm started teaching me."
The girl looked up, and Naomi was struck by her deep green eyes. They reminded Naomi of the deep green the pasture turned every spring.
"My mamm is gone," the girl said, her expression serious.
"Gone?" Naomi set the dowel in the rack and leaned over the counter. "What do you mean?"
"She's in heaven with -Jesus." The girl ran her fingers over the counter.
Naomi gasped, cupping a hand to her mouth. "I'm so sorry. You must miss her."
"I do. I was only?—?" she began.
"Susan!" A man rushed over, his expression full of fear. He placed his hands on the girl's shoulders and angled her to face him. He crouched down and met her at eye level. "I turned my head for a moment and you took off. Do you know how much you scared me? I thought I'd lost you. What were you thinking?"
"I'm sorry, Dat." The girl shook her head, tears filling her striking eyes. "I saw the quilt stand, and I wanted to come see the quilts."
The man sighed and closed his eyes for a split second. Standing, he took her hand in his. "Don't do that ever again." His voice pleaded with her. "Promise me?"
"Ya." A tear trickled down her rosy cheek, and she sniffed.
His expression became tender, and Naomi's heart swelled.
"Don't cry, Susie," he said, brushing her tears away with his fingertip. "It's okay, mei liewe. You're all right, and that's all that matters." He glanced toward the clock on the wall. "We need to get going. Your aenti is expecting us." He turned to Naomi. "I'm sorry for creating such a scene. My dochder took off and scared me so."
Naomi opened her mouth to speak, but her voice was stuck in her throat for a moment. Her eyes were lost in his, which were the same deep shade of emerald as the girl's.
"It was no bother," Naomi finally said. "We were having a nice discussion about quilts. I'm sorry she scared you."
"Danki." He glanced at his daughter. "We must be going." He turned back to Naomi. "Frehlicher Grischtdaag." He smiled, and his handsome face was kind. Yet, there was something sad in his gorgeous eyes. Naomi surmised it was the loss of his wife. Her heart ached for him.
Before she could respond to his Christmas greetings, the man and the girl were gone. He held the girl's hand as they turned the corner. The girl waved at Naomi, and Naomi waved back, her heart touched by the sweet gesture.
The customer who had been chatting with Lilly walked away from the stand.
"What happened?" Lilly asked, leaning over to Naomi.
"What?" Naomi asked, searching the crowd for the man and girl.
"What was all the commotion with the man and the girl?" Lilly closed the order book.
"The girl wandered off from her father, and he was worried about her." Naomi leaned against the counter. "She told me that her mother made quilts."
"Oh, that's sweet."
"Ya, it is." Naomi lifted a twin-size quilt from the bag below the counter and began to fold it. "But she also said her mother had died."
Lilly frowned and shook her head. "How bedauerlich."
"Ya, I know." Naomi glanced toward the door, wishing she could see the girl just one more time. "There was such sadness in her eyes. I saw it in her father's eyes too."
"I can imagine that the sadness was from losing her." Lilly
straightened the pens by the register. "I know how hard it was to lose my mamm, and I'm much older than she is."
Naomi touched Lilly's arm. "I know. There was just something .?.?." She let her voice trail off and pushed the thought away. She'd been burned more than once by misreading her own thoughts and feelings. It was silly to even consider she'd felt something for the man and the girl, but the feeling was strong, deep in her gut. She'd wanted to hug the girl and ask her how long her mother had been gone, to take away some of the pain in her eyes.
But that wasn't Naomi's business. She didn't even know the girl or her father. She'd never seen them before. She wondered which district they belonged to. Were they from Lancaster County or were they visiting for the holidays? Now she would never know. The moment was gone and so were the girl and her father.
"What is it?" Lilly asked, a grin splitting her pretty face. She jammed a hand on the hip of her purple frock. "You're scheming something, Naomi King."
"Don't be gegisch." Naomi draped the quilt over a dowel. "I was just thinking about that poor little girl without a mother. My heart goes out to her."
"Is that it? Or were you thinking about her father who misses his wife?"
Naomi frowned. "Please, Lilly. I don't know his name or even what district he's a member of. There's no such thing as love at first sight. Love is a feeling that grows over time. It can't just appear out of thin air."
Lilly's expression was pensive. "You're different than you were when you were seeing Timothy Kauffman."
Naomi shrugged. "No, I'm not different. I just matured. My mamm told me I was boy crazy and made a fool of myself the way I ran after Luke Troyer and then Timothy."
Lilly touched Naomi's shoulder. "That's not true. You were never a fool."
"Ya, I was." Naomi cleared her throat to prevent a lump from swelling in her throat as the humiliation rained down on her. She could still feel the sting of her mother's harsh words after she and Timothy broke up. "My mamm told me that I need to concentrate on my family and stop worrying about finding a husband. So, my focus now is my siblings. If I'm meant to find love, God will bring it into my life. But honestly, I think God wants me to help my mamm raise my eight siblings."
Lilly shook her head. "You don't honestly believe that, Naomi. God wants us to get married and have kinner."
Naomi busied herself with hanging the quilt onto the rack in order to avoid Lilly's probing stare. "Ya, I do believe it. I tried love twice and failed. That was the sign that I wasn't meant to find true love, if there even is a true love for me."
"Naomi." Lilly took Naomi's hand and gave her a gentle smile. "Listen to me. I didn't think there was a true love for me, but I was wrong."
Naomi raised an eyebrow in surprise. "You found love?"
Lilly's cheeks flushed a bright pink.
"Why haven't you told me?" Naomi asked. "I thought I was your best friend."
"You are." Lilly sighed and sat on a stool. "We were going to keep it a secret until we get published next year."
Naomi gasped. "You're getting married?"
Lilly smiled, and Naomi shrieked and hugged her.
"Is it Zach Fisher?" Naomi asked.
Lilly nodded. "I wanted to tell you, but we're trying to keep it a secret."
Naomi smiled. "That's wunderbaar. You deserve to be froh."
Lilly touched Naomi's arm. "You do too. God will lead you to the path He wants, and I believe He wants you to find true love. You've been hurt in the past, but that doesn't mean you're meant to be alone." She gave a gentle smile. "Just remember this verse from Corinthians: 'And our hope for you is firm, because we know that just as you share in our sufferings, so also you share in our comfort.'?"
Naomi nodded in agreement, but she struggled to believe she was meant to be with someone.
"Excuse me," an English customer said, approaching the counter. "I would like to pick up a -couple of quilts for my kids for Christmas. Do you have any queen-size quilts available that are Christmassy?"
"Yes, ma'am, we do," Lilly said, moving to the rack. "Let me show you what I have here."
As Lilly pulled out two quilts, Naomi glanced toward the market exit and wondered where the handsome widower and his daughter were headed when they left.

Our Past Week of Fresh Picks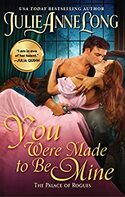 YOU WERE MADE TO BE MINE
by Julie Anne Long
Featured as Fresh Pick on August 9, 2022
"I am in awe of her talent."— Julia Quinn In the fifth installment of USA Today bestselling author Julie Anne Long Read More »
A spymaster tracks an earl's escaped fiancée and discovers his own true love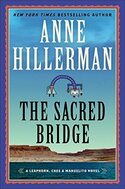 THE SACRED BRIDGE
by Anne Hillerman
Featured as Fresh Pick on August 8, 2022
A fine legacy series . . . in the spirit of her late father, Tony."—Booklist An ancient mystery resurfaces with ramifications for Read More »
Water is life in the Four Corners States.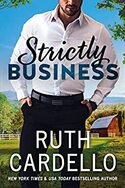 STRICTLY BUSINESS
by Ruth Cardello
Featured as Fresh Pick on August 7, 2022
Lies and attraction abound when a savvy businessman posing as his twin and an oil baron's niece battle over a family farm in Read More »
Oil firms want the land, but these twin brothers are not moving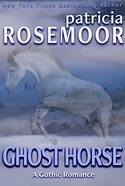 GHOST HORSE
by Patricia Rosemoor
Featured as Fresh Pick on August 6, 2022
Chloe Morgan is the summer tutor of the daughter of Graylord Pastures's owner, Damian Graylord. But her real job is investigating what really happened Read More »
A haunted family in this Gothic romance near the Mississippi
BLOOMSBURY GIRLS
by Natalie Jenner
Featured as Fresh Pick on August 5, 2022
Natalie Jenner, the internationally bestselling author of The Jane Austen Society, returns with a compelling and heartwarming story of post-war London, a century Read More »
Welcome to the world of book selling in London 1950
STALK THE DARKNESS
by Alexandra Ivy
Featured as Fresh Pick on August 4, 2022
In New York Times bestselling author Alexandra Ivy's thrilling new romance, a vicious evil stalks two Guardians of Eternity, waiting to attack where Read More »
Surprises and love are in her future!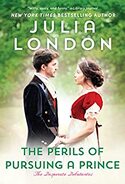 THE PERILS OF PURSUING A PRINCE
by Julia London
Featured as Fresh Pick on August 3, 2022
From New York Times bestselling author Julia London comes the second novel in her irresistibly romantic Desperate Debutantes trilogy, in which three suddenly destitute aristocratic Read More »
The second Desperate Debutante must come to terms with her heritage.
Under whose spell will true love break free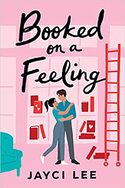 BOOKED ON A FEELING
by Jayci Lee
Featured as Fresh Pick on August 2, 2022
If all goes to plan, she will check off that last box in a couple years, make her parents proud, and live a successful, fulfilled Read More »
Amazeballs and rom com gold!