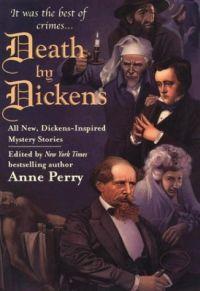 Purchase
It was the best of crimes....
Berkley Prime Crime
March 2004
288 pages
ISBN: 0425194205
Hardcover
Add to Wish List

In the pages of his novels, Charles Dickens railed against injustice in all its forms—the miserliness of Ebenezer Scrooge, the indifference of the aristocracy, the cruelty of Fagin. He captured the bitter unfairness of the class system and the violence that erupted between rich and poor. Now, today's masters of mystery "decrease the surplus population" with these new stories inspired by Dickens and his immortal classics...
Three spirits visit a modern-day Scrooge to save his soul—and solve a murder—in Carole Nelson Douglas' "The Holly and the Ivy"...Dickens himself teams up with fellow novelist Wilkie Collins to investigate a grisly death in Peter Tremayne's "The Passing Shadow"...Samuel Pickwick poses as a sentry over a grave in "Mr. Pickwick and the Body Snatchers" by Bill Crider...Agatha Award-winner Marcia Talley offers an alternate ending to Great Expectations in "Miss Havisham Regrets"...Brendan DuBois unleashes "Fagin's Revenge" by revealing the secrets within the pages of the original manuscript of Oliver Twist...New York Times bestselling author Anne Perry presents "A Tale of One City" in which our hero Sydney Carton must save an innocent woman from the guillotine...and Lillian Stewart Carl, P.N. Elrod, Martin Edwards, Carolyn Wheat, and Gillian Linscott all pay homage to the author who spoke to the masses about the human quest for justice—with an imaginative collection of tales that ask, "Who the Dickens done it?"
Comments
No comments posted.

Registered users may leave comments.
Log in or register now!