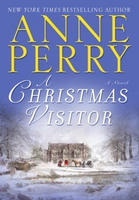 Purchase
Random House
October 2004
Featuring: Henry Rathbone
208 pages
ISBN: 0345476700
Hardcover
Add to Wish List

Renowned for her acclaimed Victorian novels as well as a stunning new series set in World War I, Anne Perry consistently dazzles us with stories rife with emotion, intrigue, and psychological depth. She recently expanded her talents with the delightfully rendered novella, A Christmas Journey, which USA Today called "one of the best books to brighten the joyous season." Now she has given readers another gift–a yuletide offering full of holiday magic . . . and murder.
The Dreghorn family is gathering for an anticipated reunion in the Lake District of England. The blissful tranquility of the snowbound estate, however, is soon shattered by what appears to be an accidental death. The victim's distraught wife, Antonia, summons her godfather, distinguished mathematician and inventor Henry Rathbone–one of the most beloved characters from Perry's bestselling William Monk series. But questions about the tragic event turn into whispers of murder, sending shock waves among members of the Dreghorn clan, who haven't seen each other in ten years.
Now Rathbone must put his analytical and creative capacities to the test as he assumes the role of an amateur investigator. But while searching for clues and mulling over potential motives, he cannot help but wonder: Will another poor soul meet the same untimely end–and be silenced like the night?
In this Christmas novella, featuring a colorful, somewhat eccentric cast of characters and an irresistible plot as twisty as a ribbon, Rathbone rescues the holiday with a grace that would impress William Monk himself.
Comments
No comments posted.

Registered users may leave comments.
Log in or register now!