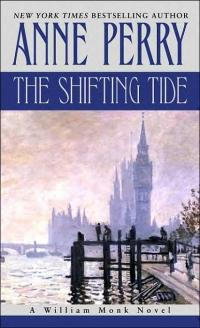 Purchase
"First time in Paperback
William Monk Series #14
Random House
March 2005
Featuring: William Monk; Hester Monk; Clement Louvain
368 pages
ISBN: 0345440102
Paperback (reprint)
Add to Wish List

When the Maude Idris docks in the Pool of London, laden with ebony, spices and first-grade tusks of ivory collected from her voyage to Zanzibar, Clement Louvain leaves four armed seamen on board to guard the precious cargo. But as soon as the relief for the night watch arrives ready for duty in the morning, he finds the ivory gone and one of the seamen dead.
Hindered by his ignorance of the river and its customs, and ashamed of the fact that he so badly requires the huge fees that Louvain is prepared to pay, William Monk nevertheless begins his investigation into the theft and murder.
Meanwhile Hester's work at the refuge at Portpool Lane is encountering acute financial difficulties. Sick prostitutes are arriving daily and the medicines needed to help them are running out. When a man arrives promising to pay a huge amount of money for the care of one particular woman, Hester is astonished to meet him. He is none other than Clement Louvain. So who is the woman he is so generously helping? And why is he offering such a substantial sum? Will Monk discover what Louvain is hiding before it is too late?
Comments
No comments posted.

Registered users may leave comments.
Log in or register now!