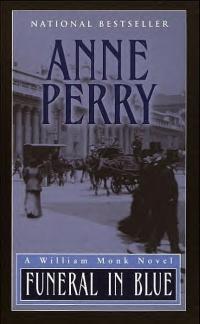 Purchase
"First time in Paperback
William Monk Series #12
Random House
August 2002
Featuring: Dr. Kristian Beck; Hester Monk; William Monk
352 pages
ISBN: 0345440021
Paperback (reprint)
Add to Wish List

When her brother, Charles, suddenly arrives on her doorstep one cold October evening, Hester Monk is shocked – as much by the unexpectedness of the visit as by the nature of it. For since her marriage to monk, Charles and his elegant wife, Imogen, have kept their distance. But now, driven to discover what has caused a dramatic change in his wife's behaviour, Charles seeks Hester's help. Imogen, who has suddenly taken to mysterious outings at unconventional times, and who is either in a state of elated excitement or restless despair, must be having an affair – Charles can think of no other explanation. But before Hester is able to renew her friendship with Imogen, a greater tragedy occurs.
Murder has taken place not far away in an artist's studio and two women have been killed. One of them is the beautiful wife of Hester's friend and colleague, Dr. Beck – also the daughter of a prominent politician. The other is an attractive but common artist's model. Having left the police force with extreme ill feeling between himself and his superior, the last thing Monk wants to do is face the demons of his past. But, concerned about the profile of the case and its likely effect on the reputation of their surgeon friend, Monk is left with no choice but to visit Runcorn and involve himself with the murder case.
As Hester and Monk begin their individual investigations, it seems that behind the respectable facades of the upper classes, deception and betrayal are rife. And as the secrets of Imogen Latterly and Elissa Beck are gradually exposed, the Monks are to face their most emotionally demanding case yet...
Comments
No comments posted.

Registered users may leave comments.
Log in or register now!