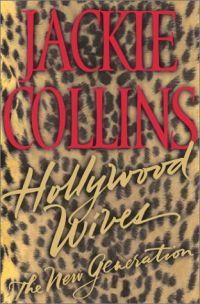 Purchase
Hollywood Wives: The Next Generation
Jackie Collins
Simon and Schuster
June 2001
528 pages
ISBN: 0743216342
Hardcover
Add to Wish List

Romance Contemporary | Contemporary | Fiction
Power! Sex! Money! Fame!
The new Hollywood wives are back with a vengeance. Whatever they don't have, they want -- and whatever these women want, they get.
Unlike their counterparts in the '80s, who were happy to give charity dinners and exclusive parties to further their husbands' careers, today's Hollywood wives are hungry to create their own identities. These ladies are into achieving everything their famous husbands have and more, and will stop at nothing for a chance in the spotlight.
Ambitious, young, smart, and lethal, the new Hollywood wives are into yoga, fasting, spinning, Pilates, their own production companies, and making things happen.
In Hollywood Wives -- The New Generation, you will meet...
Lissa Roman, mega movie and singing star -- a forty-year-old platinum blonde with attitude. Lissa is at the top of her game, until she begins to suspect that Gregg, her decade-younger fourth husband, is cheating.
Nicci Stone, Lissa's wild, nineteen-year-old daughter. Nicci is engaged to hot filmmaker Evan Richter, but Nicci has a dilemma: Does she love Evan, or is Evan's bad boy brother and partner, Brian, really the man she wants?
Taylor Singer, a sometime actress and would-be producer. She's married to Lawrence J. Singer, a fifty-year-old Oscar-winning genius.
Taylor, a sexy, thirty-six-year-old beauty, craves the power and respect given her famous husband, but how can she get it? Certainly not by sleeping with Oliver Rock -- a twenty-two-year-old perpetually stoned screenwriter. So against her husband's wishes, Taylor accepts a role in a lesbian-themed cable movie.
Stella Rossiter, a smart-mouthed blonde and producing partner with her successful husband, Seth -- who just happens to be thirty years older than she. Together they make hit movies, while a surrogate mother -- recipient of her eggs and his sperm -- waits to give birth to their twins.
Michael Scorsinni, handsome with a dangerous edge. He's a former New York City cop (last seen in Hollywood Kids) who now runs a private detective agency in Los Angeles. A man who has his own demons from which to escape.
Intruding on the privileged lives of this select group is...
Eric Vernon, a psychopath from out of town -- a man with kidnapping on his mind.
And his intended victim is not just anybody.
Hollywood Wives -- The New Generation explores the secrets of the women in today's Hollywood: their loves, their passions, their affairs, and most of all, their ruthless ambitions.
As always, Jackie Collins views Hollywood and its inhabitants with an insider's eye. And like the original Hollywood Wives -- a number-one New York Times bestseller and highly rated ABC miniseries, starring Anthony Hopkins and Candice Bergen -- the new breed will shock and surprise, amuse and startle, and take the reader on a trip not soon forgotten.
Hollywood Wives -- The New Generation promises marital mayhem for the new millennium.


About the Author
Jackie Collins has been called a "raunchy moralist" by the late director Louis Malle and "Hollywood's own Marcel Proust" by Vanity Fair magazine. With over 250 million copies of her books sold in more than 40 countries, and with some twenty New York Times bestsellers to her credit, Jackie Collins is one of the world's top-selling novelists. She is known for giving her readers an unrivaled insiders knowledge of Hollywood and the glamorous lives and loves of the rich, famous, and sometimes bad! "I write about real people in disguise," she says. "If anything, my characters are toned down -- the truth is much more bizarre."
Comments
No comments posted.

Registered users may leave comments.
Log in or register now!