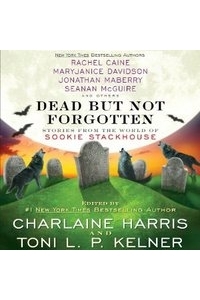 Purchase
Stories from the World of Sookie Stackhouse
Audible
May 2014
On Sale: May 13, 2014
ISBN:
Kindle: B00GBE32OK
Audio / e-Book
Add to Wish List

Charlaine Harris' smash-hit Sookie Stackhouse series may have reached its conclusion, but the world of Bon Temps, Louisiana, lives on in this all-new collection of 15 stories. Written by a killer lineup of authors, including New York Times best-sellers Rachel Caine, MaryJanice Davidson, Jonathan Maberry and Seanan McGuire, and with introductions read by Charlaine herself, Dead but Not Forgotten puts your favorite characters center stage.
The stories included in Dead but Not Forgotten are:
"Nobody's Business" by Rachel Caine (featuring Kevin Pryor & Kenya Jones)
"Tyger, Tyger" by Christopher Golden (featuring Quinn)
"The Real Santa Claus" by Leigh Perry (featuring Diantha)
"Taproot" by Jeffrey J. Mariotte (featuring Andy Bellefleur)
"Knit a Sweater Out of Sky" by Seanan McGuire (featuring Amelia)
"Love Story" by Jeanne C. Stein (featuring Adele Hale Stackhouse)
"The Million-Dollar Hunt" by Jonathan Maberry (featuring Mustapha Khan)
"Borderline Dead" by Nicole Peeler (featuring Desiree Dumas)
"Extreme Makeover Vamp Edition" by Leigh Evans (featuring Bev & Todd)
"Don't Be Cruel" by Bill Crider (featuring Bubba)
"What a Dream I Had" by Nancy Holder (featuring Alcide Herveaux)
"Another Dead Fairy" by Miranda James (featuring Claude & Claudia Crane)
"The Bat-Signal" by Suzanne McLeod (featuring Luna)
"The Sun, The Moon, and The Stars" by Dana Cameron (featuring Pam Ravenscroft)
"Widower's Walk" by MaryJanice Davidson (featuring Eric Northman)

Dead but Not Forgotten was edited by Charlaine Harris and Toni L.P. Kelner.
Comments
No comments posted.

Registered users may leave comments.
Log in or register now!