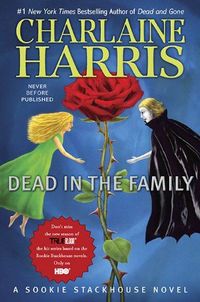 Purchase
Sookie Stackhouse #10/True Blood
Ace
May 2010
On Sale: May 4, 2010
Featuring: Sookie Stackhouse
320 pages
ISBN: 0441018645
EAN: 9780441018642
Hardcover
Add to Wish List

Fiction Media Tie-In | Paranormal Romance
The #1 New York Times bestselling Sookie Stackhouse series- the basis for HBO(r)'s True Blood-continues!

After enduring torture and the loss of loved ones during the brief but deadly Faery War, Sookie Stackhouse is hurt and she's angry. Just about the only bright spot in her life is the love she thinks she feels for vampire Eric Northman. But he's under scrutiny by the new Vampire King because of their relationship. And as the political implications of the Shifters coming out are beginning to be felt, Sookie's connection to the Shreveport pack draws her into the debate. Worst of all, though the door to Faery has been closed, there are still some Fae on the human side-and one of them is angry at Sookie. Very, very angry...
Comments
63 comments posted.
I really need to finish the Vampire Academy books. I have read the first two, but need to continue.
(Joanne Reynolds 7:54am May 29, 2010)
Thanks for the interesting post, Sarah. I have a combination of books to read -- urban fantasy, vampire, and history books.
(Cathy Phillips 9:43am May 29, 2010)
I love the series books. Stephanie Tyler, Carla Neggers, Robyn Carr, Sherryl Wood Stella Cameron. Roxanne St. Clair, Cindy gerard, Karen Rose & Debra Webb. I get the whole series & read them 1 at a time. There are several others i missed.
(Pat Wilson 10:08am May 29, 2010)
Sara, I just finished Shade
and I have to say it was a
darn good book! I also just
finished 10 Things I Love
About You by Julia Quinn and
adored that, so it's going to
be tough to find something to
top them! I am looking forward
to Crescendo by Becca
Fitzpatrick. It's the sequel
to Hush, Hush, which was a
good book, too.
Margay
(Margay Roberge 11:40am May 29, 2010)
I just started Erin Quinn's Haunting
Beauty, so I decided to read all of her
books this summer. I'll start with the
two Haunting books, and then go back
and read Echoes and then Whispers, if
I can find it.
(Molly Wilsbacher 1:18pm May 29, 2010)
I read a hodgepodge of genres, so can't really say just which ones I will be reading this summer. I also need to catch up on reading the magazines I subscribe to. Where does time go?
(Gladys Paradowski 1:21pm May 29, 2010)
I just bought the first 3 books in Kresley Cole's Immortal Series and looking forward to some warm weather reading.....finally!!!
(Mitzi Hinkey 1:22pm May 29, 2010)
Sara your dog is so cute! My dog says he needs some summer reads he likes mystery novels.
(Catherine Myers 1:23pm May 29, 2010)
I enjoy all kinds of fiction, probably historical and mystery the best.
Blessings,
Marjorie
(Marjorie Carmony 1:32pm May 29, 2010)
Can't really guess at what I might be reading this summer since I read everything! Latley tho it seems to be either paranormal(romance,mystery Yahoo)or mysterys. It's going to be a busy, reading, summer.
(Elizabeth Parzino 1:35pm May 29, 2010)
I haven't had time to think about my
summer reading yet. I have
HAUNTING BEAUTY by Erin Quinn on
the shelf and the sequel HAUNTING
WARRIOR sounds really good. Also
Leanna Renee Hieber's second book ,
THE DARKLY LUMINOUS FIGHT FOR
PERSEPHONE PARKER, is out. I really
liked her first book, THE STRANGELY
BEAUTIFUL TALE OF MISS PERCY
PARKER, and will probably reread it
before reading Book 2. Donna Grant's
FORBIDDEN HIGHLANDER, is another
historical paranormal I'll probably pick
up. A contemporary I don't yet have
is STRANGE NEIGHBORS by Ashlyn
Chase. It sounds like it will be fun.
I have got to get my hands on Judi
Fennell's Mer Trilogy. It sounds really
good. Those should keep me busy : )
(Patricia Barraclough 1:35pm May 29, 2010)
I too am going to read Haunting Warrior - just finished Haunting Beauty. I am waiting for Pamela Palmers next book rapture untamed - I just love this series. Can't wait till my holiday as we are going to America again and I can hit the bookshops - my family are so understanding; they do the rollercoasters and I get new books!
(Barbara Hanson 1:49pm May 29, 2010)
Great post! I just finished Kaki Warner's second book in her Blood Rose series Open Country! Pieces of Sky and Open Country are awesome reads that you don't want to put down!
(Gail Hurt 2:12pm May 29, 2010)
I love Winston.
Have a great holiday weekend.
Patricia R.
Smith Mt Lake, VA
(Patricia (Pat) Pascale 2:26pm May 29, 2010)
This would be an aswesome win!
(Paula Carlson 2:30pm May 29, 2010)
I have so many books in my TBR stack, I can't afford to add any YA titles to it, no matter how great they look. I am excited about Keri Arthur's Moon Sworn, the final book in the Riley Jenson/Guardian series.
(G S Moch 2:41pm May 29, 2010)
I have a ton of books in my TBR pile to get to... and many more in e-book format... I will be stepping into Parker Blue's vampire world with BITE ME, some books by Sherrilyn Kenyon and many more...
(Colleen Conklin 3:28pm May 29, 2010)
Oops I meant Demon world not Vamp...
(Colleen Conklin 3:30pm May 29, 2010)
I'm looking forward to
finishing the Vampire Academy
series too. I've gotten
through the first two books so
far. I'm also planning to get
Strange Neighbors by Ashlyn
Chase. I haven't read a
lighthearted paranormal
romance in a while and it
looks really cute. I've heard
great things about Shade so I
hope to get that one soon. I'm
also planning to catch up with
the Kresley Cole's Immortals
After Dark series, starting
with Dark Desires After Dusk.
(Jacqueline Cook 3:47pm May 29, 2010)
I have a list of books that I trying to get to. I have the genre all over the place... paranomoral, mystery, historical, urban fantasy, western... so many books and so little time to read them.
(Kai Wong 4:25pm May 29, 2010)
Hello Sara, Please enter me in your fantastic contest on freshfiction.com and please let me know when I am a winner too!
May God bless you with success always, Cecilia
(Cecilia Dunbar Hernandez 4:56pm May 29, 2010)
I'm new to urban fantasy, but I've enjoyed Dakota Banks' first book in her Mortal Path series.
(Jane Cheung 5:03pm May 29, 2010)
I couldn't say for sure what I am going to read next I go from adult paranormals to YA para then to Historicals... I would love to find a good para/historical, Any suggestions???
(Brandy Blake 5:30pm May 29, 2010)
I plan on get thing Christine Feehan's Dark Peril and Water Bound &Sherrily Kenyon's No Mercey and Silent Truth and Infinity to read this summer.
(Stacey Smith 5:34pm May 29, 2010)
Hi Sara,
I am in the same boat when it comes to pets. Winston is a cutie an d such a smart name. Right now I am caught up on my TBR pile. I am looking forward to Jane Porters next book later this summer She's Gone Country. I just finished reading To Romance a Charming Rogue by Nicole Jordan. I saw that Anna Campbell has a new book out My Reckless Surrender. I will have to just order me a new bunch for summer reading. I also an a fan of Sherrilyn Kenyon I will have to snag a copy of Infinity to read this summer.
(Gigi Hicks 5:56pm May 29, 2010)
I have such a mixed bag of books to read. I can't just pick out from here and there. Love it ALL.
(Mary Preston 6:37pm May 29, 2010)
I love those vampires!! Keep 'em comin! :)
(Mary Lynn Hayes 7:05pm May 29, 2010)
What perfect timing. I just visited my book store today to pick up some summer reading. I chose a nice mix. They are HIGH MARKS FOR MURDER by Rebecca Kent, TOWN IN A BLUEBERRY JAM by B.B. Haywood and DEAD IN THE FAMILY by Charlaine Harris.
(Rosemary Krejsa 7:05pm May 29, 2010)
I pretty much inhale any book that I get. And have quite a collection for my library. There is no one genre that I gravitate to. Both my husband and I love to read. A lot of summer days are spent at a park with a book, some sandwiches and each other. We do spend time on short vacations, weekend trips but we find that as we get older we like the quiet time when we get it.
(Cindy Olp 7:10pm May 29, 2010)
Hi Sara,
Enjoyed reading your blog post. I read various genres but I am planning to read Charlaine Harris' Sookie series. Have not read any of the books in this series and thought I would read them this summer. Happy Summer everyone! :)
(Michelle Anderson 7:24pm May 29, 2010)
Hope I win
(Deb Pelletier 7:43pm May 29, 2010)
I want to revisit my first love in historical fiction; the fabulous Katherine by Anya Seaton!
(Silvana Moscato 7:59pm May 29, 2010)
I usually will save not books
but a series as once I start I
hate to stop. I have C T Adams
"Sazi",
Hamilton's "Anita Blake"(last
10 books), Kenyon's "Dark
Hunter", they'll keep me
reading long into the night.
(Lisa Richards 9:06pm May 29, 2010)
For urban fantasy I am reading Enemy Lover by debut author Karin Harlow, for YA urban fantasy I am searching out the Morganville Vampire series by Rachel Caine. As for paranormal romance, I haven't decided yet.
(G. Bisbjerg 9:06pm May 29, 2010)
Hope everyone has a great Memorial Day weekend.
I am definitely going to read the two Haunting Beauty and Haunting Warrior plus Monica McCarty's Hawk the second book in her new trilogy.Just finished the first called Chief. A great read.I would definitely recommend this one.
Carol L.
[email protected]
(Carol Luciano 9:23pm May 29, 2010)
I have many books in my tbr pile but at this time I'm reading Beast Behaving Badly by Shelly Laurenston, a shifter story; Shelly's books always make me laugh and I enjoy them thoroughly.
(Diane Sadler 9:27pm May 29, 2010)
I really want to read Early to Death, Early to Rise by Kim Harrison
(Sagrario Vigil 10:09pm May 29, 2010)
I probably have over 200 in my tbr - no YA, Vamp or Urban Fantasy for me - contemps and sometimes west. historicals. Currently reading Susan Mallery's latest.
(Pat Lieberman 10:19pm May 29, 2010)
It's been a while but I'd really like to read through my complete set of Nancy Drew books
(Nancy Mejia 10:46pm May 29, 2010)
I'm a avid book reader, that's why I want to win.
(Gloria Walshver 10:47pm May 29, 2010)
Historical novels/romances are my first reading choice, but I also like romantic suspense and contemporaries. At least a hint of comedy is also welcome, but I'll read anything but vampire or demon stories.
(Sigrun Schulz 11:44pm May 29, 2010)
I was at a reading and book signing with Kelley Armstrong in 2007 where she read part of THE RECKONING. It doesn't seem that long ago.
(Sigrun Schulz 12:17pm May 30, 2010)
I love historical/romances as they bring romance to places which I can only dream of visiting and eras I wish I had lived in.
(Corey Robertson 1:24am May 30, 2010)
Since I've read the first two
of the Darkest Powers trilogy,
I'm looking forward to The
Reckoning" as well. I've
given up on the Vampire
Academy books after the first
two; actually, I've given up
on many teen vampire series
(Blue Bloods, Vampire Diaries,
House of the Night) - too much
angst. I am looking forward
to "The Necromancer" of the
Secrets of the Immortal
Nicholas Flamel series and
"Mockingjay", the final book
of the Hunger Games trilogy.
(S Tieh 2:56am May 30, 2010)
I'll be reading:

Laurell K Hamilton: Bullet
Jacqueline Frank: Naamah's Kiss
and Naamah's Curse
(Tanja Haack 7:47am May 30, 2010)
I don't really read a lot of urban fantasy yet. the budget screams in agony if I even think of starting a new series recently. The two series that I am getting behind on and would like to catch up are Hunter's Kiss series by Marjorie M. Liu and Yasemine Galenorn's series Sisters of the Moon.
(Carol Cobun 11:07am May 30, 2010)
i read a lot of stuff, paranormal, fantasy,mystery, i'm never far from a book. sometimes i eat dinner, watch tv, and read a book all at the same time. is that multi-tasking, or not lol
(Sue Hieber 11:09am May 30, 2010)
I'm halfway through Blood of the Demon, which I found out about through Fresh Fiction.
(Yuka Liew 11:46am May 30, 2010)
I read lots of different genres based on rave reviews, friend's recommendations, and past experience with the author. I love Charlaine's Sookie books and have the latest sitting here to be read next.
(Jody Faltys 12:24pm May 30, 2010)
i wnat to read dead in the family bad
(Debbi Shaw 1:17pm May 30, 2010)
I love the vampire books. Today is a GREAT day to put my feet up, with an ice tea and get lost in the books. Tahnk you.
(Barbara Ryan 1:28pm May 30, 2010)
I read a varied genre of books, but currently I'm bogged down with baby shower gifts that I have to knit!! I'd much rather be reading at the moment. My fingers need a rest!!
(Peggy Roberson 2:27pm May 30, 2010)
I read several different genra's but i just make a list with all genra and that way I get a varried book list.
This summers list is long but being a farmers wife I have time is tha summers.
(Vickie Hightower 2:58pm May 30, 2010)
I am still a LKH fan, plus I like the Riley Jensen series, Rachel Morgan series and Sookie Stackhouse.
(Cathy MacDonald 3:30pm May 30, 2010)
I have books I bought and books I won that I have to read first so I can get books in series that I am missing. I have gone into paranormal and YA books that I have enjoyed reading and checking out other genres. I have been an avid reader for over 55 yrs and don't plan to slow down. lol
(Brenda Hill 5:11pm May 30, 2010)
cute puppy
(Deb Pelletier 6:40pm May 30, 2010)
I love reading the paranormal and Urban Fantasy with the romance in them! Like Jeaniene Frost Night Huntress series and Eternal Kiss of Darkness, book 2, is out the end of July! Too, love the historicals and so many, especially for TEMPTING EDEN by Margaret Rowe and RUTHLESS HEART by Emma Lang!
(Cathie Morton 7:11pm May 30, 2010)
I haven't read so many Urban Fantasies,
but I'm taking note of the books
mentioned in the post and comments for
reading suggestions.
(Sue Ahn 10:46pm May 30, 2010)
I bought Infinity for my granddaughter and will have to borrow it from her.
(Loretta Canton 10:53pm May 30, 2010)
I am going to read Haunting Beauty and Haunting Warrior by Erin Quinn, Janet Evanovich's number 16 and Lori Handeland's Nightcreature series.
(Sandra Dickey 12:10pm May 31, 2010)
I don't think this is quite urban fantasy, but I'm about to dive into Skin Tight (Ava Gray's 2nd Skin book) and I can't wait!! Happy reading to you, too!
(Fedora Chen 12:17pm May 31, 2010)
What a great list of UF books. I have a few J.R. Ward's books on my soon to-be-read list.
(Tracey Dent 12:20pm May 31, 2010)
Hope to win some books ,for the summer.
(Deb Pelletier 5:54pm May 31, 2010)
Registered users may leave comments.
Log in or register now!