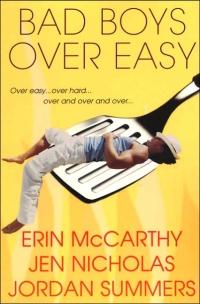 Purchase
Kensington
April 2005
249 pages
ISBN: 0758208456
Trade Size
Add to Wish List

They're Not Just For Breakfast Anymore… Hot. Delicious. So satisfying. Who wouldn't want to start the day with a little bad boy breakfast in bed…or anywhere else?
Erin McCarthy Fuzzy Logic
Ashley Andrews' shopaholic ways have landed her with massive credit card debt and an ingenious way of paying it off—as a part-time Pleasure Party consultant. Demonstrating romance-enhancing products to women seems like a great idea, until a box of neon colored sex toys and edible body lotions is accidentally delivered to her next-door neighbor, gorgeous, brainy Lucas Manning. Can we say, oops? Opening that Pandora's box is an earth-shaking discovery for Lucas. The scientist in him can't resist the opportunity to test the validity of some of Ashley's products…but the man in him can't resist showing Ashley exactly how he has felt about her for a very long time…
Jen Nicholas The Cupid Curse
Valentine Lewis is a woman cursed. Named after the holiday of love, her own romantic life is non-existent. What's a hard-headed, hard-up girl to do? Why, appeal to the God of Love, of course. Valentine's personal Cupid arrives in the form of hunky Gideon. The Eros miracle worker has the face of an angel, the bod of an Olympian, and the aim…well, not so good. In the Cursed Again Department, Gideon manages to shoot himself with the arrow intended for Valentine's One True Love. But as things heat up, this curse just may prove to be a blessing in divine disguise…
Jordan Summers Mesmerized
Amanda Dillon is used to gorgeous men falling at her feet, wooing her, and obeying her every command—but they're hypnotized at the time. Just once, the lush hypnotist would like to be mesmerized herself, and star journalist Derek Armstrong is certainly sexy enough to make any girl go under. Derek's determined to interview the elusive Amanda, even if he has to allow her to hypnotize him to get the juicy story. But once these two square off in a test of wills, there's no telling who'll be the first to fall…or just what hypnotic suggestions they'll respond to best…
How do we like our bad boys? Any way we can get them…
Comments
No comments posted.

Registered users may leave comments.
Log in or register now!