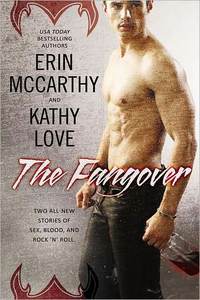 Purchase
Two all new stories of blood, sex and rock and roll
The Impalers #1
Berkley Sensation
November 2012
On Sale: November 6, 2012
304 pages
ISBN: 0425253236
EAN: 9780425253236
Kindle: B008EXNML4
Paperback / e-Book
Add to Wish List

When rock-god vampire Johnny Malone commits suicide, the rest of The Impalers gather for an Irish wake and jam session to send their bandmate off in style. But alcohol-laced blood and grief make for one hell of a combination…
When her brother, Johnny, dies, Stella Malone's grief lands her in the buff arms of The Impalers' bass player. While her tryst with Wyatt had some serious bite, Stella isn't looking for a relationship, especially after a tipsy argument leads to her getting stuck in bat form at the wake. The rest of the hungover Impalers are in no shape to help her, meaning that Stella's one night stand is the only one who can help her figure out what really happened last night. Only Wyatt doesn't have a clue what happened last night, either, nor does he know that Stella is the bat currently dive-bombing his head. But he does have her purse and that has to be a start, right? Or not.
On the other hand, there is a priest passed out in the bathtub and an alcoholic parrot squawking about a chapel of love...
The Impalers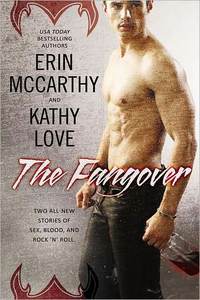 The Fangover
#1.0
Amazon.com | BN.com | | |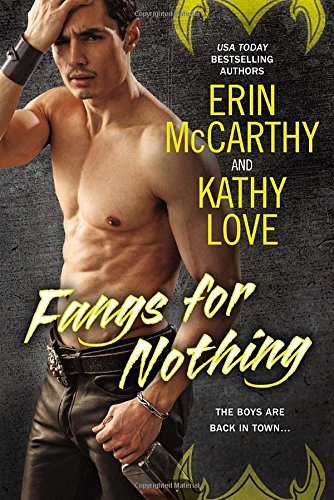 Fangs for Nothing
#2.0
Amazon.com | BN.com | | |
Comments
11 comments posted.
Re: The Fangover

As a professional musician, of course I connect music and the books I read. It's impossible not to. However, when I listen to music, it's mostly classical, so my correlations probably wouldn't match anyone else's!!

Oddly enough, one of the most erotic pieces of music I have ever heard is the slow movement of Rachmaninoff's 2nd Symphony. I was sitting in a live concert listening to the performance, and all of a sudden, my mind just went into desire overdrive!! I have NO idea as to how or why this happened, but it still happens whenever I hear this movement. A little scary, but exciting nevertheless!

Later,

Lynn
(Lynn Rettig 4:13pm November 12, 2012)
I pay close attention to music, and have it on a good part of the day, from the time I wake up, some days until I go to bed, which is about 18 hours!! Dave Koz plays a sexy saxophone. Salt n Pepa has one song out, and the title escapes me at the moment, but it's extremely sexy!! There are a few classical pieces that evoke a mood. Music is all over the map. It depends on what a person enjoys - what style of music, and how close they listen to the words. There's a lot of music out there with sexy lyrics, but the song itself gets lost by the musical presentation. If I were to finally sit down and write that book that's in my head, I would probably listen to something classical, because I find it not only soothing, but less cluttered, so my thoughts could flow, and I wouldn't find myself singing along to whatever I was listening to. Your book sounds like it would be a real "hoot," and I would love to read it!! My Husband tells me that I have a strange sense of humor, so I'm sure that this book is right up my alley!! Congratulations on your book!!
(Peggy Roberson 4:57pm November 12, 2012)
When it comes to music, it only works when I
read historicals, because my classical piano
lessons mean I can hum a gavotte or minutes if
there is a ball. I am less certain about those
"country dances" because they are never
specified.
I also played organ, and J S Bach's has great
pieces to hear in my head while reading vampire
books.
Modern romances are mostly music lessons for me.
Sexy music has always been something on the
violin, but that is undoubtedly because my
husband was a decent amateur violinist. Now he
is too ill to play, but in my imagination, he
woos me with Brahms.
(Elizabeth Krentz-Wee 6:03pm November 12, 2012)
I love a good musical score - makes a huge difference in
movies - we don't always notice how it effects us til it's not
there. I love Adele's music - her new song for James Bond
Sklyfall is wonderful.
(Diane Sallans 8:50pm November 12, 2012)
What a COOL concept for a book!!! I love music, vampires and most of all New Orleans! My husband and I did a walking tour of the Garden District several years ago and as we were approaching Anne Rice's house she drove past in a see through limo!
(Renee Pajda 9:30pm November 12, 2012)
I am not a writer but one of my best friends is and he says that music helps him write better. As a reader I have always put myself int the book as the main character so if there is a song or music of any sort mention I would most likely think about that song. Sexy music for me is jazz or something with violin as well . Sounds about love , romance , happily ever after are sexy and romantic to me
(Danielle McDonald 1:23am November 13, 2012)
I'm currently writing about characters and including mentions of the kind of music they listen to, or dance to, and a nice scene of Christmas where songs are sung to entertain a crowd, first carols, then after a meal local specialties. Music is part of our lives so yes, some of it should be included in how we describe our scenes.
Built a character from a song - no. Characters tend to walk in fully built.
(Clare O'Beara 8:36am November 13, 2012)
I love music - I am the guilty one that turns up the music and slides across the room while doing chores and such. I think at times when reading particular books, I guess get a tune in my head (like when reading The Grave Series - Don't Fear The Reaper ends up in my head). When an author writes out the scenes, I picture the "movie" in my head and what is a movie without a soundtrack.
Most Romantic - I am a sucker, give me corny, give me Hallmark, give me a song that has romantic lyrics and I am done. Give me Louis Armstrong and Etta James, give me Patsy Cline and Faith Hill, give me Peter Gabriel and Bryan Adams, I also love Jim Croce and even boy bands - Take That, 98 Degrees, don't forget Beth by Kiss. I know what a list and I am very eclectic.
Sexy - Marvin Gaye, Robbie Williams, Barry White, George Michael, Nickelback, James Blunt, Boys II Men, En Vogue, Def Lepard, Poison, Silk, Color Me Badd -- oh, Chris Isaak (I will want to play any Wicked Game with him), JT, you name it, and of course every hair band I ever grew up with.
(Carla Carlson 10:43am November 13, 2012)
I am taking notes on all this sexy music! :) Personally, I have a thing for the piano, which is interesting because usually I respond more to lyrics than the actual music.

Oooh, I bet Adele's music is perfect for a James Bond movie! That's on the schedule for this weekend.
(Erin McCarthy 7:26pm November 13, 2012)
I do happened to correlate certain songs to certain beloved characters or scenes from the books. I start hearing and picturing the music when it is mentioned in an author's story.

I think Thousand Years, As Time Goes By, For the First Time (Kenny Logan), and You Have Never Knew Me (Michael Grim) are some of the most romantic songs. Sexiest songs would be Baby, I Love Your Way/Free Bird sang by Will to Power and Secrets.
(Kai Wong 10:53pm November 14, 2012)
If a song is mentioned in a story and I know what the tune is, it stays with me, creating a mood for awhile.
(Alyson Widen 5:42pm November 18, 2012)
Registered users may leave comments.
Log in or register now!