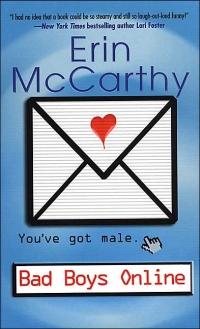 Purchase
Kensington
September 2004
352 pages
ISBN: 0758205945
Paperback (reprint)
Add to Wish List

"Hard Drive" "
Mack Stone can't believe he's just walked in on the delicious Kindra Hill in computer flagrante delicto in her office. When Kindra claims to prefer an online affair to the complication of a relationship, Mack convinces Kindra to grant him twelve hours to turn every erotic e-mail into a hot reality and prove that there's no substitute for the real thing...
""User Friendly"
"Computer guru Evan Barrett can solve any tech problem, but the sight of Halley Connors' lovely head pasted onto some woman's nude body—courtesy of a hacker determined to derail her catering Web site—just has him in a cold sweat. Now, as they work overtime to save the business, Evan realizes that not every fire needs putting out so quickly...and some require very little stoking to catch...
""Press Any Key" "
To Jared Kinkaid, the only way to keep his mind—and his hands—off his luscious co-worker Candy Appleton is to insult or ignore her at every turn, until his boss signs them both up for online counseling. But when they mistakenly enroll in sensual couples counseling instead, Jared and Candy's shock turns to pleasure as they each deliver some hands-on therapy of their own...
Take a little time to reboot, 'cause these sly guys give a whole new meaning to on-site tech support...
Comments
No comments posted.

Registered users may leave comments.
Log in or register now!