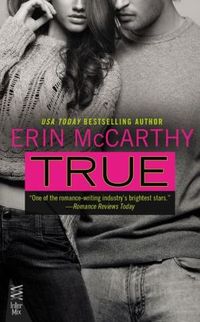 Purchase
InterMix
May 2013
On Sale: May 7, 2013
Featuring: Tyler Mann; Rory Macintosh
240 pages
ISBN: 1101623152
EAN: 9781101623152
Kindle: B00B7NPS60
e-Book
Add to Wish List

When Rory Macintosh's roommates find out that their studious and shy friend has never been with a guy, they decide that, as an act of kindness they'll help her lose her virginity by hiring confident, tattooed bad boy Tyler Mann to do the job… unbeknownst to Rory.
Tyler has told Rory that he's not good enough for her. She's smart, doctor smart, while he's barely scraping by at his EMT program, hoping to pull his younger brothers out of the hell their druggy mother has left them in. But he can't seem to stay away from her, and even when Rory knows she should push him away, something about him makes it nearly impossible for her to resist—even though her heart is at stake
Comments
37 comments posted.
Re: True

Great looking cover. College was pretty great but there are good times and bad times with pretty much everything. I wish I was still in college sometimes.
(Courteney Moore 7:13pm May 31, 2013)
College years were pretty good. But I'm glad those days are behind me! Love your cover!! Thanks for the chance to win:)
(Lisa Kerr 7:18pm May 31, 2013)
I have read some of your earlier novels and I am fan of your work. I can't
wait to read True. Just thinking about it brings back my memories of those
days.
(Chris Coulson 10:19pm May 31, 2013)
College was good and bad. I treasure the memories, but I'm glad
those years are behind me.
(Denise Holcomb 10:25pm May 31, 2013)
Well since I got married, had kids, and just turned 40 when I decided to hit
the books. By then it was a love of learning so it was good.
(Vicki Hancock 10:59pm May 31, 2013)
At that age, every young woman tests her boundaries - in love, with her parents, and in every facet in her life. I don't think there's one woman out there that does anything differently. I have to say that after looking at your picture, you don't look old enough to write 40 books already, but I have to congratulate you on such a great feat!! I also have to congratulate you on the awards that you've won, and for being a RITA finalist!! I'm looking forward to reading your book. It will be like a step back in time.
(Peggy Roberson 11:29pm May 31, 2013)
Wow, Congrats on writing over 40 novels and TRUE sounds so
exciting to win and read too. Yes, college has a bunch of ups
and downs for people and that is all behind me now that I am
older. I should write some books about my wild experiences.
Thanks for the great contest. Thanks, Cecilia CECE
(Cecilia Dunbar Hernandez 11:41pm May 31, 2013)
I didn't go to college but I did have interesting times during my younger days.
(Mary Smith 5:34am June 1, 2013)

(Mary Smith 5:34am June 1, 2013)
I've just read and enjoyed True!
I didn't get a chance to go to university as a young adult so I went more recently and had a great time, making friends of various ages, improving and updating my skills and learning so much.
I think the problem with college for young people is that they are still growing and maturing, learning about life. Some young adults use college as a way to gain a qualification for a job; others go as a way of staving off the day when they'll need to earn a living.
I'd recommend taking a degree in a subject you really enjoy as a mature student to anyone!
(Clare O'Beara 7:38am June 1, 2013)
can't wait to read the book!
(Bonnie Capuano 8:31am June 1, 2013)
Didn't go to college.
(Susan Falkler 10:48am June 1, 2013)
I never had the chance to go to university as we were very poor and I had to work for the family. I am glad that I was able to help then. I love to read and have 200 books on my nook.
(Maria Pucko 11:27am June 1, 2013)
I didn't graduate from college until my 40s so I'm not qualified for an
opinion. :) But I did see some friends go kind of hog wild. One had NEVER
had any kind of freedom from her mother so she got away and got into
everything. She almost got kicked out. Another quit and got married
because of a baby. Another got involved with a married man. So I guess I
got to live it vicariously. :)
(Penny Mettert 11:33am June 1, 2013)
!looks great
(Kent Cook 12:30pm June 1, 2013)
I enjoyed college... congrats on all of your books!
(Colleen Conklin 1:28pm June 1, 2013)
it was a struggle to work and fit it in but definitely worthwhile.
(Darci Paice 2:51pm June 1, 2013)
That was how I see my college years. It is transition to forge forward to see if I could make it as my own person. It was a testing period that if I failure, I know I will have to move back home with my parents. If I could survive through college, I knew I could make it anyway.
(Kai Wong 3:35pm June 1, 2013)
I enjoyed my one-year business/secretarial course I took at a vocational-technical college and enjoyed it more than classes I took in high school. I did very well in all my subjects including Business Law at 7 am every morning, of which I usually fell asleep in, and I sat in front of our lawyer/teacher who instructed at the podium (less than 3 ft. from me). He always called on me for answers when he noticed my eyes closing, and I think I shocked him everytime with the correct answer. Little did he know...I was listening. Congrats on all your books!
(Linda Luinstra 4:23pm June 1, 2013)
I had a wonderful time in college, My dorm roommate was delightful and we still keep in touch by mail although we live several hundred miles apart. Boy, I would gladly relive those days were it possible.
(Gladys Paradowski 8:35pm June 1, 2013)
Sounds great! I had less worries in college. :) But I love my life now...
(May Pau 9:39pm June 1, 2013)
never been to college i wish i had the chance though. sounds
like a great book cant wait to read
(Denise Smith 10:03pm June 1, 2013)
WORKED FULL TIME SO IT WAS HARD
(Debbi Shaw 10:40pm June 1, 2013)
TRUE sounds like a fabulous story.
(Mary Preston 11:42pm June 1, 2013)
college had many ups and downs ..but so glad i did it..book sounds great...love to read it
(Kimberly Hoefs 11:42pm June 1, 2013)
It was OK but I worked full time and went to college full time.
(Sandy Giden 10:28am June 2, 2013)
I also worked full time and went to school full time during the last year. I was also divorced with two teenagers and was 50 the year that I graduated! LOL and loved every minute of it!
(Betty Hamilton 12:11pm June 2, 2013)
college was fun, but there are both good and bad memories associated with it. Your book sounds great!
(Joanne Schultz 1:25pm June 2, 2013)
College for me was good and bad. I had just met my hubby as he was just starting college and I was deciding where to go. We ended up going to different colleges not knowing if things would last. Well, we did last and 7 yrs after meeting we got married. Last week was our 24th anniversary! It would have been fun being together, but I did have fun with my best friend instead.
(Sue Galuska 4:10pm June 2, 2013)
I am looking forward to my "college experience". I didn't do thing by the traditional plan and wasn't able to go when I should have, I was busy birthing babies and working to support them. Now that they are grown and experiencing college as they should, I figure there is no better time for me than the present.
Good luck and happy writing!
(Tracie Travis 5:32pm June 2, 2013)
Yes, I am very much looking forward to reading True!
(Chelsea Brooks 5:35pm June 2, 2013)
I like to think back to my college days but I don't think I'd
want to relive them. It was hard but exciting too.
(Jennifer L. 5:53pm June 2, 2013)
I'm usually a YA or paranormal romance reader, but I love stories that take me back. College was great and awful and I enjoy reading about stories that place in that settling.
(Sally Hannoush 5:54pm June 2, 2013)
True sounds like a good read that I'd like to have. Thanks
for sponsoring this giveaway and for the opportunity to
participate.
(Alexa Nernberg 7:33pm June 2, 2013)
I went to college later in life but by that time I was already married. My children don't want to talk to me about their college experiences and maybe I don't really want to know. They all turned out to be responsible young adults and maybe learned something along the way.
(Kathleen Yohanna 9:55pm June 2, 2013)
I didn't go to college, didn't know what I wanted to do.
Hell, at 47 years old, I still don't know what I want to be
when I grow up! I really want to read this book, and get a
taste of that college experience. ;)
(Dana Reeder 12:00pm June 3, 2013)
Erin,
I read your book, "Seeing is Believing" about a month ago. I thoroughly enjoyed it! Loved the apple orchard part!! You write great books....I only wish TRUE wasn't only an e-book. I only read paperbacks. Keep up the great writing. Thanks!
(Linda Luinstra 6:12pm June 3, 2013)
Registered users may leave comments.
Log in or register now!