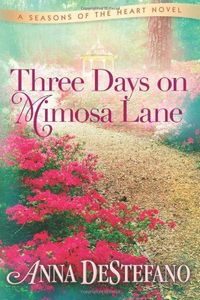 Purchase
One day can change your life forever?Three days change a painful past into a beautiful tomorrow?.
A Seasons of the Heart Novel
Montlake
August 2013
On Sale: July 23, 2013
ISBN: 1477807330
EAN: 9781477807330
Kindle: B00BD63U2A
Paperback / e-Book
Add to Wish List

Once, Sam Perry had it all. A loving marriage, an amazing job she adored as a preschool teacher, and a beautiful home. She was safe, happy and secure.
Then the unthinkable happened...
Watching his once carefree wife withdraw into herself was almost more than Brian Perry could handle. The only thing that kept him going was knowing that he loved her more than life itself. Moving her out of New York to Chandlerville, a small, quiet suburb of Atlanta, felt right. Anything, to get her away from the memories of the buildings, and her world, crashing around her.
Now, two sons and many years later, Sam cherishes the new life on Mimosa Lane that Brian built for them.
Until lightning strikes twice...
Called a hero by her small community, Sam feels more like a coward than ever. Instinct draws her into an altercation at her children's school—an instinct that also drives her away from the warm cocoon of her family.
Brian refuses to lose his wife again. He agrees to give her the space she asks for, but he soon realizes space isn't something they and their children can afford. He knows their love can still conquer all. But this time he'll need their entire community to help him win his wife back.
Comments
69 comments posted.
Beautiful cover; looking forward to reading.
(Marguerite Beal 9:22am July 14, 2013)
This summery is such a tease. It makes me wonder what happened.
(Laura Gullickson 4:06pm July 22, 2013)
Oh, I love the outline of this story. I love a hero that will do whatever it takes to win his love back to him...even getting the entire community in on his quest. Now that is love! I've not read Anna DeStefano before... but now definitely will.
(Janice Hougland 10:27pm July 24, 2013)
Parents make sacrifices for their children every day. I am sure mine did
many times while I was growing up and I imagine they would say they
would do it again too.
(Melanie Backus 8:30am August 15, 2013)
Would love to read this one!
(Melanie Backus 8:32am August 15, 2013)
My husband works so hard every day, not only so I can stay at home and mother
our children and care for our house, but also so I can write and edit...it's such a
gift. He gives up so much for my dreams. I just hope I give back to him every day
as well!
(Ellie Ann Soderstrom 9:28am August 15, 2013)
Melanie, the more I parent and learn how hard this
job/calling is (trying to help my now-teenager find his way
through the world and discover and live his true, authentic
life), the mor e I appreciate all the hard work my own
parents put into raising and then setting me free. I
sometimes can't believe what I put them through ;o)
(Anna Destefano 9:53am August 15, 2013)
Mu husband works to provide for his family and is a devoted
and loving husband and father whose life has been enriched by
us and he sacrifices everyday in order to become successful.
(Sharon Berger 9:55am August 15, 2013)
Ellie--the ones who help us be the best parents (and
people/writers/artists) we can be are true heroes. I never
could have made it this far in my career, without the help of
my husband, my friends, my publishing partners and my
readers/fans. I'm truly a VERY lucky girl!
(Anna Destefano 9:55am August 15, 2013)
After my Husband lost his job, and we lost our house of 13 years and everything with it soon after, my best Girlfriend did what she did to help us. We were living in a pop-up camper for a while, and she kept in touch by phone. Once we found a place to live, she sent packages of food, and other items, to make sure that we would survive. She still surprises me with packages of items that I can use - craft items and other things. I don't know what I'd do without her!! I in turn, knit and crochet items, and send them out to people who I feel can use the items, and so far I have made the right decisions. At the moment, I'm in the middle of baby gifts, but hope to get back to making my other items. I also make items for my Girlfriend as a Thank You. As for your book, it's one that's on my TBR list. I've been too busy to read, but hope to read it in the next couple of months. The cover is beautiful, and does the story justice. Congratulations on another winner of a story!!
(Peggy Roberson 10:10am August 15, 2013)
Peggy--when we pay it forward, we receive ten-fold. Know that
and keep creating and showering those you know/love/meet with
the caring that comes from deep inside you. Your story is so
inspiring! Thnx for sharing it.
(Anna Destefano 10:31am August 15, 2013)
I would have to say my husband. he traveled 1 1/2 hours back and forth to work each day so he could support the family and never complained. He is a great father and a wonderful husband. HE is my hero!
(Bonnie Capuano 10:32am August 15, 2013)
Sharon--my husband's the one who first suggested I follow my
lifelong dream to be a published fiction writer. I was
needing to make a career change, so I could be home to help
my son get through school (we knew it was going to take some
hands-on intervention to make sure our public school system
accommodated his needs). And my husband insisted that if I
was going to leave corporate/technical writing behind and
freelance...why not do what would feed my soul while I was
at it. That's been a watershed moment ever since. No matter
the difficulties we've faced since or the ups and downs of
the publishing industry, I can always look back and know
that he completely understood me in that moment...and
remember him telling me to go for my dreams!
(Anna Destefano 10:35am August 15, 2013)
Thank you for the wonderful books and pleasant reading times!
(Ann Martinisi 11:14am August 15, 2013)
Bonnie--sounds like heaven ;o)
(Anna Destefano 11:36am August 15, 2013)
The biggest sacrifice... my mom gave up a wonderful job she loved to have me and be an at home parent.
(Colleen Conklin 1:08pm August 15, 2013)
My parents weren't wealthy, but they made sacrifices all the time for us kids. They spent their time and money wisely, to make sure we experienced things like swimming lessons and trips to museums and zoos.
(G S Moch 1:31pm August 15, 2013)
My Mum has never liked driving. She didn't get her license
until probably close to 40, but avoided it at all costs. I
remember when I was probably 5 or 6 being really sick, it
was snowing like mad outside, and she put her fears aside
and drove me to the Dr. office. The car ended up stuck and
we walked home, but as scary as it was for her she did it.
She also started to drive us once or twice a week into
Vancouver for dance lessons...driving there is nuts. I know
how much she hates driving and when something really scares
you think of that fight or flight response. I'm sure she
had that every time but she did it anyway for us.
(Sue Peace 2:58pm August 15, 2013)
My mom... She didn't like staying home to take care of us because she loved her job. BUT she wanted the best care for us so she stayed hom...
(May Pau 3:31pm August 15, 2013)
When I was 7 yrs. old, my father and his friend were going to work, when his friend had a seizure behind the wheel of his truck while driving, and they were both killed. The truck went off an overpass down to the highway below. My mother was left to raise 7 children alone. It was very difficult for her at age 48, and she didn't have a job and didn't know how to drive. She relied on us and her brother to take us to church and for groceries. I was the youngest so I stayed living at home to help out. She never moved on or dated in all those years, so I know it helped her to have the company. When I moved from our home in my mid-thirties, she lived in an apt. with all elderly residents and made friends, then later, into a nursing home for a couple years until she passed away at age 86. I never felt that I sacrificed much, and would not change a thing looking back on it.
(Rich Cook 6:26pm August 15, 2013)
When my two boys were young I ended up in the hospital and I had friends step in to help out with them so my hubby wasn't more overwhelmed than he already was.
(Marcy Shuler 6:52pm August 15, 2013)
When my ex-husband walked out on me around Christmas time one year, one of my closest friends came to stay with me. Her husband was out of a job, but that didn't matter to her. She packed up her two kids and drove over a thousand miles just to make sure that I wasn't alone during my time of crisis.
(Amy Kincade 7:21pm August 15, 2013)
My younger sister succumbed to breast cancer in 1975, leaving a 3 y/o daughter. Prior to her death, we agreed
to take her daughter and raise her with the 3 children
we already had. We count this more as a blessing than a sacrifice, having her, two more grandsons, and a grandkitty!
(Patricia Cochran 10:20pm August 15, 2013)
My parents who worked long hours six days a week to ensure that my siblings and I always had what we needed.
(Mary C 11:43pm August 15, 2013)
My mother, although with very few marketable skills, took on more than one low
paying job to make sure our family was taken care of, after having my father
desert us. She married another man who she thought would take care of her and
her children, but he turned out to be a deadbeat, so she did whatever she could
to feed and cloth us. I tried to make it up to her once I was an adult, by doing
everything I could to help her. It was a pleasure because she deserved all I could
do and more.
(Barbara Elness 11:51pm August 15, 2013)
My parents sacrificed everyday for me and my 8 siblings. My parents were part of The Greatest Generation as as such had lived through the Great Depression and WWII. The thought nothing do "doing without" in order to feed, house, and clothe their children. They were awesome people.
(Betty Hamilton 4:46am August 16, 2013)
I love your cover Anna. It looks so pretty and so peaceful! Thanks
(Bonnie Capuano 7:10am August 16, 2013)
Love this story! I would say my mother while not highly educated who had a food service job that did not pay very well to say the least, so having an over abundance of money for "cool clothing" for me to wear, and little money to spend on food, would buy just enough meat on payday that she would give me her share so I could have it. She tired so very hard with what she had.
(C Culp 8:32am August 16, 2013)
My parents sacrificed alot when we were young. They both worked to
make sure there was food, clothing and shelter for us. They grew up
during the depression and wanted to make sure our basic needs were
there.
(Susan Falkler 9:59am August 16, 2013)
The book sounds terrific. I'd love to read it.
(Wilma Frana 10:07am August 16, 2013)
My parents put me through college even when they had very little.
(Joyce Mandle 10:29am August 16, 2013)
When I got divorced my parents were there for me and my kids.
(MaryEllen Hanneman 3:27pm August 16, 2013)
I took the blame for something that my brother did when my father was dying. I have never spoken about it or clear myself of that incident.
(Kai Wong 5:22pm August 16, 2013)
I am a strong believer in paying it forward. I don't want to toot my own horn here but I just won 2 primo tickets to a Lionel Richie concert here in Chicago. My e-pal who I've never met is a die-hard LR fan. She even has him as her Facebook profile picture. So, I invited her from Minneapolis and she almost fainted...and she will be staying with me to boot!
(Susan Coster 5:37pm August 16, 2013)
My parents were part of The Greatest Generation and as such they never thought of it as sacrifice. However, they very rarely spent money on themselves. They didn't go to the movies, or a show. They stayed home with their (nine) children and taught us what family was. It wasn't until I was much older that I realized the importance of their humble life style and dedication to the family. Sacrifice? They never thought of it as such.
(Betty Hamilton 6:27pm August 16, 2013)
I would have to say my Mom was there for me growing up. Answering
questions i hadaboutbanything. Sounds like a wonderful book! Hope i get
to win a copy. Thanks for the giveaway!
(Sarah Bauman 8:44pm August 16, 2013)
One of my dearest friends had lost her home, moved with her family into a rental, and her husband got cancer. I would drive an hour to leave bags of groceries or staples to help out. She said I would usually show up when the cupboard was truly bare and they didn't know what they were going to eat next. Because she loves to cook, I didn't worry about making anything, I just bought the staples. It enriched my life by warming me all the way home. As they face each new health scare, we send up constant prayers. As I face health problems, I know there is always someone I can talk to.
(Marcia Berbeza 9:14pm August 16, 2013)
As the parent of three young children, there are always sacrifices to be made. However, the enrichment and blessings are innumerable!
(Britney Adams 10:33pm August 16, 2013)
I do know that my Mother always put us, her family, ahead of
her own wants. I see that now as an adult.
(Mary Preston 6:51am August 17, 2013)
Pretty book cover. My family always comes first. And growing up with my parents it was the same.
(Sue Brandes 8:36am August 17, 2013)
When I was nine years old, I'd gotten a new, nice long-length winter wool coat. Being I was the oldest of eight children, I'm sure the coat was meant to be passed down, when I outgrew it. However, I loved going ice skating nearly every day during the winter. One day, after going into the warming house to get warm near the old-fashioned wood stove, I was talking to friends with my back too close to the stove, and I started my coat on fire. The kids all screamed for me to get outside and roll in the snow to put it out. I had an enormous hole in the back of my new coat, so there wasn't much coat left. My mother was so upset with me, that she made me wear the coat everyday to school the way it was, because my parents would not be able to afford to buy me another new coat! I was made fun of by the kids, and everyone would ask me if I knew I had a huge hole in the back of my coat (over a foot across and down). My student teacher got a small jacket from her fathers clothing store for me and had my third grade teacher call me on a Sat. to come to her house to pick up the jacket. It was more of a spring jacket, but I was more than excited about getting any new jacket to wear, after all the humiliation I went through wearing the coat I'd accidentally ruined. It was meant a lot to me, that this college-aged girl cared so much to do that.
(Linda Luinstra 3:51pm August 17, 2013)
My mother was a stay-at-home mom who could have had a career in a variety of occupations but what she chose to do was to stay home and raise her three daughters the way she had always wanted to be raised herself. This was many years ago so it was not uncommon for women to not have jobs and to stay home to raise their children. My mother chose to keep our house was spotless, our clothes were many times designed and sewn by my mother, fresh bread was baked every other day, and lovely fresh vegetables and fruit were grown by my Mom as well. We had made from scratch meals each evening and a big Sunday dinner every weekend as that was usually the only day that our dad didn't work. I had an idealistic childhood with the comforts that any child would be envious of. We didn't have a luxurious lifestyle, but we had everything that counted from a mom who wanted to make sure that we experienced a happy childhood in her eyes, which it was. She taught us to read at a very early age, she taught us how to sew by hand and then by machine, she taught up how to cook and bake everything. We learned how to garden and to grow flowers and how to do everything that a craftsperson would be thrilled to know how to do. She taught us all those things and introduced us to every type of book genre that was written. She taught us art and sports and much, much more. I never really thought of it as home schooling as I went off to public school all my life, but now realize how much I was taught at home in addition to having guidance with homework each night. And, right after her last daughter was finished with college, my Mom began her career at the age of nearly 50 years old. To me that was a sacrifice of a career for her but I know many women do the same and that is such a wonderful thing. I have always been thrilled to know how to do so many things in life and all because of someone feeling that it was her duty and destiny to give her daughters that kind of background to help them get
(Cynthia Blain 10:38pm August 17, 2013)
Sounds like a beautiful story and would love an chance to read it! Thanks
for the chance!
(Kim Cornwell 8:01am August 18, 2013)
AS a young divorced mother of two life was sacrifice for a lot of years. As my two children grew and became more independent I was able to regain a personal life.
(Betty Hamilton 8:14am August 18, 2013)
I have not read any of your books, but if I win one I will read it. Thank you for letting me enter
(Judy Ferguson 9:07am August 18, 2013)
Probably the biggest sacrifice I made was leaving my life in
Texas to come back home to help my mom take care of her
property and my dad.
(Ruth Hill 11:00am August 18, 2013)
I can't wait to read your book Anna it sounds very good. Great blog today! Thank you
Penney
(Penney Wilfort 11:19am August 18, 2013)
My mother suffered from Alzheimer's Disease and there is no greater sacrifice that I could have made than to care for her day and night. Just watching her deteriorate in front of me was heartbreaking. Yet, I have never regretted the sacrifice I made for her!
(Vennie Martinisi 11:48am August 18, 2013)
can't wait to read this and thanks for the chance to win
(Patricia Lambert 11:53am August 18, 2013)
my mom always made sacrifices when we were growing up so my brother and I had what we needed.
(Pam Howell 12:43pm August 18, 2013)
Now that I'm a parent, I realize how pervasively my parents
put aside their personal desires and freedoms to make
themselves and their helps available to us, their children.
(Mary Ann Dimand 2:24pm August 18, 2013)
This post has peaked my interest and I so want to learn more about Sam and Brian. I am certainly keeping my fingers crossed!
(Melanie Backus 3:39pm August 18, 2013)
Following a health scare I had, my husband put his life on hold to help me cope. He literally propped me up when I thought I might not get up again.
(Lorena Keech 8:15pm August 18, 2013)
My parents adopted me when I was a baby and they gave me a
good farm life in Kansas and then when they were going to
retire after 55 years of farming. I blessed them with
because I never got a dime of child support and they offered
to help me and my son when they moved to Arkansas. They were
a true blessing for me and my son and I would give my life
for my son if and when it came time for me to do so too.
Thank You for the great contest and congrats on your new
book: THREE DAYS ON MIMOSA LANE. Thank You. Cecilia CECE
(Cecilia Dunbar Hernandez 10:55pm August 18, 2013)
Sounds like a great story. Thanks for a chance to win.
(Linda Hall 10:56pm August 18, 2013)
My parents adopted me when I was a baby and they gave me a
good farm life in Kansas and then when they were going to
retire after 55 years of farming. I blessed them too (fixed
typo)
because I never got a dime of child support and they offered
to help me and my son when they moved to Arkansas. They were
a true blessing for me and my son and I would give my life
for my son if and when it came time for me to do so too.
Thank You for the great contest and congrats on your new
book: THREE DAYS ON MIMOSA LANE. Thank You. Cecilia CECE
(Cecilia Dunbar Hernandez 10:55pm today)
(Cecilia Dunbar Hernandez 10:57pm August 18, 2013)
When my daughter died two years ago, my son took it upon himself to be a part of the lives of her three boys. He spends his time, money and knowledge and has enriched their lives tremendously.
(Brenda Rumsey 8:19am August 19, 2013)
When my sister passed away, we became her daughter's
legal guardians and raised her with our three. We did
not consider this a sacrifice, but more a blessing for
us all.
(Patricia Cochran 11:17pm August 19, 2013)
My uncle took in my grandma after grandpa passed. She is happy, and my
mom has peace of mind. Her short term memory is very bad. I don't think I
could handle living with her on a daily basis.
(Laura Gullickson 12:47pm August 20, 2013)
THERE WAS 5 OF US KIDS AND MY PARENTS WARNT WEALTHY BUT WE
ALWAYS HAD THINGS WE NEEDED AND WANTED MOST OF THE TIME
(Denise Smith 1:33am August 20, 2013)
women/mothers are amazing, resilient creatures - thanks for the story.
(Patricia Mangum 11:16am August 20, 2013)
My parents paid for my college and they didn't make much money. I worked too in the summers but I always wondered how they did it.
(cHARLETTE bOND 4:18pm August 20, 2013)
Growing up, my mom worked multiple jobs to raise me and my brother and she still made time for me whenever I needed her. She sacrificed a crazy amount for us and I'm so grateful to her.
(Jamie Fortney 5:41pm August 20, 2013)
I had wonderful foster parents as a child and always think of them with fondness.
(Deb Pelletier 6:29pm August 20, 2013)
After the joys and heartbreaks of raising two children, I now find I am substitute Mom to three grand sons. Book sounds great but I only read print. Can always use the gift card.
(Sheila True 7:02pm August 20, 2013)
Growing up with a single mother who worked full-time was difficult for all of us, but we had a wonderful grandmother who helped bring continuity to our family.
(Lynne Mauro 8:51pm August 20, 2013)
My boyfriend and I sold one of our vehicles and gave the money to a friend of ours so he could retain a lawyer to get custody of his three children.
(Lori Ringel 10:01pm August 20, 2013)
I am so glad that you are writing about the love and
reconciliation of a community. That seems to be a theme many
are hungry for, in these individualistic times. (And I'm so
grateful for the hunger.)
(Mary Ann Dimand 10:31pm August 20, 2013)
My family make sacrifices for me every day, due to a heath situation that limits me. I'm extremely blessed.
(Chelsea Brooks 11:44pm August 20, 2013)
Registered users may leave comments.
Log in or register now!