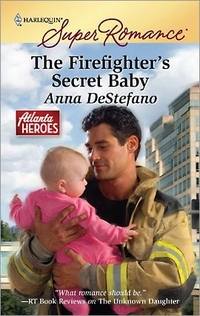 Purchase
The Firefighter's Secret Baby
Anna DeStefano
Atlanta Heroes
Harlequin Superromance
April 2010
On Sale: April 13, 2010
Featuring: Randy Montgomery; Sam Gianfranco
256 pages
ISBN: 0373716303
EAN: 9780373716302
Mass Market Paperback
Add to Wish List


One night has big consequences

She's a captivating woman who catches his eye immediately. They spend one steamy night together. But in the morning, she's gone.

Nine months later, firefighter Randy Montgomery is the first emergency responder on the scene of an accident. And as he pulls a very pregnant woman from the wreck, he recognizes her—Sam Gianfranco. What a twisted sense of humor fate has. Because not only is Sam about to give birth, but she's also in a pile of trouble. Police protection and bad-guy chases kind of trouble. Another man would walk away. Not Randy. A single glance at Sam and his baby, and he's in this for the long haul. And he'll do whatever it takes to keep all of them safe.
Comments
43 comments posted.
Re: The Firefighter's Secret Baby

Thank YOU for this wonderful contest!
(Cilfton Wade 11:09am April 12, 2010)
Heroes are wonderful! So glad that I have one in my life!
Blessings,
Marjorie
(Marjorie Carmony 7:31am April 16, 2010)
OMG, what a teaser! Thanks for sharing! This one definitely goes on my TBR list. I LOVE reading about guys who "step up to the plate", even under such risky circumstances. My hero ... and everyone else's too!
(Elaine Seymour 8:03am April 16, 2010)
Hey everyone!

Hope you're having a great spring morning, and that you find a hero to hug in your life today ;o)

Looking forward to chatting with everyone...

anna
(Anna Destefano 8:57am April 16, 2010)
Firefighters are heroes everyday. I love to read books about all of our men & women who risk their lives for ours.
(Pat Wilson 10:03am April 16, 2010)
Unsung heroes all of them.
(Diane Sadler 10:55am April 16, 2010)
Sounds good. Can't wait to read.
(Sherry Russell 10:59am April 16, 2010)
Everyone needs a hero in their life especially those who are never recognize for their heroic deeds.
(Kai Wong 11:47am April 16, 2010)
Anna, I am SO hooked after reading the opening excerpt! It really makes me want to know the rest of the story. I am an Atlanta girl, so I am intrigued by your series of Atlanta heroes. Firefighters are great heroes in books and in real life. I also think I am halfway in love with the guy on the book cover! ;-)
(Cheryl Castings 12:20pm April 16, 2010)
I feel the same way about heroes. Most of my "Atlanta Heroes" guys have been more everyday Joes.

Here's the dedication for TFSB, to give you an idea of what I mean--

"To those who stand and fight. To those who run toward danger, so others may be free. To those who put all they are on the line. To heroes."

Sigh...
(Anna Destefano 12:22pm April 16, 2010)
There's nothing like a firefighter
hero! Thanks for the post. I feel like
I've been in love with heroes all my
life, too ;)
(Amber Leigh Williams 12:50pm April 16, 2010)
I love to read about our everyday hero's and their is nothing better than a Firefighter!!!
(Brandy Blake 1:26pm April 16, 2010)
I like to read about heroes because somehow they become more human than the idolize figures we normally see them as.
(Leni Kaye 2:48pm April 16, 2010)
I have been seeing this book around and really really want to get my hands on it!
(Colleen Conklin 3:10pm April 16, 2010)
I enjoy reading about a hero who puts his life and love on the line and at the end I want them to have a 'happy ever after'. It sounds like this book does just that. Congratulations!
(Rosemary Krejsa 3:46pm April 16, 2010)
Heroes don't have to come on a white horse! They are those around us who are there when they are needed and do the best they can for everyone involved - just like your fireman!
(Karin Tillotson 4:52pm April 16, 2010)
Congrats on the new release, Anna.
(Jane Cheung 5:15pm April 16, 2010)
The car areening by the guardrail and the whispers of groans got my attention, all righty. I like my heroes in uniform, just doing their job ma'am or sir as the case may be.
(Alyson Widen 5:19pm April 16, 2010)
Oops, I meant the car careening. I guess my proofreading didn't happen this time.
(Alyson Widen 5:21pm April 16, 2010)
Nothing like a firefighter hero! Congrats on the new release!
(Cheryl Bradley 5:26pm April 16, 2010)
This is the type of "hero" I think deserves that name, not sports or movie stars. It's people who choose to put their lives on the line, but are often underappreciated. I'll certainly be looking for this one--if I don't win it.
(Sigrun Schulz 5:30pm April 16, 2010)
I'm definitely going to pick this book up! I love firefighters (what's not to love?!)! Of course, then I'll be hooked and I'll be looking for the books that came before!
(Kelli Jo Calvert 5:32pm April 16, 2010)
Since I was born and raised in Georgia, this series appeals to me.. I had not heard of your books so have added you as new author and your books on my to buy list. I love hero books both male and female so I will have to push your books up alittle on my list. LOL Thanks for the wonderful series and I look forward to reading them all.
(Brenda Hill 5:51pm April 16, 2010)
Firefighters are the ultimate in heroes. Well done!!
(Mary Preston 6:42pm April 16, 2010)
I definitely want to thank your editor for the idea and you for writing the story! My husband is a firefighter! I plan to get a tattoo that says "My Husband" above and "My Hero" below either the firefighter or EMS symbol (since he is also a paramedic)! He truly is my hero! Thank you for the chance to read and comment on this story!
(Dawn Detkowski 7:27pm April 16, 2010)
There are a lot of unsung heroes who aid our lives today and honoring them in a book is a reminder of that. Congratulations on doing a superb job with your Heroes.
(Gladys Paradowski 7:37pm April 16, 2010)
Firemen are soooo cute!!!
(Lori Roche 7:44pm April 16, 2010)
This book sounds a little zany and lots of fun.
(Elaine Carlini-Davis 8:13pm April 16, 2010)
I have firefighter friends who are definitely heros! This book sounds great.
(Lisa Garrett 8:45pm April 16, 2010)
I love any story that has babies
or kids in it. They are my
weakness when deciding which new
titles I must have.
(Lisa Richards 9:33pm April 16, 2010)
Hello Anna, Please enter me in your fantastic contest and this sounds like a fantastic book to read. I love entering and winning contests from FreshFiction.com
God Bless Everyone, Cecilia
(Cecilia Dunbar Hernandez 9:36pm April 16, 2010)
I have been waiting for this books
since reading the excerpt last year
during your DARK LEGACY lead up
blogs. I haven't read the rest of your
Atlanta Heroes series, but by the
sound of things I'd better remedy that.
Good luck with the release.
(Patricia Barraclough 10:27pm April 16, 2010)
I love the plot! Using an unsung hero and the twist of a heroine in the witness protection program is brilliant. Can't wait to read it. Thanks! I hope Sam names her baby Savannah! :o)
(Diana Pfender 12:33pm April 17, 2010)
knocks the hero on his fire and rescue butt...cute!!
they are indeed heroes.
yourstrulee(at)sasktel(dot)net
(Robyn Lee 1:47am April 17, 2010)
The series sounds great!
(Marlene Breakfield 10:29am April 17, 2010)
Sounds like an excellent book; cannot wait to read it.
(Barbara Studer 12:39pm April 17, 2010)
I love firemen....
(Brandy Blake 6:00pm April 17, 2010)
Congrats on your new release! The first chapter is great and definitely has hooked me into the story. Thank you!
(S Tieh 7:39pm April 17, 2010)
I love the premise of this book... probably because I'm also a big fan of In Plain Sight. This is going to be one heck of a series if this first short exerpt is anything to go by. You're a new artist for me, and now I'm excited to get a chance to read my first book by you. Hopefully I'll be lucky enough to win my first book and then just keep adding to that one.
(Donna Holmberg 10:40pm April 17, 2010)
This book and series sounds wonderful! I love stories about firefighters and your excerpt really got my attention.
(Cathy Phillips 8:04pm April 18, 2010)
sounds like a really interesting book. would love to read it
(Kathy Weber 6:57pm May 24, 2010)
The story sounds great. Can't wait to read it.
(Annette Foster 11:39am May 25, 2010)
Anna this blog with it's excerpt took me back to 1975 when I was pregnant with my first child Jennifer. Three days before she was born I also in a auto accident where my car was in the center of a three car pile up, so I could identify with your character Sam and her emotions as she had to wait for help. I wasn't hurt bad physically but I felt a kindred with this portion of the story. And you did a excellant job of details.
(Susan Lathen 3:36am May 26, 2010)
Registered users may leave comments.
Log in or register now!