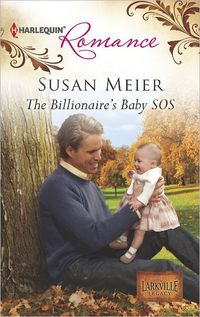 Purchase
The Billionaire's Baby SOS
Susan Meier
The Larkville Legacy #6
Harlequin Romance
February 2013
On Sale: February 1, 2013
Featuring: Matt Patterson; Claire Kincaid
192 pages
ISBN: 0373178603
EAN: 9780373178605
Kindle: B009YPD1O4
Paperback / e-Book
Add to Wish List

Help! Nanny Needed...
Successful CEO Matt Patterson isn't called the Ice Man for nothing-he's built up his multibillion-dollar company through cool decision-making and a ruthless reputation. But now he has a new challenge to face-fatherhood!
Finding himself guardian to gorgeous baby Bella, Matt's more comfortable in the boardroom than changing a diaper. Lucky, then, that social worker Claire Kincaid agrees to play temporary mom. Happy families might never have been in Matt's plans, but Claire and little Bella are opening his eyes to a life that money could never buy...
Needed: the perfect wedding date!
Trying to move on from a disastrous engagement, Sophie Morgan needs a date for her best friend's wedding...and fast! And what quicker way to find a man than speed dating? Only, it's bar manager, Dan Halliday, who catches Sophie's eye.
Dan can't resist helping a damsel in distress, so he offers her a deal-a few shifts in the bar in exchange for the date-no strings attached. But when pretence leads to passion, they both get more than they bargained for. And it's too late to have any secrets between them....
Larksville Legacy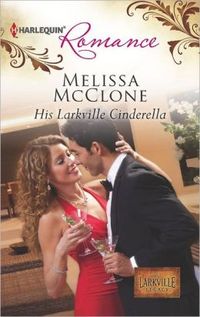 His Larkville Cinderella
#3.0
Amazon.com | BN.com | | |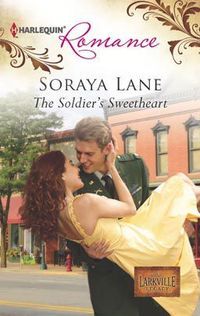 The Soldier's Sweetheart
#5.0
Amazon.com | BN.com | | |
Comments
37 comments posted.
Re: The Billionaire's Baby SOS

None yet, but we have 6 kids, so we love big families!!
(Michelle Schafer 2:47am February 1, 2013)
I am currently enjoying Kaki Warner's "Runaway Brides" series.
Blessings,
Marjorie
(Marjorie Carmony 7:01am February 1, 2013)
Michelle! Six kids! I'll bet your dinnertimes are fun!

susan
(Susan Meier 8:00am February 1, 2013)
Marjorie

I have the first book in that series (I think!). Can't wait to read it!

susan
(Susan Meier 8:01am February 1, 2013)
My daughter has 7 children and we love the holidays... family is everything
(Bonnie Capuano 9:17am February 1, 2013)
Can't think of any books I have read that have a large family. My Grandma came from a family of 10 kids...so when her entire family got together it was at a rented hall for a special occasion. My mom had 44 first cousins (not including spouses!) I only had a brother and a sister, and 7 first cousins so it is harder to relate.

Happy February and thanks for the chance to win.
(Sue Galuska 9:39am February 1, 2013)
I love Harlequin series books. My dad was the oldest of 9, so I have lots of
family. Some of my dads siblings already great grandparents so lots of
generations together.
(Susan Falkler 9:51am February 1, 2013)
No I haven't read many big family books but I sure love having a big family.
(Victoria Kondovski 10:39am February 1, 2013)
No favorites, I like all kinds of books.
(Wilma Frana 11:06am February 1, 2013)
Okay...I think I'm going to have to write the "big family" series! I come from a family of 11 kids so I have the experience and know-how!

susan meier
(Susan Meier 11:28am February 1, 2013)
im from a good sized family.family is what life is all about.no one loves you quite like you family
(Linda Gwiazdowski 11:52am February 1, 2013)
I love babies with rich men or/and cowboys. Too many authors to name. I would love to win this.
(Allie Motherway 12:01pm February 1, 2013)
I love big family books... it is great seeing characters again and seeing ones we met before have their chance at a HEA too.
(Colleen Conklin 12:02pm February 1, 2013)
I love big families I am a mom of five and also grandmother of five
(Ava Curtis 12:22pm February 1, 2013)
I love big families in books, to have them in real life is too much - my DH is one of 8, I have 14 (almost 15) step grandchildren (and he has 3 children, and one daughter is on her 9th - yup, ninth). It means juggling my family, his, my children (2), and his children and grandchildren. Not a month goes by without having to run out for a gift and card, and drama is nothing new when you gather so many people together or have to split your time.
I escape all of this by reading about big families, can you blame me?
(Carla Carlson 12:33pm February 1, 2013)
I am a huge fan of the Sons of Chance series by Vicki Lewis Thompson! I have a very small family in real life (only child of parents who only had one sibling each), so it is fun to read about a big family.
(Angie Lilly 1:14pm February 1, 2013)
Enjoyed your blog. I come from a big family but don't have a favorite big family book. Sounds like an interesting series
(Sheila True 1:38pm February 1, 2013)
It is Susan Mallery's Fool's Gold series. The family just keep expanding.
(Kai Wong 1:49pm February 1, 2013)
I am from a small family but enjoy reading about large families in a series.
(Cathy Phillips 2:57pm February 1, 2013)
...looks good
(Kent Cook 3:06pm February 1, 2013)
Coming from a small family, I obviously don't have any big family stories to draw on, so I let book families do it for me. Some of my favourite "big" book families are those of Nora Roberts - the multiple Irish families, the guys in the Chesapeake quartet, and the women in the Wedding quartet, even though they aren't related by blood, they are still a family.

Later,

Lynn
(Lynn Rettig 3:06pm February 1, 2013)
nah not a favorite yet but would love to read one!
(Pratikhya Alexis 3:14pm February 1, 2013)
sounds like a fun book
(Debbi Shaw 3:18pm February 1, 2013)
Lynn, I love the Nora Roberts "family" books. I still re-read the MacGregors every few years!

susan
(Susan Meier 3:47pm February 1, 2013)
Never read a big family book, but I love to read all romance books whether a series book or not. The trouble with series books is that I seldom get the whole series, so the books need to stand alone.
(Carol Woodruff 5:03pm February 1, 2013)
LOVE TO WIN NEVER WON ANYTHING IN MY LIFE. WOULD LOVE TO WIN
THIS CONTEST. PICK ME PLEASE!!
(Shelly Caggiano 5:20pm February 1, 2013)
I do enjoy reading books with large families or extended families, as I grew up with a single sibling and few cousins,
It's always fun reading about the interactions between them all, and the meddling!
(Joanne Schultz 5:36pm February 1, 2013)
i would love to win, sounds a great read...love the cover..so inviting..pulls you in
(Kimberly Hoefs 6:07pm February 1, 2013)
I come from a small family but I have read several series books that included large families such as the Fortunes series.
(Ellen McDaniel 6:19pm February 1, 2013)
No favorite series--at least yet. There are authors whose books I follow but not series
(Shirley Younger 7:08pm February 1, 2013)
I have not read a big family or series yet but would love to
start someday soon. Thanks for the fantastic contest and
Happy New Year too. Thanks, Cecilia CECE
(Cecilia Dunbar Hernandez 10:12pm February 1, 2013)
There are 2 series that come to mind, and I believe that they have the same name. One came out when I was small. It was in black and white, and would be shown as a Sunday movie. The name, I believe was Eight is Enough. When I got older, there was a series on TV by the same name. It broke my heart when I was reading on line about one of the actresses from the series who is broke, living in a trailer, and suffering from a rare disease at the moment. It isn't something that's made up, either. Anyway, both of those programs touched me for different reasons, and just like the Three Stooges, and Little Rascals, affected me in diffferent ways, even though they weren't families. They all made me smile, and touched my heart. They taught me how to reach out to others, and in the teachings of the Three Stooges, to get even with my older Sisters. lol Anyway, I would love to read your book very much, because I always wanted to be a part of a large family, and now I'm living far away from mine. This book would be a heartwarmer. I love the cover!!
(Peggy Roberson 10:18pm February 1, 2013)
I don't recall reading a book about a big family, but I lived across the street for years from a family of eleven children. Boy, they would have made a book! The children were so different and in constant conflict.
(Gladys Paradowski 11:57pm February 1, 2013)
I don't have any particular favorites.
(Mary Preston 7:05am February 2, 2013)
I recently read Redwood Bend as a standalone but it came from a large series which I hadn't read. The town came across as a family and the actual family in the story had been through some adventures, but there wasn't enough to make it difficult to read a standalone. Once it is done well I think ths can be very successful. Good luck!
(Clare O'Beara 9:43am February 2, 2013)
I think children from big families learn from each other, especially on ways to be thrifty and learn to cook, share and cope more. Just look at the Dugger family. I come from a big family of eight children. Being the oldest, I learned how to care for my siblings and cook for all of them. I changed a lot of diapers (the three youngest were 11 mos. and 12 mos. apart in age)! I don't recall any books I've read about any big families, but I wouldn't mind reading one. When it comes to sports and games, you don't need to gather up any friends to play them...you've got your brothers and sisters! One of my brothers has 14 children (and yes, all with the same wife)!
(Linda Luinstra 5:04pm February 3, 2013)
If Seventh Heaven was a book, I would read it over and over .. I just loved that program.. Mom always watched The Waltons and that always made us happy sitting together..

Rosemary Foley [email protected]
(Rosemary Foley 5:56am February 7, 2013)
Registered users may leave comments.
Log in or register now!