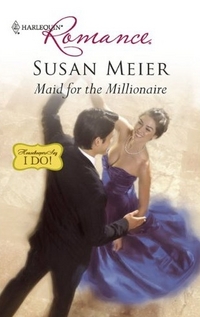 Purchase
Maid for the Millionaire
Susan Meier
Harlequin Romance
July 2010
On Sale: July 13, 2010
Featuring: Liz Harper; Cain Nestor
192 pages
ISBN: 0373176694
EAN: 9780373176694
Mass Market Paperback
Add to Wish List

Three years after her divorce, Happy Maids owner Liz Harper thinks she's finally found peace until the next client on her list is her ex-husband. He's more gorgeous than she remembers and the embers of their white hot attraction fan to life. Still, having been married to emotionally distant Cain Nestor for three years, she doesn't want to try again. But Cain does. He wants it enough to take weekends away from his beach house in Miami and work alongside Liz for her favorite charity, until Liz has no choice but to tell him the real reason she walked away.
Will the secret that tore them apart separate them for good or hold the key to bringing them back together forever?
Comments
23 comments posted.
I love your outlook of life; you've made me curious, very curious, about your books.
(Diane Sadler 9:38am April 20, 2010)
Thanks, Diane! Go to my website and there are excerpts etc!

susan
(Susan Meier 11:59am April 20, 2010)
You have such positive energy.Your post really made me think about things. I will be checking out your website after I leave this one.
(Leni Kaye 12:10pm April 20, 2010)
You are a remarkable person. Your zest for life makes me tired, but you made me want to read your novels. Good luck!
(Rosemary Krejsa 1:00pm April 20, 2010)
We should all celebrate those
milestones of our lives. The more
spectacular the better. As you get
older, each milestone is even more
important. I think people forget to
just celebrate life and all the little
things that make it worth living.
Those milestones become times for us
to look where we have been and where
we are going. Then we can decide it
the path we are taking is what we
want, or if we need a little detour or a
whole new direction. Enjoy writing
your books for us to enjoy.
(Patricia Barraclough 10:13pm April 20, 2010)
I just love the way that you look at life. I am very interested in your books and will be on the look out for them.
(Cindy Olp 11:35pm April 20, 2010)
I love airports too. The mix of people from all over is exciting. Keep writing!!
(Mary Preston 4:08am April 21, 2010)
Leni

I'm one of those people who is naturally positive. It took me decades to realize others werent' so lucky!

So I appreciate it! LOL I never take it for granted that I can see the sunny side of the street.

susan
(Susan Meier 7:17am April 21, 2010)
Rosemary!

I make myself tired sometimes! LOL

But I have been truly blessed in my career.

I never take it for granted.

I think you'll like this summer's two releases. Thanks for the good wishes.

susan
(Susan Meier 7:18am April 21, 2010)
Oh Patricia! Your post was so true. It's the people who forget to celebrate milestones who burn out.

susan
(Susan Meier 7:19am April 21, 2010)
Thanks, Cindy!

susan
(Susan Meier 7:20am April 21, 2010)
Interestingly, with the overseas flights cancelled over the weekend Dulles airport was really hopping!

I was two hours early for my flight so I got some great people watching in.

But my husband also believes I have good feelings for the airport because the only times I go to the airport are when I'm off to conferences or vacations. Both of which are tons of fun!

susan
(Susan Meier 7:22am April 21, 2010)
I enjoy books where I can become one (or more) af the characters and live their life as I read. People watching at airports is fun and reeally helps to pass the time - especially when we have to get there so early anymore!
(Karin Tillotson 8:10am April 21, 2010)
I love celebrating milestones,
be they my kids or mine. Our
30th anniversary is still 16
months away and I've already
started making plans. It's the
only occasion that is in the
summer and I'm determined to
have all our friends and
family(of which there are
bunches). Just wanted to say
how many of your books I've
read and loved. A romance with
kids in just adds a touch more
love and humor to the
storyline. Thanks for
entertaining me over the years
and I look forward to the
"Maids" duo.
(Lisa Richards 8:24am April 21, 2010)
Susan, you are an inspiration to all of us. I don't know how you do it!
(Debra Mullins 11:18am April 21, 2010)
I love books that have characters that I can relate to, characters that have real emotions and struggles. Your books sound like they have that and more. Thanks for your insight.
(Robin McKay 1:35pm April 21, 2010)
Karin

I think that's the fun of reading! Getting into the lives of the characters.

I think that's why historicals are so popular! Lots of us would have loved to have lived way back then!

susan
(Susan Meier 2:18pm April 21, 2010)
Lisa, I've been doing the same thing with my upcoming milestone anniversary! It's a year or two away and I'm planning! LOL

I'm so thrilled that you've read and loved some of my books. Thank you for saying that!

Kids and babies do make them funnier and more heartwarming for me.

susan
(Susan Meier 3:04pm April 21, 2010)
Sara! I laughed! Are you an April baby too?

My b-day did become a holiday of a sort. It's earth day!

Maybe I can be mother nature?

susan
(Susan Meier 3:05pm April 21, 2010)
Deb, I know your days are pretty busy too since you have a full-time job and also write!

You're an inspiration to me!

susan
(Susan Meier 3:05pm April 21, 2010)
Robin, Liz and Ellie are two of the most "real" characters I've ever created. That was why I had to dig really deep to come up with heroes who deserved them!

I also like to read about that kind of character.

susan
(Susan Meier 3:07pm April 21, 2010)
I should mention that I'm having trouble with verizon's internet today! That's why my answrs are so scattered.

sorry about that!
(Susan Meier 3:07pm April 21, 2010)
Hey, Verizon is back! Woo-Hoo!
(Susan Meier 6:07pm April 21, 2010)
Registered users may leave comments.
Log in or register now!