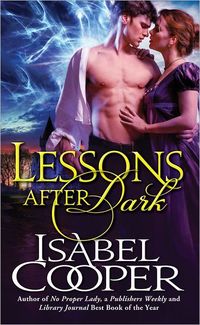 Purchase
Englefield #2
Sourcebooks Casablanca
April 2012
On Sale: April 1, 2012
Featuring: Olivia Brightmore; Gareth St. John
368 pages
ISBN: 1402264402
EAN: 9781402264405
Kindle: B007HAYE6C
Paperback / e-Book
Add to Wish List

A woman with an unspeakable past
Olivia Brightmore didn't know what to expect when she took a position to teach at Englefiend School, an academy for "gifted" children. But it wasn't having to rescue a young girl who levitated to the ceiling. Or battling a dark mystery in the surrounding woods. And nothing could have prepared her for Dr. Gareth St. John...
A man with exceptional talent
He knew all about her history and scrutinized her every move because of it. But there was more than suspicion lurking in those luscious green eyes. Even with all the strange occurrences at the school, the most unsettling of all is the attraction pulling Olivia and Gareth together with a force that cannot be denied.
Englefield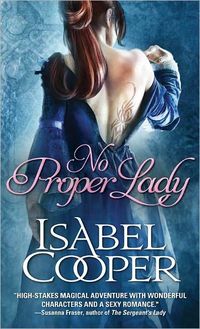 No Proper Lady
#1.0
Amazon.com | BN.com | | |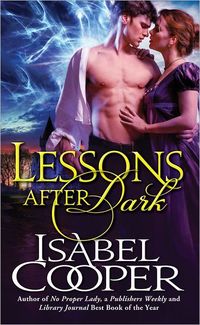 Lessons After Dark
#2.0
Amazon.com | BN.com | | |
Comments
38 comments posted.
Seems really interesting. I haven't really heard much about this type of book, so
I'm looking forward to reading it. :)
(Hyunjin Jeon 4:24am April 6, 2012)
I'll agree with you, obviously all the curses fault!!!
(Barbara Hanson 5:10am April 6, 2012)
As I read your post the only thing I'm thinking is the curse could be worse. You're learning and growing so it can't be all bad. Enjoy it!
Good luck and happy writing!
(Tracie Travis 6:35am April 6, 2012)
I LOVE THE BOOK COVER WOULD LOVE TO WIN THIS BOOK THANKS SO MUCH
(Denise Smith 7:49am April 6, 2012)
I love any book where the two main characters are drawn to each other, try to fight it, but are placed in situations just as you described where they can't avoid each other and eventually succumb! LOL Thanks for the chance to win a copy of this book. It sounds GREAT!
(Angie Lilly 8:00am April 6, 2012)
Yes this sounds like a great book and I can't wait to read it!! Thanks so much for the chance.
(Bonnie Capuano 8:36am April 6, 2012)
Would love to win this book. Thanks for the chance!
(Becky Darmogray 9:43am April 6, 2012)
@Tracie: Hee! Yeah, that's my thought. Definitely worked out
pretty well. Perhaps the lesson here is that everyone should
zone out during graduation ceremonies? ;)

@Angie: Yes indeed. It's one of the tropes I really like in
fantasy, so I tend to give it the romance twist and bring it
into my novels.

Thank you all for commenting--it's great to hear from you!
(Isabel Cooper 9:59am April 6, 2012)
Love your Process - I believe that curses take time to work themselves out.
(Beth Elder 10:46am April 6, 2012)
I like your comments about schools as a setting, I was just thinking the other day about how to make friends and how much easier it was back in school, were you were forced to interact with a whole reange of people.
(Lisa Elwood 11:35am April 6, 2012)
The variety of people at a school always makes for interesting characters.
(Sue Farrell 12:54pm April 6, 2012)
Oh this has my attention... your characters and their book sound wonderful!
(Colleen Conklin 1:34pm April 6, 2012)
This book looks really interesting and I love the cover!
(Chelsea Knestrick 1:44pm April 6, 2012)
I am 83 and haven't had a curse that I couldn't cope with yet.
Blessings,
Marjorie
(Marjorie Carmony 2:03pm April 6, 2012)
@Beth: Oh, for sure. And this one's pretty fun, at that:
academia has a lot of features to explore!
@Lisa: You too, huh? I'd been chatting with some friends
about that myself. It's that sort of instant common ground,
too: no matter how different you are, there's still the
classes/faculty meetings/food to talk about as an intro.
@Sue: It's definitely an advantage, yep!
@Colleen: Thank you! I hope you enjoy it!
@Chelsea: Thanks! The cover art definitely made me squeal a
little when I got it.
@Marjorie: Thank you! Me neither, so far, and that's good to
hear!
(Isabel Cooper 2:28pm April 6, 2012)
I like that it is more along the lines of Xavier's school than Hogwarts. I'm looking forward to reading it.
(Pam Howell 3:29pm April 6, 2012)
Thanks for a fun post! I loved, loved, loved No Proper lady
and I can't wait for this newest release!!!!

I'm a bit more skeptical, I don't believe in curses or
ghosts etc. But I do believe in the power of the mind to
convince oneself that he/she is cursed... power of persuasion :)
(Erin Fender 3:43pm April 6, 2012)
@Pam: Thanks! I like Rowling as well, but Englefield seemed
much more about preparing its students for a specific
purpose.
@Erin: Oh, I'm pretty skeptical myself--but it's fun to
believe sometimes! :)
Glad to hear that you enjoyed No Proper Lady, and thank you
for your comment!
(Isabel Cooper 4:15pm April 6, 2012)
Looking forward to reading LESSONS AFTER DARK and going back to school without the studying and tests
(Shirley Younger 4:45pm April 6, 2012)
Enjoyed your great post and reading the few lines from your latest book, Isabel. Sounds really good, and the cover is very captivating too! I think you and your friends were having way too much fun on your graduation day with the bets! Good wishes for much success with this book also.
(Linda Luinstra 4:52pm April 6, 2012)
This is certainly a different storyline - quite an interesting
concept.
(Diane Sallans 5:06pm April 6, 2012)
Loved NO PROPER LADY - can't wait to read LESSONS AFTER DARK!
(Mary C 5:44pm April 6, 2012)
Schools are like a bit of a world apart.
(Maureen Emmons 6:12pm April 6, 2012)
Ooh... I am looking forward to reading your new book. :) I love No Proper Lady... Really thought that the heroine was terrific. :)
(May Pau 6:34pm April 6, 2012)
Love the logic in curses not applying to you since you already graduated college. Looks like a good read with magic and all.
(Alyson Widen 8:17pm April 6, 2012)
Wow, this book sounds super amazing!! I'm going to be looking out for this one!
(Chelsea Brooks 8:29pm April 6, 2012)
I have to say that your posting was quite interesting compared to the other authors that have been here. Your book sounds a bit edgy and quirky for a romance, and I don't mean it as an insult in any way. I'm looking forward to reading it, as I'm always looking forward to finding books that are slightly different from the norm, and this would fit the bill for a book for me to curl up with since it's still been quite cold here up North, and I'd enjoy reading it, along with a cup of hot cocoa!! I'm sure it would be spellbinding!!
(Peggy Roberson 9:09pm April 6, 2012)
I simply loved No Proper Lady. Can't wait for this one!!
(MaryAnne Banks 9:22pm April 6, 2012)
The idea of the X-Men - more particularly those with special gifts - has always been an interest of mine. Maybe it has to do with my Irish heritage, where we've always believed in the supernatural.
(Molly Wilsbacher 9:26pm April 6, 2012)
When things just go wrong, I just used the phrase "Bad Day, Bad Day." knowing there's a gremlin or imp hanging around me.
(Kai Wong 9:58pm April 6, 2012)
Book sounds very interesting, and the covers great. Thanks for giving me a chance to win your book.
(Linda Hall 10:59pm April 6, 2012)
I am deeply curious about your book and am particularly charmed regarding the school for "gifted" children.
(G. Bisbjerg 12:29pm April 7, 2012)
I love friends or even enemies to lovers.
(Lisa Kendall 1:02am April 7, 2012)
Just fabulous thank you. I do like friends to lovers.
(Mary Preston 1:43am April 7, 2012)
@Shirley: That *is* key, isn't it? I've thought about going back myself, from time to time, but dear God, finals week...
@Linda: We totally were! But my college's graduation was something like six hours; keeping ourselves amused was the real final exam.
@Diane: Thank you! It was fun to play around with.
@Mary: So glad to hear you enjoyed No Proper Lady! I hope you like Lessons just as much!
@Maureen: They really are! I was actually raised at boarding schools, too (faculty brat), so a world that doesn't run in semesters is still a little new to me.
@May: Thank you! Thinking up different heroines to write about is one of my favorite parts of being a romance novelist.
@Alyson: Hee! Thanks--I'm good at justification like that. ;)
(Isabel Cooper 9:20am April 7, 2012)
@Chelsea: Thank you! I hope you enjoy it!
@Peggy: Excellent! Quirky and edgy is actually something I really like; I have the most fun writing when I'm playing around with concepts a little. I hope you enjoy Lessons--and stay warm!
@Mary Anne: Thank you very much!
@Molly: Oh, me too! (My mom's grandparents were Irish, come to think of that...)
@Kai: Good idea--I'll have to see how that works sometime! Though I have to say, this particular curse has worked out pretty well!
@Linda: Thank you!
(Isabel Cooper 9:33am April 7, 2012)
What a positive Spin!! I love the premise and am going to add this to my TBR pile
when I find it. I prefer supporting street book stores.
(Sandra Spilecki 10:09am April 7, 2012)
@G. Bisbjerg: Thank you! I hope you enjoy it!
@Lisa and Mary: It's one of the most fun dynamics out there, I think--you get so many layers!
@Sandra: Yay, thank you!
(Isabel Cooper 10:36am April 7, 2012)
Registered users may leave comments.
Log in or register now!