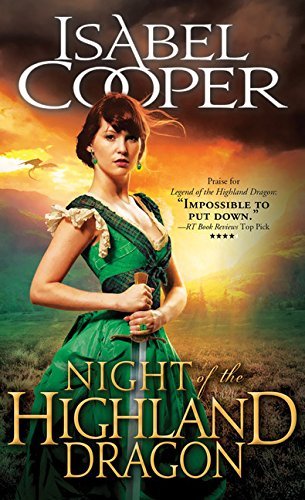 Purchase
Night of the Highland Dragon
Isabel Cooper
Highland Dragons #3
Sourcebooks
June 2015
On Sale: June 1, 2015
Featuring: Judith MacAlasdair; William Arundell
352 pages
ISBN: 140228473X
EAN: 9781402284731
Kindle: B00SG8TG44
Paperback / e-Book
Add to Wish List

"They say," said the girl, "that people disappear up there. And I heard that the lady doesna' ever grow any older."
"The lady?" William asked.
"Lady MacAlasdair. She lives in the castle, and she's been there years, but she stays young and beautiful forever."
In the Scottish Highlands, legend is as powerful as the sword-and nowhere is that more true than in the remote village of Loch Aranoch. Its mysterious ruler, Judith MacAlasdair, is fiercely protective of her land-and her secrets. If anyone were to find out what she really was, she and her entire clan would be hunted down as monsters.
William Arundell is on the trail of a killer. Special agent for an arcane branch of the English government, his latest assignment has led him to a remote Highland castle and the undeniably magnetic lady who rules there. Yet as lies begin to unravel and a dark threat gathers, William finds himself drawn deeper and deeper into the mystery of the Highlands...and the woman he can neither trust nor deny.
He prays she isn't the murderer; he never dreamed she was a dragon.
Highland Dragon
Comments
17 comments posted.
Re: Night of the Highland Dragon

At this point, I can't really say that I have a favorite.
Each one is special in their own way, and that's what makes
a decision next to impossible - that and because there are
so many to choose from!! I enjoyed reading your excerpts
this morning, and am looking forward to reading your book!!
The cover is beautifully done, too!! Congratulations on
what I'm sure will be a big hit!!
(Peggy Roberson 11:42am June 4, 2015)
I really like wolf shifters, but I've been reading a lot of dragon shifter books, lately, and they're definitely growing on me!
(Janie McGaugh 1:16pm June 4, 2015)
The shapeshifter that is my favorite is a wolf.
(Sharon Berger 2:32pm June 4, 2015)
I have always had a thing for dragons so that would be my first pick. Loved the excerpt!
(Suzanne Walker 3:28pm June 4, 2015)
I adore those who purr and/or fly
(Lenna Hendershott 4:44pm June 4, 2015)
Love dragons - they're in a tie with wolves.
(Mary C 9:17pm June 4, 2015)
As Shapeshifters go, I don't normally read them but I have
and depending on the author enjoyed them. I like
Sherilynn's characters and there are so many to choose
from. I like dragons so this should be a good one as I
love anything Scottish.
(Tina Ullrich 9:28pm June 4, 2015)
Any mythical Scottish/Gaelic creature like a Doonie or
Silkie
(Holly Loch 11:03pm June 4, 2015)
I think everyone has jumped on the wolf shifter band
wagon,so I'm going to go with a dragon.
(Jackie Stieghorst 11:40pm June 4, 2015)
I enjoy shifters of any variety. Wolves, dragons, coyotes,
tigers, etc. Wish I could do it!!
(Penny Beverly 8:14pm June 5, 2015)
I think my favorite would be a cat of some kind.
(Cynthia St. Germain 7:26pm June 6, 2015)
I think wolf but a dragon would be interesting.
(Gwenn Ostman 7:49pm June 6, 2015)
I love all shapeshifters, but big cats are my favorite.
Thanks.
(Jana B 9:45pm June 6, 2015)
Dragons!! I love dragons!! Ever since I read the first Pern
book more than 40 years ago.
(Marcia Berbeza 1:16am June 7, 2015)
Dragons are my favorite with wolves next . Thanks for this chance to win this awesome book .
(Joan Thrasher 9:25am June 7, 2015)
Most I have read are wolves but the idea of a dragon sounds so
interesting.
(Leona Olson 9:35am June 7, 2015)
I do not have a favorite.
Marilyn Collins
(Marilyn Collins 4:16pm June 7, 2015)
Registered users may leave comments.
Log in or register now!