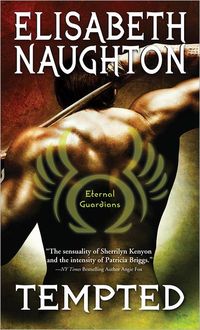 Purchase
Hulking. Brooding. Sexy.
Eternal Guardians #3
Sourcebooks
September 2011
On Sale: September 1, 2011
Featuring: Isadora; Demetrius
384 pages
ISBN: 1402260466
EAN: 9781402260469
Kindle: B005CKKFSK
Paperback / e-Book
Add to Wish List

DEMETRIUS-He's the hulking, brooding warrior even his fellow Guardians avoid. Too dark. Too damaged. And given his heritage, he knows it's best to keep everyone at arm's length.
Isadora is missing. The words pound through his head like a frantic drumbeat. For her own protection, Demetrius did all he could to avoid the fragile princess, his soul mate. And now she's gone--kidnapped. To get her back, he'll have to go to the black place in his soul he's always shunned.
As daemons ravage the human realm and his loyalty to the Guardians is put to the ultimate test, Demetrius realizes that Isadora is stronger than anyone thought.
And finally letting her into his heart may be the only way to save them both.
Eternal Guardians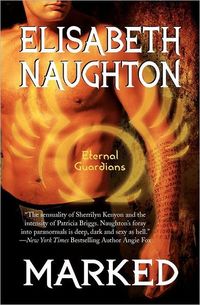 Marked
#1.0
Amazon.com | BN.com | | |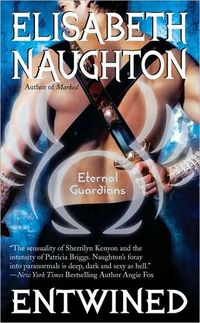 Entwined
#2.0
Amazon.com | BN.com | | |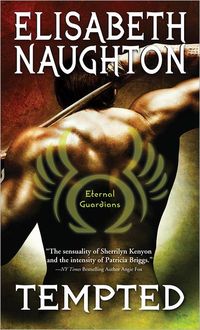 Tempted
#3.0
Amazon.com | BN.com | | |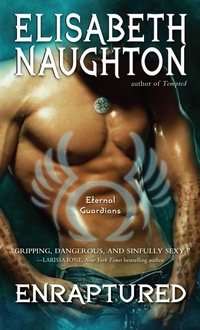 Enraptured
#4.0
Amazon.com | BN.com | | |
Comments
45 comments posted.
Re: Tempted

Love 2 win the book.....it really sounds soooo good...babyruthmac16@yahoo.com
(Lnda McFarland 3:35am September 15, 2011)
Congrats on your success! Books sound great!
(Diane Brixius 6:33am September 15, 2011)
book sounds great -- love it when the damsel turns out to be the one to come to the rescue after all. :)
(d Kenney 8:39am September 15, 2011)
That little ol' Southern girl, Scarlet O'Hara of Gone With The wind.
Blessings,
Marjorie
(Marjorie Carmony 10:19am September 15, 2011)
If I understand your question correctly, and you mean from books I've read, I would have to name Stephanie Plum. Although she's supposed to be a private investigator in the books by Janet Evanovich, she always tends to get herself in some type of jam, and needs to be rescued by someone. When I'm in the mood for light reading, I can always cound on Janet to lift my spirits!! Speaking of spirits, sort of, I haven't read any of your books, but would love to read Tempted. I also plan on reading the other two in the series. I love the cover as well. Very well done!!
(Peggy Roberson 10:23am September 15, 2011)
Congrats on the success with your novels and your future success. Thanks for a chance to win.
(Vicki Hancock 10:26am September 15, 2011)
This series is new to me! It sounds SO great - always a reason to try out a new (for me) series!
(Felicia Ciaudelli 10:40am September 15, 2011)
Still thinking about who my favorite damsel in distress character is, very interesting question
(Shirley Younger 10:48am September 15, 2011)
My favorite non-traditional damsel is distress is my youngest daughter, Courtney. She is so petite & delicate looking that people always underestimate her. She stands up & fights for what is right. She was assaulted & robbed by point of gun. She fought her attacker & got up & chased him down the street. One of my friends said she is just like her mother. That was the greatest complement he could have given me. The attacker was never caught. But we do keep an eye out for him...God forbid if we ever catch him!
(Beverly Beltz 10:50am September 15, 2011)
I wanted to say Scarlett O'Hara, but since she has already been mentioned, I will say Jenny in Rosemary Rogers Sweet, Savage Love.
(Cathy Phillips 11:00am September 15, 2011)
I have read about many damsels in distress but the non-traditional part has
me stumped. A damsel in distress is a damsel in distress no matter how it is
written--she gets in trouble, he gets her out. Characters who are constantly
getting in trouble are the most traditional of all. The thought comes to me
that perhaps the damsel taken by mistake or mistaken for another--but then
even that has become traditional being measured by how ooften it has been
used.
(Sandra Spilecki 11:52am September 15, 2011)
I can't think of a damsel in distress in particular, but I
like those that are the type of people one wouldn't normally
think of as a "damsel in distress"...such as a strong woman
who needs help occasionally.
(Leanna Morris 11:54am September 15, 2011)
I'd love to read these books they sound very entertaining!
(Jack Davis 11:59am September 15, 2011)
I haven't read this series before. I would love to win.
mom1248(at)att(dot)net
(Patsy Hagen 12:12pm September 15, 2011)
I would love to win these books, Thanks for giving me a chance to win them they sound interesting.
(Linda Hall 12:46pm September 15, 2011)
Have you ever seen the movie "Ever After" with Drew Barrymore? I love the end of the movie when the prince comes riding in on his horse to rescue her and she already rescued herself and he feels kinda stupid about it. Very cute! Your books sound great and I wish you the best of luck!
(Renee Pajda 1:00pm September 15, 2011)
I would love to win! Sounds great!
(Summer Grinstead 1:47pm September 15, 2011)
I agree with Renee about EVER AFTER... love that movie and how Drew Barrymore's character saves herself... I am drooling over that cover for TEMPTED! Thanks for the chance to win!
(Colleen Conklin 1:48pm September 15, 2011)
I'm going to name Gin Blanco, from Jennifer Estep's Elemental Assassins series, as a non-traditional damsel in distress. She is a kick-ass heroine, but she also is very much in need of saving! Thanks for visiting today. I've read fantastic reviews for Tempted.
(G S Moch 2:38pm September 15, 2011)
Excellent series. I can't wait to sink my teeth into Demetrius :).
(Victoria Sloboda 2:38pm September 15, 2011)
Non traditional damsel.. from recent film, if that counts,
Zooey Daschanel in the mini series take of a modern
Dorthy in "Tin Man" .. your book sounds great.
(Carla Carlson 2:40pm September 15, 2011)
i like the covers and add them to my collection of authors book i love new books
(Desiree Reilly 2:48pm September 15, 2011)
I really like Mac Lane from the Fever series. She is no damsell in distress although she had a lot to be distressed about. I like watched her grow stronger and better as the series progessed.
(Na S 3:47pm September 15, 2011)
Cant wait to read these!
(Julie Parrish 4:08pm September 15, 2011)
I have really enjoyed this series and cannot wait to read Tempted.
(Louise Evans 4:11pm September 15, 2011)
This sounds like a great story! I enjoy stories where the heroine finds her inner strength! It always makes you feel more capable yourself. We all have inner strength and it usually shows up right when we least expect it.
(Sandy Fielder 4:35pm September 15, 2011)
I don't think I have a favorite since most of the books I read the woman kick some serious butt, sometimes more than the men.
(Renee Gschaid 4:46pm September 15, 2011)
Sounds like two amazing books. I would love to win and read them.
(Karen Origer-Greco 5:52pm September 15, 2011)
Stephanie Plum.
(Lisa Garrett 5:55pm September 15, 2011)
Definitely Stephanie Plum.
(Mary C 6:33pm September 15, 2011)
Lots of romance books have damsels in distress so it's hard to pick one favorite; and now those damsels develop spine most of the time.
(Diane Sadler 7:01pm September 15, 2011)
I'm having a hard time with the damsel in distress as I
don't think fairy tales when I'm reading or watching. BUT if
I go way back, I think of Esther in the Bible. She was
forced into something she didn't want and ended rescuing a
nation as a one of the MANY wives of a king. I love how you
like to flip things upside down and do the unexpected!
(Lenna Hendershott 7:10pm September 15, 2011)
I agree with Stephanie Plum and I like it when Ranger comes to the rescue, with another car or uncuffing her from the shower.
(Lisa Kendall 9:06pm September 15, 2011)
Your books sound like Percy Jackson for the grown up set. :D
(Molly Wilsbacher 9:12pm September 15, 2011)
I am going to say Ayla in Clan of the Cave Bear. Not everyone considers it a romance but there is a love story there and she definitely wasn't typical lol.
(Jeanne Sheats 9:45pm September 15, 2011)
How about Hermione from Harry Potter? She is smarter than Harry and everyone else....
(May Pau 10:21pm September 15, 2011)
I love Tori from Sherrilyn Kenyon's Acheron. Thanks for the giveaway. I was at Borders and saw Marked on the shelf and another woman grabbed it before I could get to the shelf! Darn!
(Jennifer Beyer 10:41pm September 15, 2011)
What gorgeous cover art! I want to see, I mean know more. :)
Good luck and happy writing!
(Tracie Travis 10:49pm September 15, 2011)
I keep wanting to pick this one up but I have to wait to get more book money..lol I broke the budget this year.

If I don't win it I'll have to wait and be very sad.
LOL
(Patti Paonessa 11:12pm September 15, 2011)
I WOULD LOVE TO WIN!!! AND LOVE THE COVER!!!!
(Jennifer Beck 11:17pm September 15, 2011)
My non-traditional heroine is Riley Jensen from Riley Jensen, Guardian series by Keri Arthur. Riley is a were. All she wanted was a normal life with children, house, and a white picket fence. Instead, she ended up becoming a Guardian against her will and has to stop supernatural and god-like bad guys.
(Kai Wong 11:30pm September 15, 2011)
I enjoyed your post. It is a nice thing when an author can bring about the developement of a character to show the unknown and often unexpected strength within.
(G. Bisbjerg 1:59am September 16, 2011)
This series is awesome! I love Greek mythology and the way
Ms. Naughton incorporates it in the Eternal Guardian books
rocks.

The most recent non-traditional damsel in distress would be
Rapunzel from TANGLED. Just watched it with my Grandson -
what a fun movie!
(Cynthia Netherton 12:31pm September 16, 2011)
This book sunds wonderful. I can't wait to read it. Congrats on your success and I can't wait to read more of your books later as well.
(Jeanette Huston 7:23pm September 19, 2011)
I enjoyed reading your article and found it to be informative and to the point. Thank you for not rambling on and on just to fill the page.
good jokes
(World wide Web 2:49am January 7, 2012)
Registered users may leave comments.
Log in or register now!