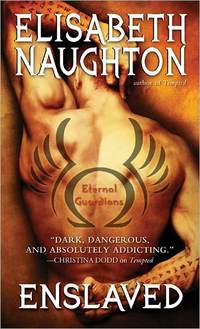 Purchase
Eternal Guardians #5
Sourcebooks Casablanca
November 2012
On Sale: November 1, 2012
Featuring: Maelea; Gryphon
384 pages
ISBN: 1402262159
EAN: 9781402262159
Kindle: B008NC9EIG
Paperback / e-Book
Add to Wish List

Romance Paranormal | Paranormal
After being rescued from the Underworld, Gryphon is plauged by strange voices and an evil foreboding. His believes that his only hope for salvation is to track down the goddess who cursed him...until he meets Maelea.A prisoner with no bars, Maelea encounters Gryphon on her quest to find Olympus. He's about to test her loyalty to the gods, and she's ready to find out if he still has a heart worth saving...
Comments
37 comments posted.
Re: Enslaved

I like the idea of a wounded hero, just not the wounding of
the hero. That doesn't make much sense, but that's just the
way I am.
(Mary Hay 9:36am November 9, 2012)
I don't have a favorite kind of damaged hero and I haven't
come across one who could not be redeemed. That said, it has
been the talent of the authors I read who have made these
heroes appealing to me and each individual journey to
redemption has been unique/relevant to that tale.
(G. Bisbjerg 10:09am November 9, 2012)
Just "sorta" damaged works for me.
Blessings,
Marjorie
(Marjorie Carmony 10:20am November 9, 2012)
I love the damage that makes the hero unavailable, the kind that builds the wall around his heart, the one that makes him an enemy of himself for feeling something once again.
I remember the bodice rippers and in some of them the hero could be redeemed even after selling/buying the heroine and being brutal - so I don't think that there has been a hero that is completely unredeemable, as long as the heroine loves him.
(Carla Carlson 10:29am November 9, 2012)
I totally LOVE a damaged hero. It's not that I feel sorry for him but more that I'm
impressed he's overcome what's wounded him. It makes me believe he's tough
as nails. I've not read about a hero that cannot be redeemed, they all make it
through and get the lady. Thank you for the contest!
(Val Pearson 11:02am November 9, 2012)
I have never read a book from this author but now look forward to the library and a chance to read them all
(Gloria Muniz 11:02am November 9, 2012)
Sounds great thank you for the opportunity.
(Holly Vanderhule 11:52am November 9, 2012)
I love the damaged hero who finds himself again despite the fact that he
doesn't want to. The woman he finds always wants to help, but it is up to
him to find his way back, the damaged hero is my favorite type, they are so
complex.
(Ann Sheiring 1:22pm November 9, 2012)
You have to feel for the damaged hero no matter how much he is damaged you need to bring him back.
(Cynthia St. Germain 1:46pm November 9, 2012)
of course the damaged hero need just that certain woman who can turn his life around
would love to win & read - PICK ME!!
(Pamela Faye Howell 2:37pm November 9, 2012)
Damaged heroes are great they have lots of stories to tell you and the courage they have to keep going even though they are hurt is great
(Danielle McDonald 3:29pm November 9, 2012)
Somewhat damaged (usually emotionally) but not too damaged with an author who can really bring him to life. It is also important for the reader to understand the hero's past.
(Chelsea Knestrick 3:49pm November 9, 2012)
aa. great contest
(Kent Cook 4:02pm November 9, 2012)
I LOVE READING ABOUT DAMAGED HEROES THEY HAVE STORIES TO TELL
AND I LOVE THOSE STORIES. LOVE YOUR BOOKS THEY ARE MARVELOUS.
I'M YOUR BIGGEST FAN.
(Shelly Caggiano 4:18pm November 9, 2012)
I do like to read about a hero who has been damaged physically or emotionally but is fighting back and trying to overcome it.
(Maureen Emmons 4:23pm November 9, 2012)
I do not recall ever reading a book with a hero that couldn't be redeemed... I do like to see a damaged hero work through things to find his HEA.
(Colleen Conklin 4:25pm November 9, 2012)
I don't recall ever reading about a hero who was too damaged to be redeemed. I love reading about a hero is working on overcoming his issues to find his hea.
(Christine Mead 5:13pm November 9, 2012)
I love reading a story with a damaged hero and having them be helped.
(Debra Guyette 5:21pm November 9, 2012)
I don't recall that I've read a book with a damaged hero, but I would love to read this one and how he overcomes his issues. Cover is great!!
(Linda Luinstra 5:50pm November 9, 2012)
I love reading about damaged heros. I don't think that I've ever read one where the hero wasn't redeemed though. I think that would be interesting to read.
(Kristin Bingham 6:01pm November 9, 2012)
i love the cover and i can't wait to read!!
(Jennifer Beck 6:03pm November 9, 2012)
I love a damaged hero, one of my favorites: Malkom from Demon in the Dark by Kresley Cole. Another, Elvis from Exposure by susan Andersen. All of J.R. Ward's guys seem kind of damaged.
(Lisa Elwood 6:31pm November 9, 2012)
This sounds really interesting!! I like when the hero's have
to fight the evil within...
(Mya Bainbridge 7:08pm November 9, 2012)
I like reading about damaged heros and heroines. E.g. Roarke and Eve. It's nice to see how they change!
(May Pau 7:19pm November 9, 2012)
I love the tortured/damaged hero. Wraith Seminus has always been my
favorite. Thank you.
vsloboda(at)gmail(dot)com
(Victoria Sloboda 7:35pm November 9, 2012)
The character has to be flawed. The hero has to be damaged. If the hero is perfect, no one will want to love the hero. It would be hard for the heroine to live up to the hero's perfect image.
(Kai Wong 7:59pm November 9, 2012)
i enjoy heroes that are somehow wounded or feeling lost, as if they are now less than they were & therefore "not worthy", enjoy seeing them redeemed in their own self image thanks to the love of/for their heroine
(d Kenney 8:38pm November 9, 2012)
it's good to see a damaged hero recover and open up to the
good things in life, like loving the heroine.
(Diane Sallans 8:43pm November 9, 2012)
i like a book that has a hero in it..our world sure needs some
(Kimberly Hoefs 9:44pm November 9, 2012)
To be honest with you, I can't say that I've ever read a book where a hero has been damaged before. After reading your description, as well as the passage from your book, you have a way of drawing a person into a story immediately!! I can't wait to read your book, and find out what this story is all about!! Thank you for giving me the opportunity to try winning a new genre of book!!
(Peggy Roberson 9:55pm November 9, 2012)
Sometimes its good to have a hero to read about.
(Kathy Fowler 10:22pm November 9, 2012)
Tortured heroes are my favorites, but I really prefer they not be too damaged. I loved (the book) Acheron, but the first part of the book was extremely painful to read!
(Janie McGaugh 12:08pm November 10, 2012)
I think that's the whole point of a damaged her - to be
redeemed.
(Mary Preston 3:51am November 10, 2012)
A tangent: a showjumper in Britain said that the girl grooms in his yard inevitably fell for the handsome but unco-operative or untrainable horses. He said he couldn't see why, because the horse was better to be sold and replaced by one that would train well and win prizes. So it seems that there is some element in us females that seeks a flaw...
I think if the hero of a story is to be damaged in some way there have got to be compensations. Looks might be an obvious one, but are we really that shallow? Maybe has has learned extra skills or accumulated knowlege, or he is highly intelligent and can be kind, but has panic attacks crossing a bridge....
(Clare O'Beara 8:05am November 10, 2012)
I don't have a specific kind of damaged hero but I do like one
that can be healed by the faithful love of the heroine. I
think many women want to rescue the men in their lives and
reading about the damaged alpha hero is a good thing :-)
(Lenna Hendershott 2:26pm November 10, 2012)
I do not have a specific kind of damaged hero either.
Realistically I would say that the damaged hero must show a redeeming element. No one will try to talk to one that does not give them that tiny little opening, let alone fall in love with him and help him.
(Sarie Grobler Wolfswan 5:10am November 12, 2012)
The hero being damaged is fine as long as he has some softening of his hard edges and shows he cares at times.
(Alyson Widen 5:48pm November 18, 2012)
Registered users may leave comments.
Log in or register now!