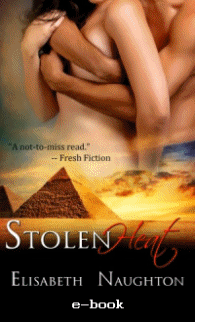 Purchase
His past tore them apart. Her lies thrust them back together. Now a killer's out for revenge, but the biggest threat for both may just be the heat they thought they'd already lost...
Stolen #2
Love Spell
August 2009
On Sale: July 28, 2009
Featuring: Peter Kauffman; Katherine Meyer; Marty Slade
352 pages
ISBN: 0505527944
EAN: 9780505527943
Kindle: B006ZSW0NQ
Paperback / e-Book
Add to Wish List

Romance Suspense | Romance Contemporary
Antiquities dealer Peter Kauffman walked a fine line between clean and corrupt for years. And then he met the woman who changed his life—Egyptologist Katherine Meyer. Their love affair burned white-hot in Egypt, until the day Pete's lies and half-truths caught up with him. After that, their relationship imploded, Kat walked out, and before Pete could find her to make things right, he heard she'd died in a car bomb.
Six years later, the woman Pete thought he'd lost for good is suddenly back. The lies this time aren't just his, though. The only way he and Kat will find the truth and evade a killer out for revenge is to work together—as long as they don't find themselves burned by the heat each thought was stolen long ago...
Stolen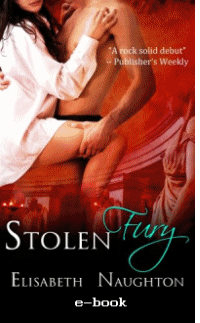 Stolen Fury
#1.0
Amazon.com | BN.com | | |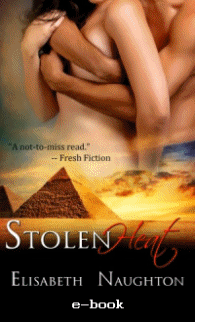 Stolen Heat
#2.0
Amazon.com | BN.com | | |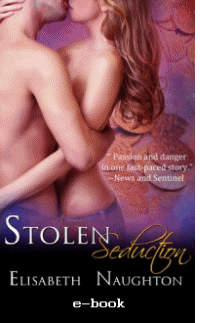 Stolen Seduction
#3.0
Amazon.com | BN.com | | |
Comments
30 comments posted.
Re: Stolen Heat

Sounds like a book I would enjoy
curling up with. Can't wait!
(Lisa Richards 12:08pm August 19, 2009)
Hi Elisabeth,
I enjoy secondary romances. My favorite is Lisa Kleypas' "Again the Magic." I love the secondary romances between the heroine's sister and the hero's friend.
(Jane Cheung 5:56am November 19, 2009)
Secondary romances are wonderful when they are so interwoven into the storyline that you could never imagine any other way.
(Joanne Reynolds 8:42am November 19, 2009)
I enjoy secondary romances. You get two HEAs. :)
(Crystal Broyles 10:13am November 19, 2009)
Hi Elizabeth, I loooooove secondary romances (2 for 1 deal, exactly !). SEP probably wrote some of my favorite secondary romances : Christie and Ethan Bonner, April and Jack Patriot, Mommy and Dady Bonner, Dexter and Torie Traveler... and I'm forgetting some others of course. Also I read Just one Of The Guys by Kristan Higgins over the week-end and there was a nice secondary romance about a couple separated because the husband cheated. Yes it was a very tricky story but she wrote it perfectly and I was very happy to see the couple reunited.
(Joeelle Jappissont 12:49pm November 19, 2009)
One of my fav books that had a secondary romance was Mouth to Mouth by Erin McCarthy...and I don't think it distracted from the main love story at all...only made it a better read.

A more recent book that had a secondary romance was Highland Scandal by Julia London, but in this case I thought the secondary romance was the much better story, in fact I was disappointed in the main romance, and wanted more of the secondary.

All in all I don't think you can go wrong with a twofer as long as both stories are well told. Can't wait for Stolen Seduction!
(Carrie Divine 1:00pm November 19, 2009)
I really enjoy the secondary romances. They add to the story, more interesting.
(Gail Hurt 1:49pm November 19, 2009)
I enjoy reading stories with secoundary romance 2 or more hea in one story.
(Dawn Owens 2:00pm November 19, 2009)
Hi all,

Thanks for the great comments!

Jane - I love it when the secondary romance is a family member of one of the main characters.

Crystal - Yay for two HEAs!

Emmanuelle - Oh, I loved the Christie & Ethan Bonner secondary romance. That was a great one.

Carrie - I agree. I don't think you can go wrong so long as the secondary romance is interwoven into the main romance. I hope you enjoy STOLEN SEDUCTION!

Gail & Dawn - well said. Thanks for the comments!
(Elisabeth Naughton 2:24pm November 19, 2009)
Joanne - absolutely. I think that's what I love most about authors who write secondary love stories so well. You can't imagine the books without them!
(Elisabeth Naughton 2:24pm November 19, 2009)
I am sorry to say that it has been
awhile since read a true "romance"
book so nothing comes to mind to
share, last few years have been heavy
into thrillers, urban fantasies and
whatnot.. I can tell you though that I
agree wholeheartedly that within a
truly well written story line that a
2ndry romance can flow seamlessly in
with the rest of the plot and you would
miss it if not there to add to the
"spice" the author is going for....
(Jackie Burris 2:32pm November 19, 2009)
I noticed your latest book, that one of your settings is Miami. Are you a Florida author that I may have missed?
(Marcia DiStefano 3:30pm November 19, 2009)
I like secondary romances. Sometimes the secondary couple are even more interesting to me than the primary couple. This happened recently and I'm racking my brain trying to remember the title or author. (It'll come to me late tonight, I'm sure.) Sometimes when there's a secondary romance that's it, the author never goes anywhere with it past that book (usually it's been resolved in someway...marriage), but I love it when a great secondary couple get their own book.
(Anne Muller 3:45pm November 19, 2009)
There was a secondary love story in the book I recently finished. It's What I did For Love by Susan Eliazabeth Philips and it was great.

Thanks,
Tracey D
(Tracey Dent 4:51pm November 19, 2009)
Jackie - Love your comment about "spice". :)

Marcia - I actually live in the Pacific Northwest but love Florida and the Caribbean. (I think I must be a warm-weather girl at heart!)
(Elisabeth Naughton 5:22pm November 19, 2009)
Anne - Thanks for the comment! I agree, some secondary couples NEED their own book. The main characters in STOLEN SEDUCTION (Hailey & Shane) were a secondary couple in book one of my Stolen Series (STOLEN FURY). Originally I hadn't planned to write a book for them, but when I finished writing STOLEN FURY I said, "Yeah. You know what? These two NEED their own book." Luckily, my editor agreed. :)

Tracey - "What I Did For Love" is in my TBR pile. I love Susan Elizabeth Phillips. She's a master at the secondary love story.
(Elisabeth Naughton 5:25pm November 19, 2009)
Elisabeth: Thank you for your post. Like you, I think a secondary romance adds to rather than detracts from the primary one. At least if it's done right, when both relationships have considerable bearing on each other.

As a rule, if the primary romance works, the secondary romance works---and vice-versa. With this reader, anyhow. And if one fails . . . you get the idea.

Keep up the good work!
(Mary Anne Landers 6:50pm November 19, 2009)
I really like secondary romances and for some of the reasons already mentioned. If two couples can be happy why not!! It is good to see the secondary couple get a story of their own and/or shine in the primary book.
(Robyn Lee 6:57pm November 19, 2009)
Hi Mary Anne! Love your "rule".

And Robyn, thanks for the comment. Glad to hear others enjoy secondary romances so much.
(Elisabeth Naughton 7:20pm November 19, 2009)
congrat on your book and hope you have many more i would love to have it for my collection
(Desiree Reilly 8:31pm November 19, 2009)
Thanks so much, Desiree!
(Elisabeth Naughton 8:33pm November 19, 2009)
Way to go Lisa!
Thanks!
Marjorie
(Marjorie Carmony 9:10pm November 19, 2009)
I love secondary romance. The last book I read was Italian Groom Princess Bride. The original book The Royal Marriage Arrangement started it and I had to find out what happens to the other two characters.

I love it when the story interlink instead of leaving me stranded and wondering what will happened to these two character.
(Kai Wong 9:43pm November 19, 2009)
I don't mind Secondory Romance and some times there given there own story in the next book.I like when a lot is going on in a book and in a set of book it makes your fill like there your friend and family and you want evrybood to be happy in the end of the book.I can't renember wright now one of my books that had a secoundary romance but i think it was a Christine Feehan book.
sasluvbooks(at)yahoo(dot)com
(Stacey Smith 3:15am November 20, 2009)
I'd be really interested in giving your book a read. It sounds like something right up my alley!
(Melissa Cleaver 5:52pm November 20, 2009)
What a pretty lady!!! I like a good secondary romance as long as it doesn't overshadow the main characters. I can't remember the last book I read with a secondary romance in it.
(Lisa Glidewell 9:12pm November 20, 2009)
I'd rather have the book be a series with
couples, because I always feel the
secondary characters get the short shift.
(Sue Ahn 10:52pm November 20, 2009)
I enjoy secondary romances as long as they do not overshadow the main romance. The more the merrier...loL! The last book I can recall with 2 definate romances was one of Marliss Melton's SEAL books. I cannto rememeber the name off hand, bad me. I loved every minute of it!
(Pj Keitzman 12:18pm November 21, 2009)
Your book sounds like a great read!
(Brenda Rupp 3:27pm November 23, 2009)
I've never read a secondary romance
(Allison Gardner 9:17am November 25, 2009)
Registered users may leave comments.
Log in or register now!