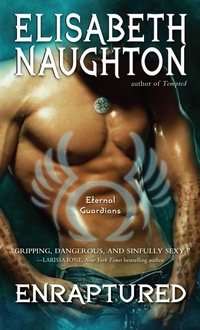 Purchase
Eternal Guardians #4
Sourcebooks Casablanca
April 2012
On Sale: April 1, 2012
384 pages
ISBN: 1402262124
EAN: 9781402262128
Kindle: B0073KA5FK
Paperback / e-Book
Add to Wish List

Orpheus—To most he's an enigma, a devil-may-care rogue who does whatever he pleases whenever he wants. Now this loose cannon is part of the Eternal Guardians—elite warriors assigned to protect the human realm—whether he likes it or not.
Orpheus has just one goal: to rescue his brother from the Underworld. He's not expecting a woman to get in the way. Especially not a Siren as gorgeous as Skyla. He has no idea she's an assassin sent by Zeus to seduce, entrap, and ultimately destroy him.
Yet Skyla herself might have the most to lose. There's a reason Orpheus feels so familiar to her, a reason her body seems to crave him. Perhaps he's not the man everyone thinks... The truth could reveal a deadly secret as old as the Eternal Guardians themselves
Eternal Guardians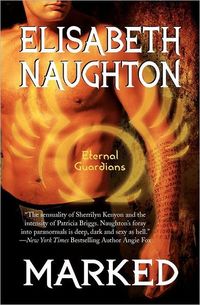 Marked
#1.0
Amazon.com | BN.com | | |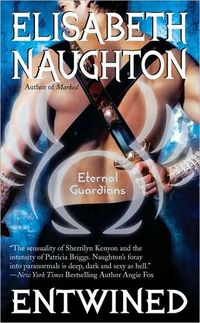 Entwined
#2.0
Amazon.com | BN.com | | |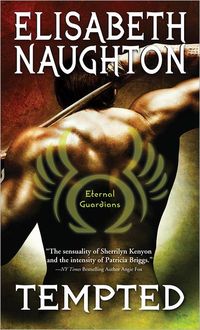 Tempted
#3.0
Amazon.com | BN.com | | |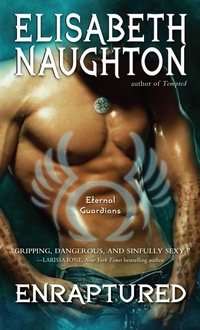 Enraptured
#4.0
Amazon.com | BN.com | | |
Comments
40 comments posted.
Re: Enraptured

I love when a secret goes way back then things will start crawling out from under the rocks they're hidden. AND the cover is soooooooooo *sigh* :) Thanks
(Margie Gagarin 10:00pm April 1, 2012)
I agree with you. A good villain is an important piece of the puzzle. I think that Heath Ledger did an amazing job playing the Joker in the Dark Knight.
(Kristin Bingham 12:53pm April 26, 2012)
Hi Elisabeth,
thank you for the chance at such a great giveaway. i love the cover, it's gorgeous and the book sounds wonderful. i can hardly wait to read it and see what happens between these two. :D
i think one of the scariest "villians" i ever saw was in Jack Nicholson in The Shining. to this day i can't watch a movie of his without seeing him in that role in my head(that and one flew over the cookoo's nest). i guess that's is what makes him the superb actor he is, he really makes you feel he is the crazy guy he is playing. LOL!

tammy ramey
[email protected]
(Tammy Ramey 1:22am April 26, 2012)
Love, love, love the cover. It is gorgeous!
The first villain I thought of was Hannibal Lecter in Silence of the Lambs. That is my all time favorite movie.

Good luck and happy writing!
(Tracie Travis 1:38am April 26, 2012)
Hi, how are you? I just found out about this series and am very excited to get started on it!
(Britney Barlow 2:47am April 26, 2012)
Sounds like a book I'd love to read...thanks for a chance to win it!!!
(Bonnie Capuano 5:49am April 26, 2012)
A good villain is an important part to a story because it helps to create conflicts and move a story along. I can not really think of any villain in particular who I can claim to be my favorite. The closest I can think of is Draco Malfoy who played a bully in Harry Potter but by the end of the series he showed potential for changing and it seemed his heart was no longer in being a villain.
(Chelsea Knestrick 6:09am April 26, 2012)
That's tough. There are so many good ones. In a book probably Voldemort. He isn't even alive until the end of book 4 and there is still so much fear from him.
(Pam Howell 7:59am April 26, 2012)
A weak villain devalues the fight.
(Barbara Hanson 8:20am April 26, 2012)
I have always loved Jafar from Aladdin or Ursula from The
Little Mermaid. I know they're Disney, but they were the ones
I grew up with.
(Karin Anderson 9:25am April 26, 2012)
Hannibal was a good villain....
(May Pau 10:27am April 26, 2012)
i love a book with a villian. plus this has multaple villians that is even better plus romance weee im all in i just love the cover of the book
(Denise Smith 10:58am April 26, 2012)
The nerd in me says Darth Vader of course... lol or oooh Kathy Bates in Misery she was so creepy and good in that role. Or even Keyser Soze (Kevin Spacey) in Usual Suspects. He was such a mystery, so clever, and he got away with it all.
(Sharon D 11:02am April 26, 2012)
What a good question - it is interesting how we are drawn in by the villains. It is difficult for me to pinpoint any one villian - but for some reason Scarlett and Rhett from Gone With the Wind (one of my favorite stories and movies of all time) come to my mind - while they are not REALLY villains, some of their actions are certainly along those lines and caused them to lash out at each other.
(Felicia Ciaudelli 11:07am April 26, 2012)
Villians are good, give the story some excitement.
(Wilma Frana 11:17am April 26, 2012)
I'm going to take you waaaaaaaaaaaaaaay back. The Wicked Queen from Snow
White. I have read hundreds of books since then with lots of villains. I can't
single any particular one out. They just set the pace.
(Sandra Spilecki 11:34am April 26, 2012)
I would say Sauron from the Lord of the Rings. Great books, and great movies.
(Kathleen Conner 11:39am April 26, 2012)
My most favorite villain of all time would have to be the Goblin King for the movie Labyrinth. He was evil, but so sexy you couldn't help but like him.
(Molly Frenzel 11:52am April 26, 2012)
Gustavo from Breaking Bad is my favorite villain
(Shirley Younger 12:03pm April 26, 2012)
Lex Luther from Superman
(Diane Sallans 12:07pm April 26, 2012)
My favorite villain is definitely Darth Vader and for the reasons, you have mentioned in the post.
(G. Bisbjerg 12:13pm April 26, 2012)
For me there are the scary non human villians, like Alien and the shark in Jaws, that were horrifying villians. And then one of the first villians I remembered as a kid was Khan from Star Trek II. He had a fleshed out backstory, so you totally understand the why of him, but he was single minded and scared me, waiting to see if he would actually kill off one of my favorite characters.
(Cathy MacDonald 12:24pm April 26, 2012)
Oddly enough, it would be Roger Thorpe, played by Michael Zaslow, in the Guiding Light. You absolutely loved to hate him yet he was very charismatic and a wonderful father. And of course, you have to go with Lord Voldemort, played by Ralph Fiennes, and the character in the books. Just pure evil and very intelligent, but not quite as smart as he thought he was...
(Kelli Jo Calvert 1:09pm April 26, 2012)
That is quite a different take on a villain. I like it!
Blessings,
Marjorie
(Marjorie Carmony 1:15pm April 26, 2012)
I love a charming villain. Hannibal Lector was one of my favorites. He was a monster but he wouldn't allow rudeness. He was a charming psychopath.
(Stacie Deramo 1:19pm April 26, 2012)
There have been a lot of favorite villians. Bad boys rock. They can be really dangerous. I think maybe my first exposure to mysteries were the Sherlock Holmes stories, so Moriarty was my first villian. Like a first love, you never forget your first villian.
(Sandy Fielder 2:35pm April 26, 2012)
ITA about a good villain making or breaking a story and
sometimes they are more memorable than the hero/heroine.

One of my favorite villains, from X-Men, Magneto. Just love
him! And this is before any movies were made, I read comic
books!

The Eternal Guardian series is fantastic!
(Cynthia Netherton 2:44pm April 26, 2012)
I have a lot of favorite villains and one of them is JR Ewing from Dallas. He was just so mean but it was still a surprise when he was shot.
(Maureen Emmons 4:19pm April 26, 2012)
I will say that Lex Luther is my fav villian... what a foe for Superman.
(Colleen Conklin 4:19pm April 26, 2012)
I like Moriarty as a villain, because he's such a genius and, therefore, the perfect counterpoint to Sherlock Holmes.
(Janie McGaugh 4:54pm April 26, 2012)
I haven't read a book lately that contains a true villain. Sounds intriguing.
(Gladys Paradowski 5:47pm April 26, 2012)
My favorite movie villain is Heath Ledger when he played The Joker in the Dark Knight. He did such fabulous acting!
(Linda Luinstra 6:00pm April 26, 2012)
Thank you for your post, Elisabeth.

My favorite villain? Hard to choose, and most have already been mentioned.

But one who hasn't in Gollum in "The Lord of the Rings". He's an antagonist, one who gives the good guys plenty of grief. But not really evil. Just obsessed, even possessed. He's a stand-in for anyone in the grip of an obsession, addiction, or compulsion.

Good luck with the release of "Enraptured!
(Mary Anne Landers 6:58pm April 26, 2012)
I can't wait to read this book, see how you turned this demon almost villain into
the hero.
My favorite villian is Darroc from the Fever series. He makes you feel for him, but
deep down he still falls on the wrong side of the line.
(Lexi Hansen 9:05pm April 26, 2012)
I must confess that I read more "good guy" books than bad, so I really had to wrack my brain. The only person that I could think of would be Count Dracula. He would only come out at night, and was mysterious, harsh with his victims, yet he had a tender side, which I liked. Even though my pick isn't really brutal, I would still love to read your book. Perhaps I could be converted.
(Peggy Roberson 9:51pm April 26, 2012)
Snape from HARRY POTTER eve though he turned out to be a hero in the end.
(Mary Preston 10:09pm April 26, 2012)
Hanibal Lector.
(Lisa Kendall 11:38pm April 26, 2012)
I haven't read any of this series yet, but they look like they would be good. Winning one would be wonderful
(Susie Kerner 12:27pm April 27, 2012)
I was thinking real hard, but couldn't summon any villain that I actually liked... I'm sure there were, but I just can't think of any. Haha, don't get me wrong, I love my bad boys, but grr, memory's a bitch when it's elusive. Haha, but I was scrollin through the comments and I agree with Molly Frenzel. I think the Goblin King from Labyrinth IS sexy. Haha. :D
(Chia Yet Peng 1:03pm April 28, 2012)
My concentrations off track and I can't think of any, since I prefer to think of heroes of the male persuasion.
(Alyson Widen 9:29pm April 29, 2012)
Registered users may leave comments.
Log in or register now!