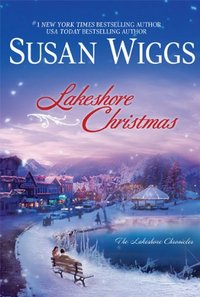 Purchase
Maureen Davenport lives for Christmas?and there's nothing more magical than Christmas on Willow Lake.
Lakeshore Chronicles
MIRA
October 2009
On Sale: September 29, 2009
Featuring: Eddie Haven
400 pages
ISBN: 0778326896
EAN: 9780778326892
Hardcover
Add to Wish List

The prim librarian is finally getting her chance to direct Avalon's annual holiday pageant, and she's determined to make it truly spectacular. But it might just require one of those Christmas miracles she's always read about.

Because her codirector is recovering former child star Eddie Haven, a long-haired, tattooed lump of coal in Maureen's pageant stocking. Eddie can't stand Christmas, but a court order from a judge has landed him right in the middle of the merrymaking.

Maureen and Eddie spar over every detail of the pageant, from casting troubled kids to Eddie's original - and distinctly untraditional - music. Is he trying to sabotage the performance to spite her? Or is she trying too hard to fit the show into her storybook-perfect notion of Christmas?

And how is it possible that they're falling in love?

#1 New York Times bestselling author Susan Wiggs conjures the heartwarming holiday tale of two people looking beyond the disappointments of the past to the promise of the future. Amid the holiday bustle of crackling fires, caroling singers and delicious secrets, the season of goodwill becomes the backdrop for Willow Lake's most unlikely love story yet.
Comments
19 comments posted.
Susan Wiggs: Thank you for your article.

Like you, I prefer to stay home and read. But unlike you, I'm terrified of snakes!

Some open questions for FF readers:

What effect has the growth of the Internet had on book signings? Have they become more or less effective as a means of reaching readers?

Do book signings help bestselling writers more than midlist writers, or vice-versa? Or is there no difference in this respect?

Does anyone know of any scientific studies concerning the effectiveness of book signings, in terms of helping to sell both the author and the individual titles? If so, are those results available anywhere on the Web?

Keep up the good work!
(Mary Anne Landers 12:33pm September 25, 2009)
I love, love, love signed books! My problem is, where I live, very few authors ever come! So I do every one of Suzanne Brockmann's virtual signings and I'm super excited when an author will send a signed bookplate to put in a book. I treasure my signed books. Actually, there's not much I like better than a signed book!
(Kelli Jo Calvert 11:06am September 25, 2009)
At my first signing,the bookstore forgot to advertise me. The only person there was the owners mother who always came to hear the Sunday talks but never bought books. Then there was Sam's Club where people wanted to buy my laptop which was running a promo for my book. I competed with Turbo Tax next to me. Ha.
(Suzanne Arruda 11:34am September 25, 2009)
i haven't had the pleasure of attending a book signing of a favorite author. Location is my problem.
For a favorite author I would go it it was withing my larger town radius about 60 miles each way to a larger town.

ps. I don't like snakes either.
(Gigi Hicks 12:29pm September 25, 2009)
Susan, your comments made me laugh. We have very few book signings in Cleveland, Ohio so I'm not sure if I would attend or not, but it would be nice to talk with one of my favorite authors. The personal connection is always nice.
(Rosemary Krejsa 1:53pm September 25, 2009)
I'm about to go to a signing in a couple of weeks. Where I live there isn't usually a lot of chances for authors to visit. I hope that evetually more will come to my small part of the world.
(Paula Abel 3:44pm September 25, 2009)
I love booksignings, and the chance to mee the authors. I hope they don't go away! If you ever come to the DFW area I'd be at your signing.
I'd even rearrange my work schedule

Sandi
(Sandi Shilhanek 4:33pm September 25, 2009)
I've never went to a booksigning. I'm more of a stay-at-home and just let me read type of person. But if one of my favorite authors came to my small town in Ohio then I would make the effort.
(Theresa Buckholtz 5:48pm September 25, 2009)
I've only been to two book signings and I loved them both. I was a little nervous, not knowing what it would be like, but I really enjoyed them both.
I went to a 4 author signing at a Walden Books - the main author was Linnea Sinclair and it was wonderful to meet her and get her latest book. There weren't very many people there, one group of about 4,myself and 1 other person. I was glad I went to support her, and of course I bought a book by the other 3 authors, just so they'd sell some books too.
The other signing was at the RT Convention Bookfair that was held in Orlando this year. That was awesome, with tons of authors to meet and new authors to discover. I'll definitely go to more signings when they are near by.
(Barbara Elness 8:04pm September 25, 2009)
I love to have books that are signed by the author, it's a book I will always keep. If I hear of an author whose books I love were coming to town I would make a point in being there for the author; I have stopped at many booths where authors look a little lost( even a lot) and talked with them and congratulated them on their willingness to put themselves through this trauma. Congratulations to all authors who put themselves out so much for their readers!
(Diane Sadler 8:53pm September 25, 2009)
I tried to get all the books by one author signed. To that end, I drove between 2 and 3 hours to 3 different places. I was pretty lucky that she came to these places close to me while I still had a car--well, I had to rent a car for part of the way for one trip. At that time, there were no prizes--that I was aware of. I must admit I always was a bit on the late side and once drove with radial nerve palsy in my right hand. After that she was never close enough to me again. But it was fun talking to her and her entourage and other fans in person. I was very grateful to her for making this possible for me and other readers.
(Sigrun Schulz 11:22pm September 25, 2009)
I love to go to book signings but there is never any around us and we live in Los Angeles.
I'm looking forward to reading your new book Susan thanks for blogging here today,
Penney
(Penney Wilfort 1:01am September 26, 2009)
Love the dress with the snakes print. we have pet snakes here so we all love them!
Penney
(Penney Wilfort 1:02am September 26, 2009)
I go when I can, to the authors I know, and enjoy! I can only imagine the feelings engendered by holding a snake. Ugh!!
(Anne Harris 8:12am September 26, 2009)
I LOVE books signings. I love meeting authors and getting my books signed. I also really enjoy the interaction with other readers. I live in Germany and although I do have a few bookaholic friends, if it wasn't for the internet, I wouldn't have much of a chance to talk about and share my addiction...hehe!!! I even met my favourite author in Berlin one year, Terry Pratchett, that was great fun!!!
(Valerie Bongards 2:41pm September 26, 2009)
I know how you feel. I'm not a writer, I'm a librarian. I plan activities, prepare snacks, and print handouts. No one shows up. The publicity was fine, but no one shows up.
Even local authors may only attract a few relatives. I do displays at local events and sit forever with few interested in finding out about the library and what it has to offer.
I have gone to signings and wish more would be close by. We are on a trip to Texas and hope to come across a signing or 2 by the many authors there.
(Patricia Barraclough 9:31pm September 27, 2009)
I have read 4 or your books and just received Lakeshore Chrismas. I love your books. We very seldom have book signings in my mid size town. Last one was 1 or so yrs ago but I was working and could not attend. I retired in Dec 08 so going out of town would be very hard on me, so unless they have one here will not go..I have read thousands of books and have given away to "Friends of the Librery" 2 thousand plus. Keep up the great writing.
(Brenda Hill 10:59pm November 8, 2009)
I am looking forward to reading this, I love Susan's books
Great blog today.
Penney
Happy Holidays!
(Penney Wilfort 4:47am December 3, 2009)
I just love Christmas stories. I began collecting them last year and have quite a few books on my shelf. Lakeshore Christmas would be a wonderful addition!
(LuAnn Morgan 2:42pm December 3, 2009)
Registered users may leave comments.
Log in or register now!